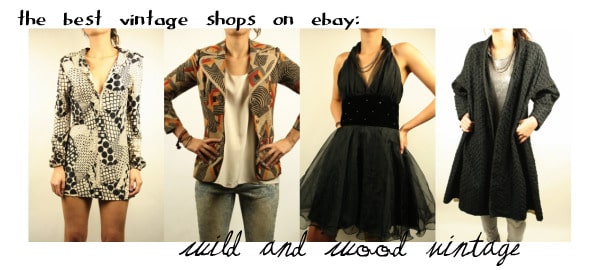 Product Information: 1980s Deep V Mini Dress, 1980s Multicolour Tuxedo Jacket, 1950s Black Velvet Backless dress, 1960s Tent Dress Coat.
After the last post in my series about the best vintage shops on eBay, several readers asked me about eBay shops shipping from the UK. This put me in a predicament because I don't shop at UK shops for the same reasons our fabulous UK readers don't shop at US shops – the shipping can be outrageous! However, one of my friends recently mentioned Wild and Wood Vintage and when CF reader Karmen suggested it was well, I knew I had to check it out!
For more info on scoring amazing finds on eBay, read Tips & Tricks for Shopping on eBay. And for the first two shops featured on CF, see The Best Vintage Shops on eBay: Twitch Vintage and The Best Vintage Shops on eBay: Bleubird Vintage.
About Wild and Wood Vintage
Wild and Wood Vintage is run out of the UK, but they do ship worldwide for pretty reasonable rates. For all the Twitter-obsessed out there, they have a twitter page which they use to update fans of new merchandise in the shop. They say it best themselves:
Wild And Wood Vintage is a small independent boutique with a passion for unique, one-of-a-kind vintage clothing. We travel across the world and hand pick each and every piece in our shop creating a select collection of authentic vintage apparel. We're inspired by everything, from street fashionistas to haute couture. We hunt down the highest quality garments and on occasion, professionally customize them, whether it's hemming a long dress or replacing a missing button, to match the needs of your closet! We update our shop weekly with many unique pieces we think you'll love.
They do tend to have a lot of vintage clothes from the 1980s, which may not be for everyone, but the selection is diverse – there is definitely something there for everyone to fall in love with. (For me, it was the multicolor tuxedo jacket pictures above – how cute would that be with gray jeans and some fabulous heels?)
All their items are one-of-a-kind vintage pieces, so if you see something you absolutely love, get your maximum bid in early! As with some other shops, they don't accept refunds except in very rare cases – so make sure to check the measurements as many times as possible before you bid!
What's Great about Wild and Wood Vintage
I haven't personally bought anything from Wild and Wood (yet!), so I can't give first-hand advice – however, I can compare Wild and Wood to my favorite US shops!
Excellent & detailed descriptions. One thing they mention that other shops don't is the measurement of the garment flat and measurement of the garment stretched – this is a really helpful piece of information, because it shows how much "give" the garment has. They also include what fabric the garment is made of – I'm mildly allergic to some synthetic materials, so this is really helpful to me! It's also really helpful when figuring out how to care for the garment!
Great variety. Coats, jackets, dresses, tops, shorts… they have tons of merchandise, updated weekly, and it's all well taken care of!
They're a new shop but they have great feedback! Their feedback is all positive, and from the people I've talked to about this shop, they have nothing negative to say.
Your thoughts?
What do you think of Wild and Wood Vintage? Check out their shop and let me know what your favorite item is and how you would wear it! And to any international readers, do you have any eBay shops that you love? Let me know in the comments!