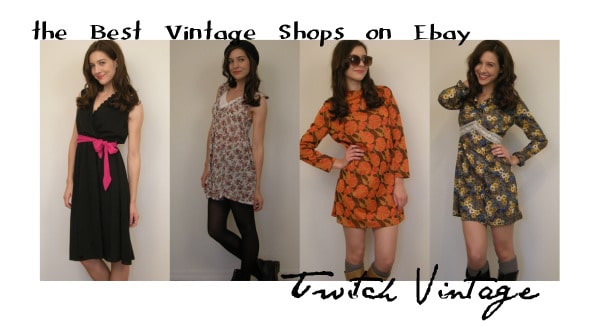 Product Information: Vintage 70s Black Lace Dress, Vintage 90s Gauzy Floral Dress, Vintage 1960s Orange Mod Dress, Vintage 1960s Floral Print Dress.
About Twitch Vintage
Twitch Vintage is the second shop I'm featuring in a series of posts about great vintage shops on Ebay (in case you missed them, see Tips for Shopping on eBay, and The Best Vintage Shops on eBay: Bleubird Vintage) and I have to be honest – it might just be my absolute favorite simply because of the Orange Mod Dress featured above! So adorable.
Twitch Vintage is great – the owner adds 30 new auction items every Twitch Tuesday in the evening, meaning there is always new merchandise, and the clothes are just fabulous – really unique and always high quality. The only downside to Twitch Vintage is she does not accept returns, unless the buyer feels there was a serious misrepresentation of the garment; so before you buy, make sure you take very accurate measurements of yourself (ask a friend to help!) and compare them to the garment.
Why I Love Twitch Vintage
All items are handpicked and hand-measured by the seller, which means high quality and almost-exact measurements.
Styling – the styling in the photos is fantastic, which I think says a lot about a store! The items are made to look modern and beautiful with only the slightest touches – not always an easy feat. A store that provides inspiration for how to wear an item is always a plus in my book!
Twitch Vintage is one of Ebay's highest-rated sellers. I have not heard of anyone who has had a bad experience with this shop!
A wide variety of items – not just dresses, but also some cute tops and great skirts. Everything looks different too – it's not the same mod dress in 5 different colors, but a good mix of clothes from all decades!
As with BleuBird Vintage, all items in the shop start at $9.99, so if you bid early, you can probably get a fab dress for an even more fab price! Also, their Buy It Now prices are super reasonable.
What do you think?
What do you think of Twitch Vintage? What's your favorite item currently in the shop & how would you wear it? Do you have any other eBay vintage shops you'd like to recommend? Let me know in the comments!