In this series of vintage fashion posts, I will show you guys some of my favorite vintage shops and sellers on eBay. It can sometimes be overwhelming to find the best stuff on the site, so hopefully this guide will help you shop the eBay vintage world!
For even more tips on navigating vintage fashion on eBay, read this post!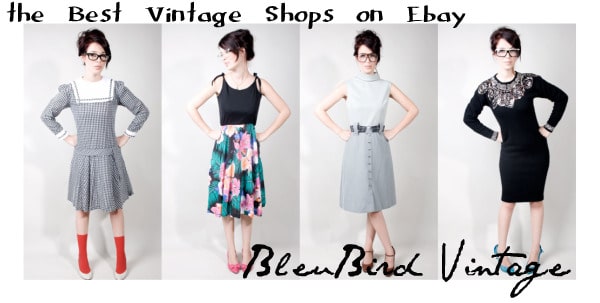 Product Information:1980s Plaid Sailor Collar Dress, 1980s Hawaiian Dress , 1960s Mod Secretary Dress, 1980s Sequined Sweater Dress.
About BleuBird Vintage
BleuBird Vintage is a shop that exists both on eBay and in an online shop – and the best part? They offer different merchandise on eBay than they do on their website, which is great for us vintage lovers! The eBay shop only recently reopened and is only open indefinitely. However, the eBay shop will be updated weekly with over 40 new items each week, so that means lots of new stuff to drool over and bid on!
Why I Love Them
All items start at $9.99, which is very reasonable considering how high bidding can get on eBay! However, you can usually get a super high quality vintage dress for a great price if you bid at just the right time. For those who hate bidding, there is a Buy It Now option with very reasonable prices – the Hawaiian Print dress, for example, is only $48!
The item descriptions are fabulous: lots of pictures of a model, as well as exact measurements and approximated modern-day sizes. Also great: they list the size & height of the model and whether or not they clipped the item on the model.
Great customer service; never hesitate to shoot them an e-mail if you have questions about the sizing or condition of an item. They'll get right back to you ASAP.
Almost all of BleuBird's items are in fabulous condition and the shop takes great care in making sure each item is up to par.
There is a blog to accompany both BleuBird shops – updated regularly and always exciting, you get an inside glimpse at running an online vintage shop. I love being able to see the people behind the shops – you know you're giving your hard-earned dollars to someone who is really passionate about fashion! Also on the blog, you'll know the minute that the website shop or eBay shop is updated, which gives you an edge on buying and bidding.
Great selection – seriously, they have a ton of items! I love all of them, but even for the pickiest shoppers, there is something for just about everyone.
What do you think?
What do you think of BleuBird Vintage? Check out their shop and let me know what you think – what would you love to have in your closet? How would you wear it? Let me know in the comments!