This post may contain affiliate links, which means we may receive a commission if you purchase through our links. Please
read our full disclosure here
.
The coolest way to update your look for 2016 seems to come straight from your grandma's closet. But adding a brooch to your outfit is way more unexpected – and cool – than choosing any other kind of statement jewelry.
Yes, some brooches may look a little old-lady or tacky. But places like Topshop and Baublebar make ones that are bold, young, and even edgy. And even a cheesy rhinestone flower brooch can look fresh when pinned at the collar of your button-down or the waistline of a dress.
So how do you style these blingy babies for 2016? You can do almost anything. The most obvious, but awesome, technique is to pin one or an eclectic mix of several onto the lapel or side of a vest or jacket to give it a totally new vibe.Take a cue from Michelle Williams at the 2012 Oscars and update a dress with a sparkly pin on one side of the waistline, or from the Gucci runway and affix one between the collars of a shirt or shirt dress (a floral brooch is especially good for this trick). Add one to you winter coat for a personal touch, or cluster a few on a thick sweater for a crazy cool mix of texture. Be creative.
To get you started, I've rounded up nine great brooches that are easy on the wallet. All are under $35, and they're sure to pique your (p)interest.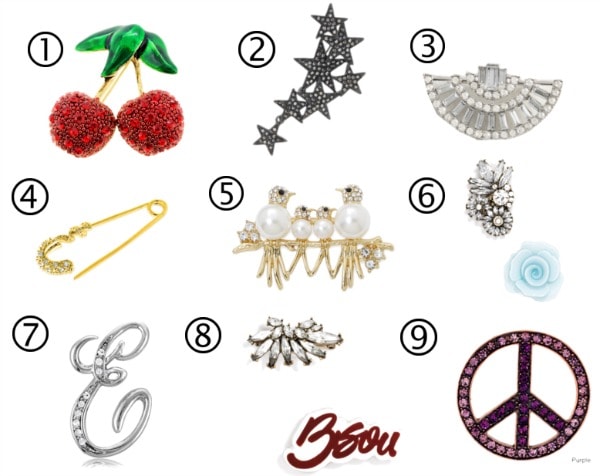 Products: 1, 2, 3, 4, 5, 6, 7, 8, 9
1. These cherries are so flirty and fun! They would be cute on denim of any kind, or to update your LBD. I found this brooch on Overstock, and I noticed they have tons of other quirky pins, most of them under $20.
2. These stars were made for updating a blazer lapel or shining on your coat all season long. Turned horizontally, they'd function like a statement belt in the middle of the waistline of a solid colored dress. Oh, and this cool brooch is just $7.
3. This subtle, art deco-inspired brooch is so versatile. I could see it adding interest to basically everything in your wardrobe, on its own or as part of a group. To keep the look extra modern? Rock minimal jewelry elsewhere, but echo the sparkle and semicircle shape with a glittery ear cuff.
4. This edgy safety pin, also available in silver, is a great way to dip your toe into the brooch trend. Subtle and minimalist, I love it as the only statement jewelry in an outfit with a black blazer and a red lip.
5. How sweet are these pearl birds? They pair just as well with soft pinks as they do with sophisticated dark colors. Echoing the pearls with a ring or earrings could work, but resist the urge to pull out your pearl necklace.
6. Let Baublebar teach you how to mix brooches by snagging one of their cool brooch sets. I love this duo paired with spring-perfect pastels.
7. Personal jewelry is such a nice touch in an outfit. This pin comes in every letter of the alphabet and belongs as a signature piece on pretty much everything you'll wear this spring.
8. This second Baublebar set is a little edgier, but super flirty ("bisou" means "kiss" in French). Plus it lets you rock two trends — brooches and accessories featuring words — at once.
9. The '70s are back for 2016, and this pretty purple peace sign is your jean jacket or vest's new BFF. And come summer break, add it to straw sunhat or the band on your fedora for a quirky touch.
What do you think?
Are you into the brooch trend? How would you wear one? Which of my picks is your fave? Let me know in the comments!