This post may contain affiliate links, which means we may receive a commission if you purchase through our links. Please
read our full disclosure here
.
You're most likely still juggling last-minute assignments with a squinty, sleep-deprived eye trained on Thanksgiving break.
But before you head off to a week of home cooked meals and quality time with your pets and family, there's the issue of actually getting home, and all of the stress that entails. The last thing you need to worry about is what to wear.
As a pick-me-up after a week of hard work, I've put together four cute, comfortable Thanksgiving break travel outfits that will keep you warm and stylish. If you're flying home, these outfits are easy to slip on and off when passing through airport security.
And don't worry if you're on a budget — each of these looks ring in at under $100. Also, outfit 4 features plus-size items.
Look 1 – $96.87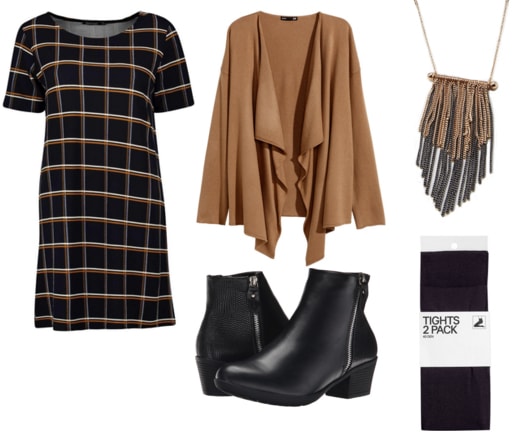 Products: Dress, Boots, Tights, Cardigan, Necklace
Look polished (even if you've just polished off a round of exams) in a plaid shift dress and soft draped cardigan. These pieces pull your look together without limiting your movement.
When you're rolling suitcases or lugging a duffel bag, heels are pretty much out the window. Trot around in low-heeled Chelsea boots and black tights, and finish off your outfit with a mixed metal fringe necklace.
Depending on how tired you are, you could head off to dinner with your family. Or, you could always rest with the satisfaction of how stylish you were while dealing with travel stress.
Look 2 – $94.13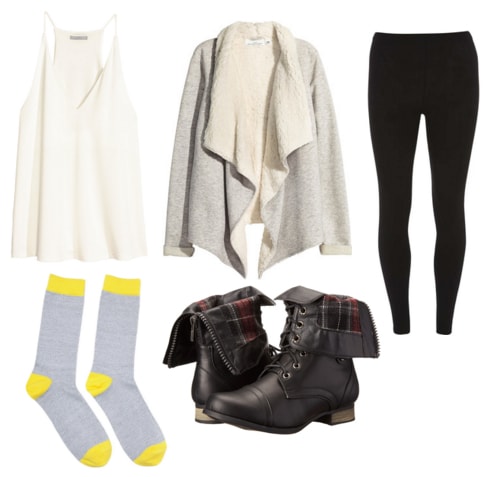 Products: Cardigan, Leggings, Boots, Tank, Socks
While look #1 was for the ladies who always seem to look cute, I imagine this is the kind of outfit most people would reach for. It's ultra easy and ultra cozy.
To get this look, top off a pair of leggings with a floaty white tank and a soft shearling-lined cardigan. The luxe details elevate this throw-on-and-go look. Finally, navigate holiday crowds with ease in marled socks and flat combat boots.
Look 3 – $98.77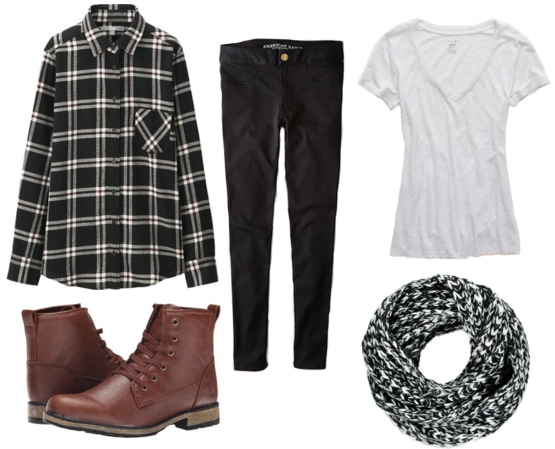 Products: Flannel, Boots, Tee, Jeggings, Scarf
For more inclement weather, try lug boots. They have the flat heel of Chelsea boots, the rugged look of combat boots, and a durable sole to keep your socks from getting wet.
To keep the traveling lumberjack theme going (serene log cabin sold separately), throw on a toasty flannel over a V-neck for layers you can take off and fold up as needed. Add a marled scarf, throw your hair up in a messy bun, and head off!
Look 4 – $96.88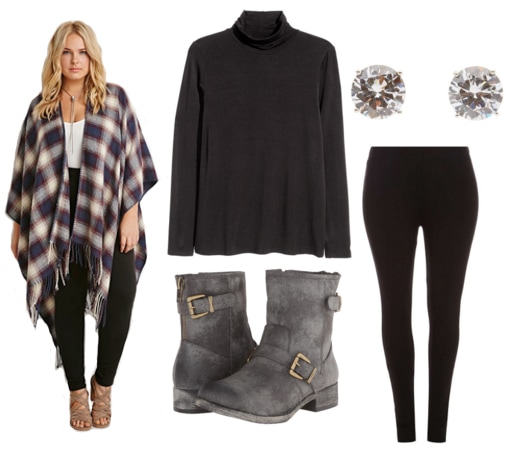 Products: Poncho, Turtleneck, Leggings, Boots, Earrings
I wasn't much of a shawl fan until I saw my roommate wearing a similar outfit around the house. While I like to wear my blanket scarves swirled around my neck and face, draping a scarf over your shoulders is an easy way to change up your style. Not to mention the scarf doubles as a pillow or blanket when it's travel time!
This outfit looks so elegant without trying too hard. To get it, layer a black turtleneck and leggings under the draped scarf and slip on gray motorcycle boots. Accessorize with simple stud earrings; the last thing you need is jewelry getting tangled up or breaking.
What do you think?
What did you think of these looks? What are your plans for the break? Let us know in the comments below!