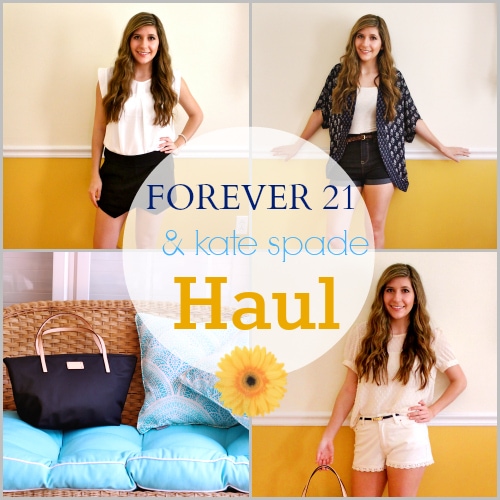 Since my last haul post got so much positive feedback, I decided to once again share some of my recent summer clothing and accessory buys.
I could spend forever in Forever 21. Unfortunately, I do not have a F21 where I live (why Athens?! whyyyyyyy?) so when I pop into one, there's bound to be some damage. Beautiful, sheer, floral damage. That's the best kind.
Scroll down to check out the haul, as well as how I've been wearing each item. As always, this is not sponsored – all of these pieces were purchased with my own hard-earned cash.
1. I Want a Short Skort (and Long Jacket Optional)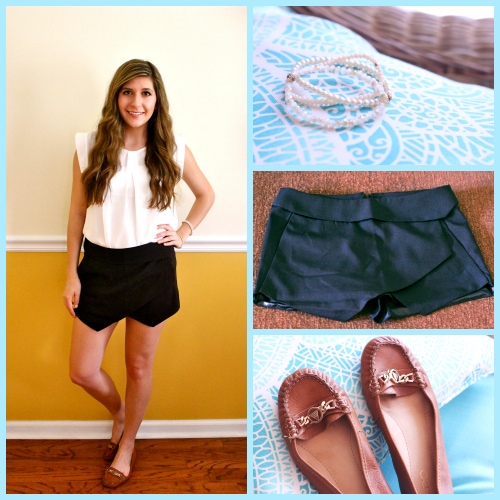 Recently, there was a time when I could not venture onto Instagram without seeing someone wearing a skort. This asymmetrical black skort features a skirt in the front, shorts in the back, and pockets on the side.This contraption is incredibly comfortable, flattering and looks polished and put-together. Can we throw all our skirts in a volcano and declare the era of the skort?
I love the asymmetrical flaps on the front because they make me feel like a Jenner/Kardashian living in the year 3000. (That's where everyone wears skorts and skirts are a thing of the past, BTW).
My sheer white blouse is also from Forever 21. It caught my eye because of the pleats on the front and the interesting sleeves.
P.S. – If you're curious, the title of this outfit is from Cake's delicious song, "Short Skirt/Long Jacket."
2. One Kimono To Go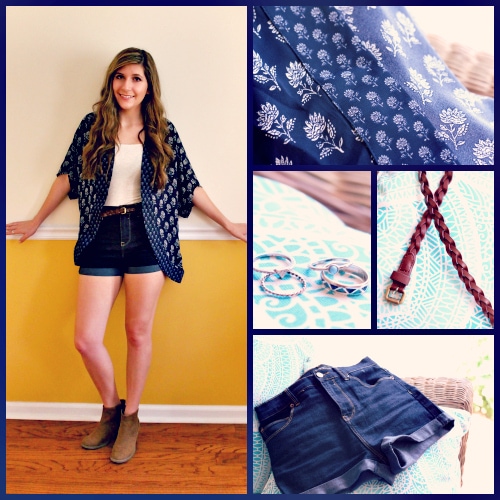 Another trendy piece that bewitched me was this kimono. It drew me in with its soft, blue floral patterned sleeves, and I couldn't resist. Surprisingly, on my petite frame, I liked this one more than the long, fringed knee-length ones.
My high-waisted denim shorts, braided belt, and oatmeal-colored cami are also from F21. Their camisoles are very affordable and the color selection rivals a crayon box.
3. The Kitten's Meow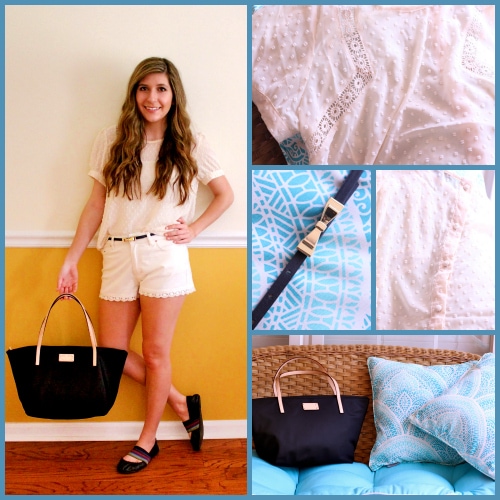 I see the world in cream and black. Or at least, that's what I see in my closet. This polka dot, puffy-sleeved blouse was right up my alley. Unfortunately, the buttons right up the back are a little annoying because they tend to come undone. These shorts are ridiculously comfortable, and have a scalloped eyelet trim on the bottom.
This black belt with a gold bow might be my favorite belt in the world. It also matches my new favorite bag in the world. CF readers, I'd like you to meet the Kate Spade: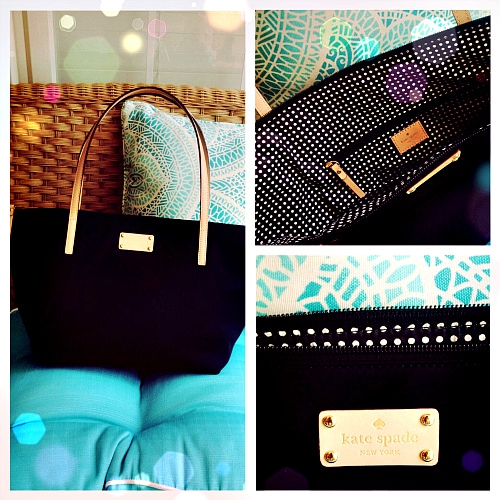 This is a Kate Spade tote. I adore it. The colors are classic and neutral. It's the perfect size to fit my 13-inch Macbook Pro, which makes it good for school or work. The material and shape is similar to the Longchamp Le Pliage tote, however, in my opinion, this one is cuter (and more affordable since it was on sale!).
What have you been loving this summer?
Would you wear a skort? Where have you been shopping recently? Would you like to see more posts like this? Let me know in the comments down below.