This post may contain affiliate links, which means we may receive a commission if you purchase through our links. Please
read our full disclosure here
.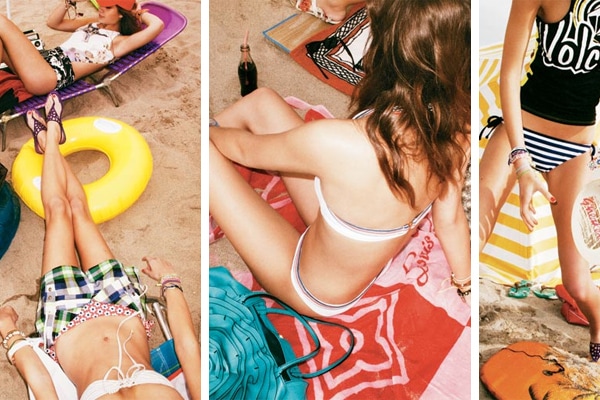 May is finally here, which means… it's almost swimsuit season!
There are so many different types of suits to try, so figuring out which style is the most "you" can be an overwhelming task. Luckily, we're here to help! Whether you want a bikini, a monokini, a tankini or a one-piece, with our tips to finding the perfect swimsuit, you'll be well on your way to looking – and feeling – great once summer rolls around.
Things to Keep in Mind
Before we get to the rest of the tips, here's one you need to remember: Rule number one when seeking a swimsuit is to pick something that makes you feel comfortable and confident. If you don't feel good in it, you aren't going to want to wear it and it'll end up being a waste of money – but more importantly, you're going to feel too self-conscious to really enjoy yourself.
Also, keep in mind that, whatever flaws you may have convinced yourself you have, no one else is going to notice (and they probably aren't really flaws anyway), and we're sure you'll look absolutely fabulous, regardless of what you choose to wear!
Which Style Should I Buy?
There are four basic types of suits: bikinis, monokinis, tankinis, and one-pieces. Within these are a ton of different styles and cuts.
What kind of top and bottom will work best for you depends on what you're looking for in a suit. If you tan easily, even with sunblock, a monokini isn't the best decision as it'll leave you with weird tan lines; if you're planning on doing some crazy dives or jumping in the waves, you'll probably want something more secure than a bandeau top.
Here are some more tips to help you choose a style:
If you don't want to bare too much skin, try going for a one-piece – it's getting much easier to find some that don't look like something a grandmother would wear, promise!
Even other suit options can be more conservative than a string bikini: tankinis often feel more youthful than one-pieces; you can try something with a retro cut, which is trendy, flattering and less revealing; many bikini tops are paired with boyshorts or high-waisted bottoms, which offer more coverage than do the more traditional bikini bottoms.
For a suit with more support, try looking for a halter top or something with an underwire.
Don't ignore the importance of adjustable bottoms – since you can make them looser or tighter to suit your own body, the fit will be much better.
Tankinis and monokinis are great for girls who want something less revealing than a bikini but don't want to be completely covered up. Tankinis are a classic and "safer" option, while monokinis definitely command more attention and are not for the faint of heart!
Tankinis, monokinis, and one-pieces are also great if you're planning on being more active in the water, since you probably won't have to worry about any part of your suit falling off.
If you just want to relax by the water and read a book, you can't go wrong with a bikini. Bandeau tops are adorable and fun, but they're also hard to pull off – make sure that style of top works with your body, and definitely make sure it's tight enough.
If you're looking for something trendy to wear this summer, check out our list of 2011 bathing suit trends.
Now that you have an idea of what style is going to work best for you, here are some cute picks representing each cut:
Bikinis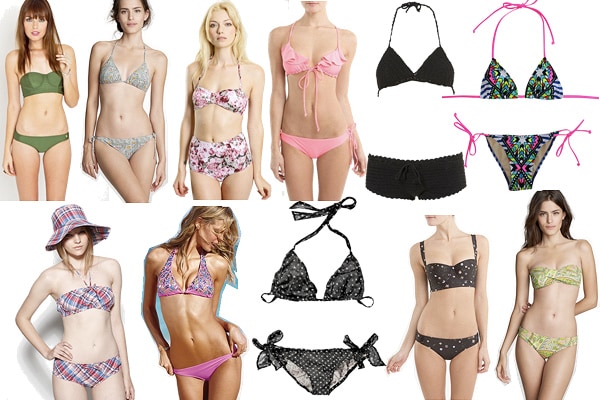 Product Info:1, 2, 3, 4, 5, 6
7, 8, 9, 10, 11
The bold design, bright colors, and classic string-bikini style of 6 is sure to catch quite a few eyes. Likewise, an embellished top (as seen on 8) is going to be very attention-grabbing and flirty. For something a little more demure, go with solid colors, or try a more modest print (like 2, 3, 7, 9, 10, and 11). Finally, the high-waisted style of 3 is very trendy, but can also be difficult to pull off.
Monokinis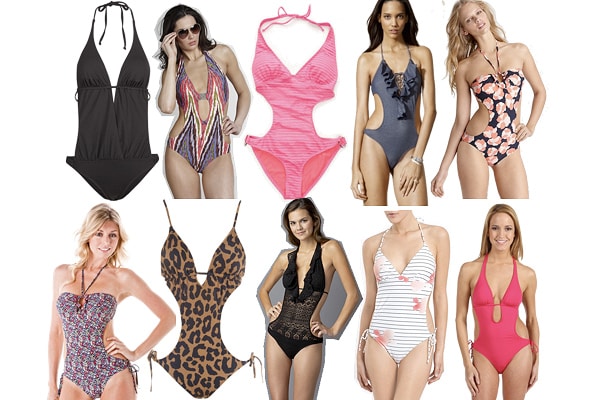 Product Info:1, 2, 3, 4, 5
6, 7, 8, 9, 10
You definitely have to be confident to wear something with leopard print, like 7, or with ruffles (and lace!) like 4 and 8. Go with a solid monokini (like 1, 3, and 10) if you want to look more classic – since the cut is so unusual, you're sure to get some extra attention anyway! If you want to add a sweet, youthful touch to your edgy-cut suit, try going for something with floral prints, as seen on suits 5, 6, and 9.

Tankinis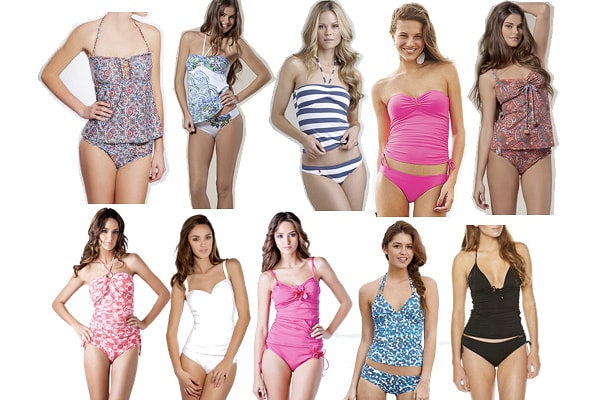 Product Info:1, 2, 3, 4, 5
6, 7, 8, 9, 10
It can be hard to find a tankini that doesn't look too young or too old. Fun prints, as seen on 1, 2, 5, and 9 turn your tankini into something that's more appropriate for someone in their later teens to '20s. Ruching (like on 4) adds an edgy, flirty touch, and you can adjust the top to be more or less revealing.
One-Pieces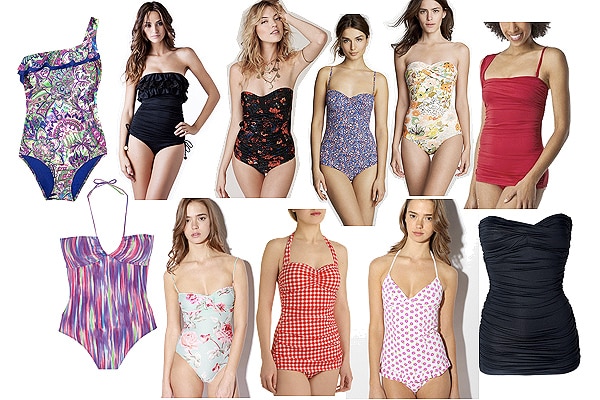 Product Info:1, 2, 3, 4, 5, 6
7, 8, 9, 10, 11
Solid suits like 2, 6, and 11 are great if you are looking for a sleek, classic look. If you want something more youthful and girly, try adding ruffles like on 1, 2, and 10. Interesting prints are another great way to make your one-piece look youthful and interesting. Retro styles like 9 are trendy and glam, and look great on many different body shapes.
What color swimsuit should you choose?
Now that you have some ideas for styles and cuts that would work for you, it's time to decide on a color!
If you're cool toned, you'll look awesome in colors like blue, purple, green, and grey. Warmer tones best suit earthier colors like orange, yellow, brown, and red. Don't know your skin undertone? An easy way to test this is to look at your inner arm veins in direct sunlight. If they appear more blue than green, you're cool; if they have a greener tint, you're warm.
If you want to get even more complicated, learn your season and then your subcategory, which will determine the colors that look best on you. Find out how to do that in our article on how to find your perfect colors!
A Few More Bathing Suit Shopping Tips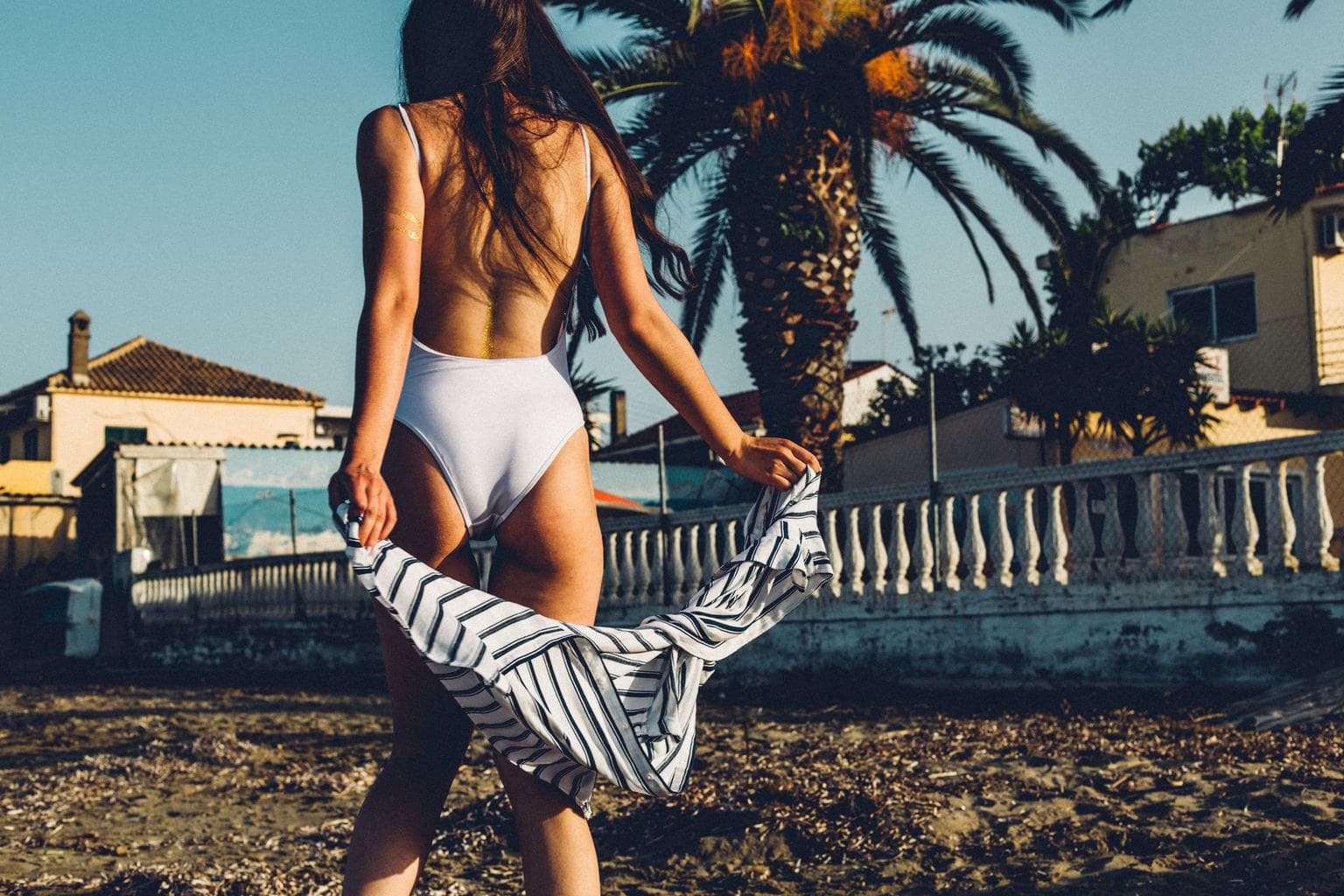 If you want a bikini (or a tankini), don't be afraid to buy mix-and-match tops and bottoms to get the right fit! It's so important to find something that fits properly (especially if you're planning on playing in the waves), and people are often different sizes on top than they are on the bottom – there's no shame in this.
This also comes in handy if you absolutely love the pattern of a bikini, but feel that a different cut on the bottom would be more your style. If the same design is available in different cuts, you can always go that route, but if not, try purchasing a solid bottom in a complementary color.
Unless you've bought a suit from the same brand before and are absolutely certain that it will work for you, it's probably best to actually go to a store and try things on. That way, you'll have a ton of sizes, styles and cuts to choose from and won't have to hope that the store has a friendly return policy on swimwear if your online purchase doesn't quite work.
Bathing suit shopping can be notoriously painful (does anyone look good in fluorescent lighting?!), so to make it more fun, go with a friend! We're often harder on ourselves than anyone else is, so a friend's opinion can be more accurate than your own. (Just remember not to buy anything that you really don't feel comfortable wearing!)
Your thoughts?
What do you think of our tips? Do you have any tips of your own to help take the pain out of bathing suit shopping? What's your favorite swimsuit style? Let us know your thoughts in a comment.