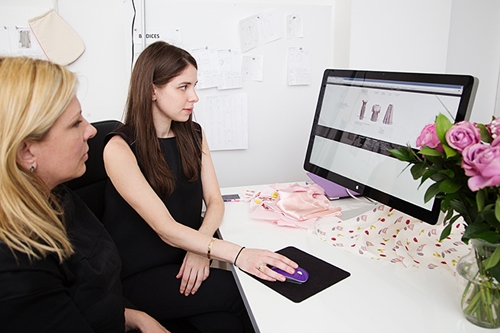 Source: ELLE
Alright ladies, raise your virtual hand if you're guilty of loving online shopping a little too much. If you are, then you're not alone – I am right there with you!
Being able to shop online has forever changed the fashion industry, and made it accessible no matter where you live. In fact, some of the best deals I've found have been on – you guessed it – the internet. It allows us to browse around, price compare, and get other shoppers opinions all with the click of a button. How's that for convenient?
Online shopping is the budget-savvy college student's best friend. In recent years, the rise of daily deal websites has allowed shoppers to get the most bang for their buck – think of them as a virtual TJMaxx – by offering fashion at massive discounts.
Even if you're ambivalent about purchasing clothing or accessories online without trying them on, here are four daily deal websites that are sure to change your mind:
1. Pick Your Plum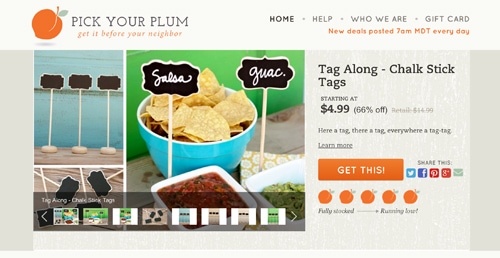 Pick Your Plum is a new website to me, but was recently recommended to me by a friend who couldn't stop gushing about her latest purchases. Pick Your Plum posts roughly ten deals a day at 7 AM Mountain Time.
They sell everything from clothing and accessories to home decor, party and crafting supplies, with a few surprises thrown in every once in a while. The prices are exceptional – think $8 for a swimsuit cover-up – and there is only one flat shipping cost per order. Can't beat that!
Pick Your Plum also provides excellent customer service and offers a no-questions-asked 30 day return policy if you change your mind about an item.
2. No More Rack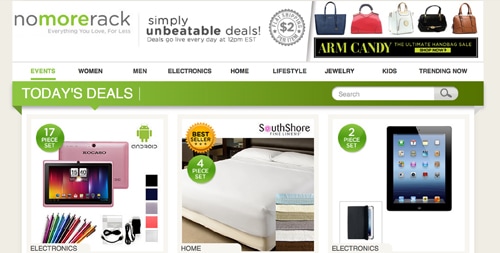 I also heard about No More Rack from a friend, and was blown away by the sheer number of products they feature on the website. With a $2 flat rate shipping cost per item, plus 50-90% off retail prices, there are amazing deals to be had.
I have to admit that the first time I ordered from them, it seemed almost too good to be true. However, I received my item quickly and it exceeded my expectations. If you're still doubtful, No More Rack is a Google Trusted Store, meaning you can shop knowing you'll receive reliable shipping, quality customer service, and free purchase protection.
Remember to be quick if you spot a good deal! New deals come out at 12 PM Eastern Standard Time and only last a day.
3. Jane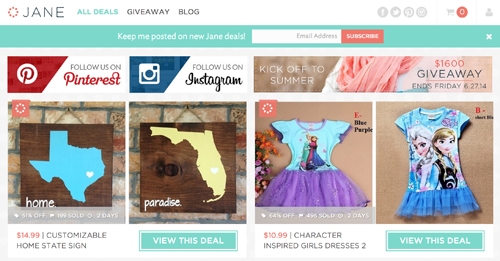 Boasting some of the best deals on the internet, Jane (formally VeryJane) has been around since 2011. The website features handmade and boutique items that are up to 80% off. There are numerous deals offered daily on items such as clothes, jewelry, accessories, footwear, and home decor.
The deals are typically valid for two days or so, but are quick to sell out – if you spot something you like be sure to act on it right away. You may also sign up for a daily email, which will notify you of any new deals as they are listed.
4. GroopDealz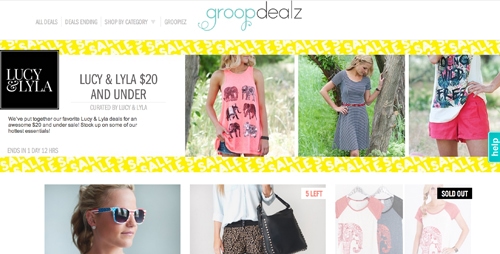 I've been saving the best for last: let me tell you all about GroopDealz. Even though the name is somewhat questionable and a little tacky, I promise you that the products they feature are anything but. Out of all the websites I've listed, this is the one I order from the most.
There's something for everyone at GroopDealz: stylish clothing and accessories, chic jewelry, stunning home decor, and the latest tech equipment. Deals are posted at various times throughout the day, so I recommend signing up for the daily emails to stay one step ahead of everyone else.
Your Thoughts?
And now my dear CF friends, let the retail therapy commence. But be careful to watch your wallet – only go for the deals that are too good to pass up. Good luck and shop on!
Have you purchased from one of these sites before? What did you buy? Do you have a daily deal site that you can't live without? Let us know in the comments!