This post may contain affiliate links, which means we may receive a commission if you purchase through our links. Please
read our full disclosure here
.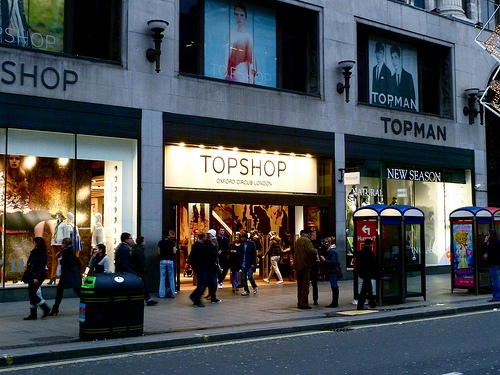 Aside from all the truly awesome sites, people, and events England has to offer, there's also a whole new world of shopping to explore! I've already shared my tips on surviving study abroad in the UK, so now it's time for the fun stuff – the fashion!
If you plan on spending your summer paycheck during your semester abroad and are prepared to deal with higher-than-in-the-US prices – prepare for sticker shock! – here are some great places to break out your wallet in England. (Note: Most of these stores are available across the UK as well, though availability depends on the area.)
1. Best for Accessories: Topshop
1. Satchel, $56; 2. Scarf, $36; 3. Ring, $12; 4. Necklace, $40; 5. Sunglasses, $32; 6. Earrings, $20
It wasn't long ago that trend-setting Topshop was planted firmly in English soil. Though the brand has now expanded into the US, that's no reason to ignore them on your trip to the 'high street'! Topshop is awesome for accessorizing – they specialize in items that look designer, but are generally affordable. Stock up on quirky rings, retro sunglasses, and on-trend bags to glam up your entire wardrobe!
2. Best for Shoes: Office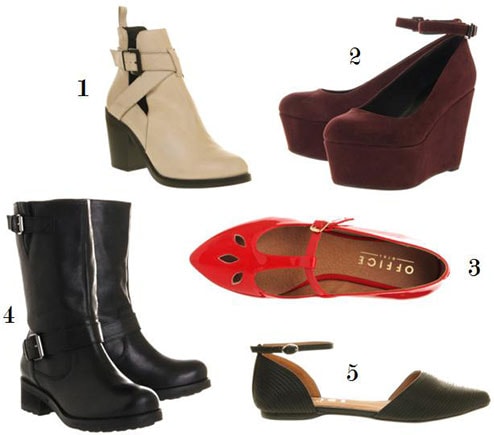 1. Boots, $133; 2. Wedges, $94; 3. Red flats, $86; 4. Biker boots, $133; 5. Flats, $71
If you're free to spend a little extra, Office is a sure bet when it comes to shoe shopping! Not only do they stock a variety of brand names, but they've got a huge selection and some awesome styles. Head in for Hunter wellies and feel like Kate Moss at Glastonbury – or, just protect your toes from the rain! And be sure to look out for their sales for some serious shoe steals!
3. Best for Trend Testing: Primark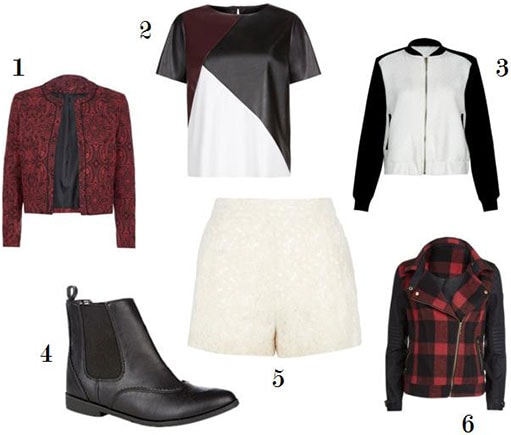 1. Printed jacket, $30; 2. T-shirt, $15; 3. Jacket, $24; 4. Boots, $15; 5. Shorts, $19; Plaid jacket, $39
If you're not ready to commit to a trend but are desperate to give it a go, Primark is your place! They sell loads of designer knock off pieces for great prices, so no need to spend loads to decide whether or not you like a style. It's also great for DIY Halloween costume pieces – think cheap leotards, makeup, and accessories!
The only issue? A lot of their clothing is low quality, so beware of tears and holes in the items you're buying – and don't expect them to last forever.
4. Best for Splurges: Harrods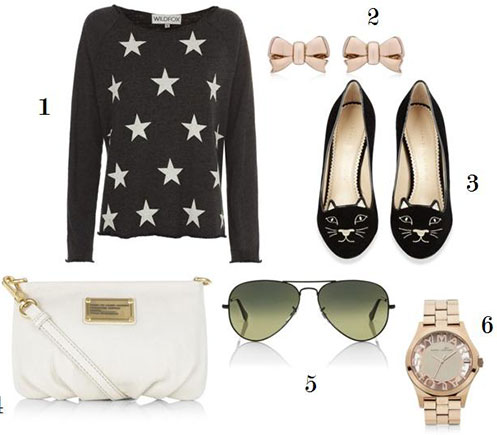 1. Sweater, $197; 2. Earrings, $109; 3. Flats, $779; 4. Purse, $275; 5. Sunglasses, $275; 6. Watch, $360
Want to splash some cash? (Or just window-shop?) If you're looking for an extravagant souvenir, there's no better luxury shop than London's premiere department store. Think of it as England's answer to Saks – and be prepared to stretch your dollars! But, if you need your designer fix, Harrods' beautiful 5 acre (!) store is the ticket – rivaled only by Oxford Street's famous Selfridges.
What do you think?
What do you think of these stores? Which shops would you add to this list? Ladies in the UK – have you been to any of these stores yet during your study abroad? Tell us your thoughts in the comments below!