This post may contain affiliate links, which means we may receive a commission if you purchase through our links. Please
read our full disclosure here
.
I have been shopping at Kohl's my entire life, and I feel like it is often overlooked as a fashion-forward store. One of my favorite things about Kohl's is how you can find both trendy and classic pieces in the same place, all for amazing prices.
Below, I'll take you through the history of Kohl's stores, share some cute clothes and accessories you can buy at Kohl's now, AND fill you in on my best tips for shopping at Kohl's to help you save a ton. You'll soon become as Kohl's-obsessed as I am.
History of Kohl's
The first Kohl's department store opened in 1962 in Brookfield, Wisconsin. The company went public in 1992 and Kohls.com launched in 2001. Today, there are 1200 stores spread across 49 states. Kohl's headquarters are located in Menomonee, Wisconsin where Kevin Mansell works as Chairman, CEO, and President of the company. The department store sells a wide variety of women's, men's, home, children, footwear, and accessory merchandise.
30% of Kohl's merchandise falls under the "women's" category, making it the largest amount of merchandise sold by the company. Which brings us to…
Cute Clothes and Accessories to Buy at Kohl's
Kohl's is a mecca for cute clothes, with lines from stars like Lauren Conrad and big name brands like ELLE and Rock and Republic. Below, I'll show you a few of my current faves.
Trendy Items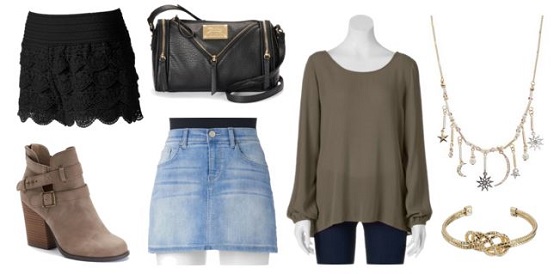 Products: Lace Shorts, Boots, Bag, Jean Skirt, Top, Necklace, Bracelet
Kohl's has really grown their clothing selection over the past few years by adding brands such as LC Lauren Conrad, Jennifer Lopez, and Princess Vera Wang. These brands are my go-tos for trendy items like those above. From crochet shorts to '70s blouses and rustic ankle boots, Kohl's has it all.
Classic Pieces
Kohl's also has everything you need if you are looking for those classic wardrobe items as well: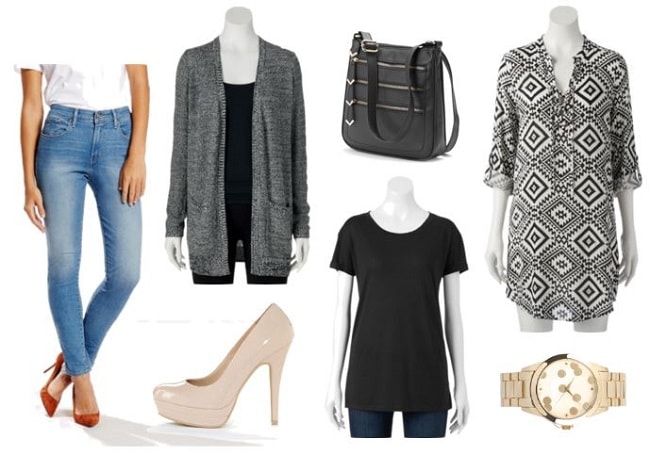 Products: Jeans, Cardigan, Pumps, Bag, T-Shirt, Dress, Watch
Whether you need to pick up the basics or are looking for an outfit to wear to an interview, Kohl's has you covered with brands such as Apt.9 and Levi's! These are my picks when I need something classic and timeless.
My Best Tips for Shopping at Kohl's:
If you're familiar with Kohl's, you probably know that they run lots of promotions and have various programs designed to save you money. Below, I'll give you a rundown on these and how you can use them to save major cash on your shopping trips.
1. Make sure you sign up for Kohl's new Yes2You rewards card!
Yes2You Rewards is a free rewards card that is separate from the Kohl's credit card. With Yes2You, you earn five dollars for every $100 that you spend, regardless of your payment method. The card also does not prevent you from earning Kohl's Cash, so it is a must if you are a frequent Kohl's shopper!
2. Make note of your Kohl's Cash expiration dates.
This has happen to me and my mom too many times to count. We go on a shopping spree at Kohl's, get $30-$50 in Kohl's cash, then we forget to spend it and it expires. Make sure to put a reminder in your phone of when your Kohl's cash expires! Otherwise you are just throwing away free money!
3. Take advantage of price adjustments for items that go on sale.
This is a tip that I just recently learned about. If you buy an item from Kohl's and it goes on sale within two weeks of your purchase date, you can go into the store with your receipt and they will match the new sales price and give you your money back!
4. If you can't find what you are looking for in-store, check out the Kohl's Kiosk.
I honestly did not realize how helpful the Kohl's Kiosks are until I started researching the company. You can find Kiosk stations placed around the department store which you can use to look up items that are either not in the store or not available in your size and purchase them right then and there. The item will be shipped to your house for free! Cool, right?
What do you think?
Do you regularly shop at Kohl's? Why or why not? Do you have any tips for shopping at Kohl's? Let us know your thoughts in the comments!