Headquartered in London, United Kingdom, ASOS is a global online fashion and beauty retailer. The online retailer was created on June 3, 2000 by Nick Robertson and Quentin Griffiths. The name ASOS originally was an acronym standing for "As Seen on Screen".
The online retailer sells over 80,000 products from over 850 different brands and targets young adults by offering womenswear, menswear, footwear, accessories, and beauty products.
Stylish Finds from ASOS:
Here, I've compiled some of ASOS' newest womenswear items for the summer 2016 season: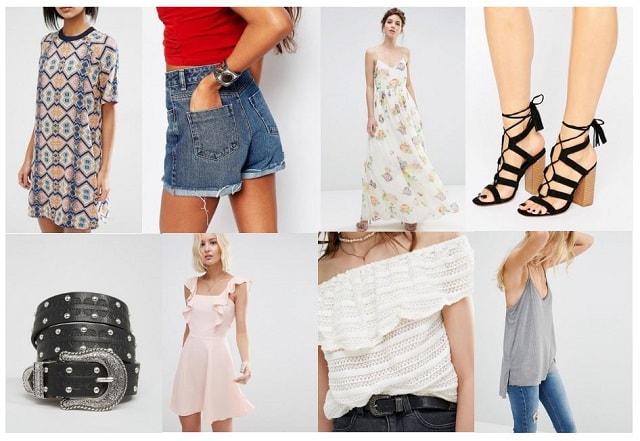 Products: T-Shirt Dress, Shorts, Maxi Dress, Heels, Belt, Ruffled Dress, Off-Shoulder Top, Tank Top
Tips for Shopping at ASOS:
1. Take Advantage of Model's Measurements
ASOS lists the measurements of the models and size they are wearing in their featured images. This is so helpful! Compare these numbers to yourself to get a better idea of how an item will fit before you buy.
2. Want to wait for a sale? Save an item for later!
ASOS has a "save for later" button where you can keep an eye on an item for up to 60 days while you are waiting for a sale to take place.
3. Use PayPal to Avoid Transaction Fees
Since ASOS is based in the UK, there can be transaction fees (depending on your credit card/bank) if you are ordering from outside the country. ASOS allows you to use a PayPal account to pay for your order to avoid these fees.
4. Use the #AsSeenOnMe Feature to Get Styling Ideas
This cool feature (at the bottom of every item page) allows you to see how others are styling their items from ASOS. You can filter what images you want to see by category, and links are provided for items that are still in stock.
5. Sign Up for ASOS Premier for Special Benefits
ASOS Premier is a special service that costs $29 a year. It gives you early access to sales, unlimited two day shipping, the ASOS magazine for free, and free returns.
6. Get 10% off with your student ID!
ASOS offers a 10% student discount on full price items when you sign up with your student ID through their college section. It's easy to verify your student status, and then you get an instant 10% off!
What do you think of ASOS?
Have you shopped at ASOS? What do you think of the online retailer? Let us know in the comments!