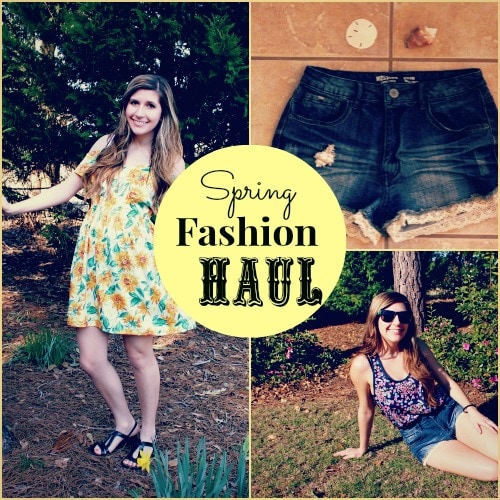 One of the most frequently asked questions I get here on CF is, "Where did you get that piece of clothing?" Unfortunately, I know many of my clothes are from local boutiques or a few years old, and might not be available to you. So, for this post, I wanted to do a round-up of some accessible and affordable clothes I've purchased recently.
As usual, this is not sponsored. I'm just a huge lover of TJ Maxx, Target and H&M! Scroll down to check out my spring fashion haul:
1. TJ Maxx
TJ Maxx is so inexpensive, has so many different clothes, and now you can even shop online. (And if you're reading this TJ Maxx, I'll gladly be your next spokesperson.)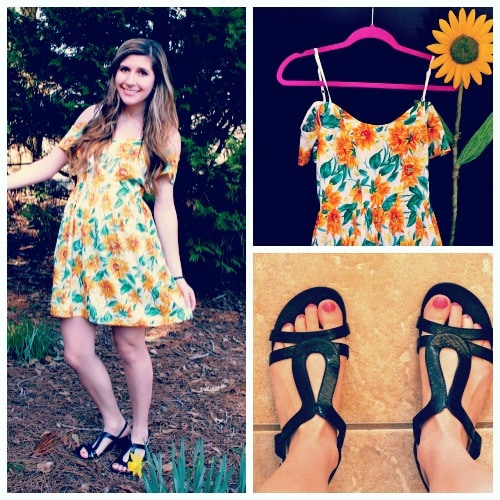 In the words of Colbie Caillat, this sunflower dress makes me feel brighter than the sun. This frock is unique because it has off-the-shoulder sleeves as well as regular, thin straps. I like the off-the-shoulder look without the scary strapless feeling. We've all been that girl who has to keep pulling up her strapless dress and it is not fun.
Let's all pledge to not be that girl again: I solemnly swear I am up to no ill-fitting strapless tomfoolery.
My black sandals are an oldie but goodie purchase from Old Navy.
Here are my new gray-and-white running shorts. I find that cute clothes are my motivator to go work out. What I lack in muscle I make up for in stylish gym clothes.
People have asked me before if my workout clothes are Lululemon. Like the shorts above, most of my gym clothes are the brand MPG from TJ Maxx. I love their sweat-wicking material and bright, fun patterns.
However, these shorts are not grandfather-approved. Mine took one glance at this stunningly beautiful summer pattern and said they reminded him of drapes. Ouch!
(P.S. – If you would like to see an article on cute gym clothes, please let me know in the comments section!)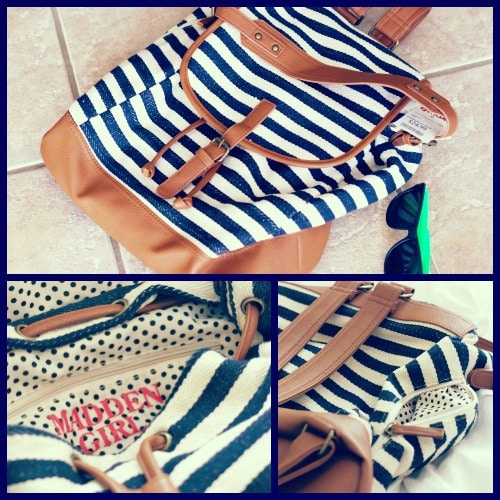 Has my never-ending hunt for the perfect backpack ended?
This nautical stripe backpack was a steal at $25. The straps on the back are surprisingly comfortable, plus since the straps are conjoined in the middle, I hope they will stay on my shoulders. Do you guys have that problem of backpack straps slipping off and away? #storyofmylife.
This backpack has passed the notebooks, textbooks, and laptop test, which makes it a winner for sure.
2. Target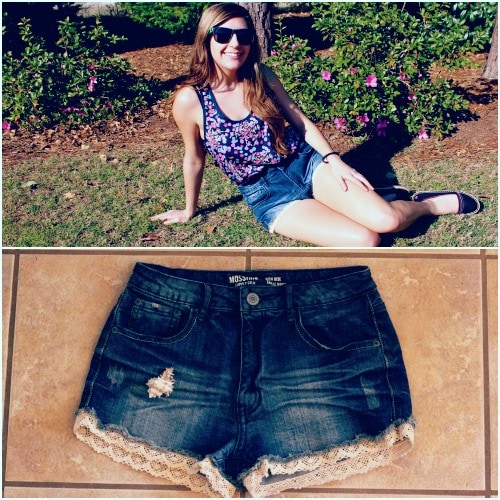 If anyone asks, I raise both my hands to high-waisted shorts. However, a lot of high-waisted denim shorts are cut off and tend to fray a little too much. The crochet detail on these Mossimo shorts not only prevents that, but adds a little extra bohemian touch.
Personally, I think these would be perfect for festivals/outdoor concerts. Also, FYI, an article on high-waisted shorts is coming your way soon, so stay tuned!
3. H&M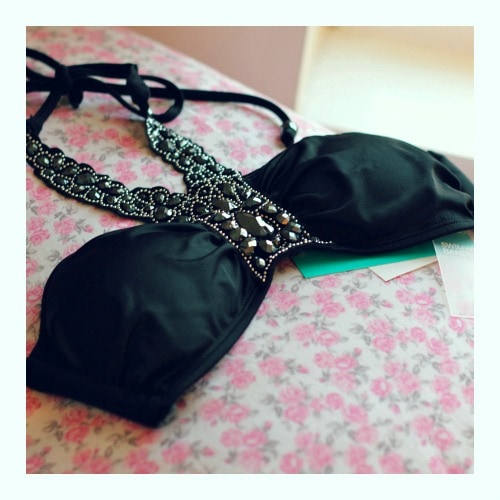 I've never tried H&M swimsuits before, but I'm very excited to wear thisbeaded bandeau top. Unlike many in this style, it feels tight and secure, and even has wiring on the sides. I think this will look cute with a pair of patterned or solid neon bottoms.
Tell me what you think!
Would you like to see more shopping haul posts in the future? Which of these pieces is your favorite? What are some of your recent spring buys? Please let me know in the comments down below what you want to see next.