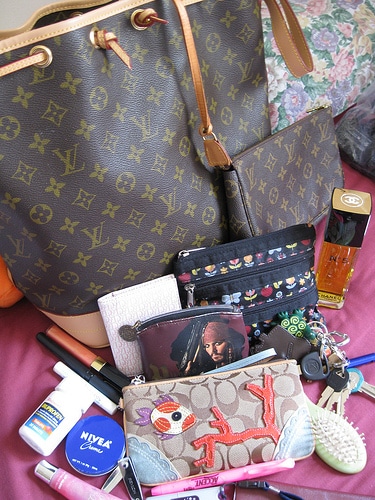 Ever heard the phrase "Go big or go home?" As far as I'm concerned, that phrase is talking about handbags. Don't get me wrong, a clutch can sometimes be the ultimate in style and function, but for the day to day, especially if you want the perfect mix of form and function, an oversized bag is the way to go!
Why buy?
Oversized bags are not only adorable, but also totally versatile. They'll carry all of your stuff in a variety of situations, from campus to coffee house and work to dates. If you invest in a quality bag, it will last years! Big bags are also a great way to play with proportions and spice up an outfit. They definitely make an impression!
Still not sold? Use the size to your advantage. Another perk of a big bag is that they can make their wearer seem noticeably dainty in comparison.
Tips for Carrying and Buying an Oversized Bag
Consider your height. The taller you are, the bigger the bag you're going to be able to rock. Yes, it's unfair if you're shorter, but you don't want a gigantic bag to dwarf you! No matter your height, for the most flattering look, your big bag should hit right in the middle of your waist. Higher and it will annoy you, lower and it can make your hips look bigger. Aim for the sweet spot–elbow length!
Utilize your new-found space. The oversized bag's number one advantage is its space! Use it, girls! Feel free to bring along your MP3 player, magazine, and gigantic sunglasses that don't fit in any of your other purses–your big bag's got you covered! You can also use it as an eco-friendly shopping bag. Another perk of oversized bags is that they often have many pockets and compartments for easy storage and access to your most needed possessions. Make sure not to over-stuff, though; carrying a heavy bag can lead to back and shoulder pain.
Splurge on classics and neutrals, save on trends and flash. As always, if you're looking for an investment piece, go for something classic. Leather (or faux leather if you're an animal lover!) is always in style and looks great. If you can afford to splurge, there are designer bags with well-known silhouettes (think YSL's Muse, Louis Vuitton's Alma or Speedy, Hermés' Birkin, or Balenciaga's Motorcyle, ) and/or logos are always classic. Of course, if you're looking for something trendy or flashy, there are tons of stores that sell great oversized bags in animal prints, with stud detailing, or in wild colors–whatever the trend of the moment is–on the cheap.
Get Your Own!
Splurge

Product Information: Foley + Corinna Mid City Tote, Piperlime. Gucci Logo Hobo, Farfetch.com. Marc by Marc Jacobs Aidan Leather Bowling Bag, net-a-porter.com. Fringe Babydoll Shoulder Bag, Juicy Couture.
Save

Product Information: Arconate Bag, aldoshoes.com. Big Buddha Raj Snakeskin-Look Tote, fredala.com. Mimi Cross-Body Messenger, delias.com. Lobster Hook Front Tote, Forever 21.
Your thoughts?
How do you feel about oversized bags? Love 'em? Hate 'em? Do you have any? And as always, is this a splurge or a save item for you?! I'd love to hear your thoughts! Let me know with your comments!