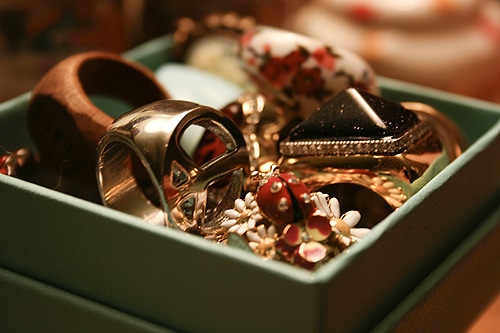 There are a few classic jewelry items that every girl should own. These accessories work with any outfit, dressy or casual, and because of their classic design and appeal, you'll be able to wear them for the rest of your life!
The following pieces are great to splurge on so you can invest in heirloom quality stuff, but there's always some wiggle room to fake it and save! I'll show you how to do it!
Chic Stud Earrings:
If you have pierced ears, you probably own a pair or two of stud earrings. I love studs because they're super easy to wear and they go with everything. For something so simple and timeless, stud earrings come in many varieties – from all-metal styles to tiny cuts of your birth stone. Arguably the most chic, however, are pearl and diamond studs.
Today, pearl studs are totally budget friendly–freshwater cultured pearls, even with larger studs, run under $75. Want to save? Claire's, Forever 21, and Target always have adorable 3-packs of pearl studs for under $10! When it comes to diamonds, Target and Overstock.com sell deeply discounted stud earrings. If you're lucky, you'll find natural quarter-carat studs on "The O" for under $100!
Another money-saving tactic when it comes to diamonds is to choose lab-created varieties (simulated diamonds grown in a lab) or CZ's. No one will be able to tell the difference, and you'll save a ton!
Splurge:

14k Gold 1/4ct Round Diamond Stud Earrings, Overstock.com. Mastoloni 5mm Cultured Pearl Stud Earrings, Nordstrom. Bow Stud Earrings, Juicy Couture.
Save:

1ct CZ studs, Claires. Sarah's 2ct Cushion Cut Pink CZ Stud Earrings, fantasyjewelrybox.com. Faux Pearl Studs, Target.
Classic Pearl Necklace:
When you think of elegant, timeless jewelry, pearls are probably the first thing that come to mind!
A truly versatile style, pearls come in plenty of varieties. Pick your color, length, size, closure, even type of pearl! Each of these variables can create a different look.
As far as pricing goes, Freshwater pearls will run you the least, Akoya pearls fall in the middle, and South Sea pearls will be the most expensive. Between these varieties, prices can run anywhere from $100 to tens of thousands. Choose wisely!
Of course, there is no reason to spend this much if you don't want to! There are plenty of inexpensive cultured, glass, and even plastic pearls available at plenty of your favorite retailers. If you choose to go this route, you'll get the most mileage out of a long (18"+) strand of glass pearls. You'll capture the look and feel of real pearls, and the long length will allow you to wear your necklace in multiple ways.
Whatever style you choose, a pearl necklace is a great way to dress up an outfit with a touch of classic elegance!
Splurge:

22″ Akoya Pearl Necklace, purepearls.com. Hand-knotted Pearl Necklace, J.Crew. 14mm White Baroque Pearl Necklace, Saks Fifth Avenue.
Save: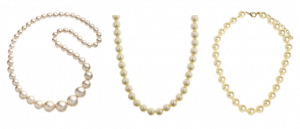 Ivory Pearl Rope Necklace, Dorothy Perkins. Princess Length Simulated Cream Pearl Stud, 1928.com. Cream Short Pearl Necklace, Debenhams.com.
Sophisticated watch:
These days, I know most of us only check the time on our ever-present cell phones, but what do you do when you can't have your phone? Or what about those special occasions where you just want to look elegant and pulled together? A sophisticated, pretty watch is the perfect solution.
A watch is a definite staple for an adult wardrobe, and it's something you can easily incorporate into your own right now. As fun as bright colors, rhinestones, and bracelet styles can be, a classic, sophisticated watch will get you through any situation, go with anything, and help you transition seamlessly from college girl to young professional!
Of course, "classic" doesn't have to mean boring! You'll still have plenty of options here including choices of bands, metals, specific styles, enamel, and bezels! Go crazy, girls! But remember to keep it classy, of course!
Splurge: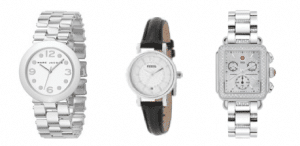 Marc by Marc Jacobs Tailored Suki Watch, Nordstrom. Analog Silver Dial Watch, Fossil. Michele Deco Diamond Watch, Bloomingdales.
Save: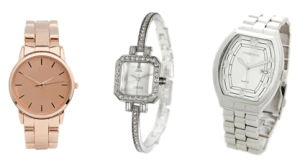 Rose Gold Effect Retro Watch, asos.com. Women's Square Diamante Bangle Watch, debenhams.com. Chereskin Watch, yesstyle.com.
Timeless monogrammed items:
To me, there's nothing more classically beautiful than a monogram. A symbol made by overlapping two or more of your initials, think of a monogram as your pretty personal signature. Wearing monogrammed jewelry gives you a chance to wear something that's all about you!
That said, I also love the idea of wearing a family member's or best friend's monogram, too. And there are so many options for wearing! Whether you choose a signet ring, initial pendant, or bracelet charms, monograms are simple, beautiful, and timeless! Your choice of metals and styles for monogrammed pieces will dictate whether your jewelry is a "splurge" or "save"!
Splurge: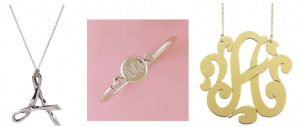 Adina Design Initial Necklace, adinadesign.com. Monogrammed Round Silver Bangle Bracelet, www.emilyrosejewellery.com. Large Initial Pendant, wishnyc.com.
Save:
Sterling Silver Oval Monogrammed Pendant, bluepaisleys.com. Sterling Silver Rounded Rectangular Ring, personalizedfrommetoyou.com. Glass Pearl Bracelet with Personalized Sterling Silver Charm.
Tell me what you think!
Do you own any of these investment picks? What jewelry (if any!) do you wear every day? When it comes to accessories, do you save or splurge? Leave a comment and let me know!