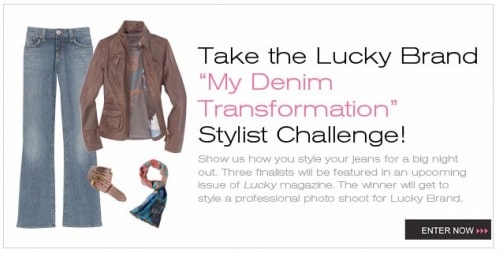 Do you ever read about celebrity stylists and think "I could do that job in my sleep"? Do you dream of dressing celebrities and styling photoshoots for a living one day? Do you put together amazing outfits like nobody's business? If so, you need to enter the Lucky Brand "My Denim Transformation" Stylist Challenge!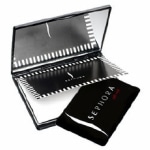 The top three contest finalists will appear in Lucky Magazine and the grand prize winner will get to style a photo shoot for Lucky Brand Jeans! How's that for fashion industry experience?
But it gets better….College Fashion readers who post their contest entries here will be able to win one of threeSephoragift cards courtesy of Lucky Magazine!
Here's how the contest works:
Put together an outfit with a pair of jeans that you've styled for a night out.
Take a picture of yourself wearing said fabulous outfit.
Submit it on the contest entry page.
Post the link to your contest entry in the comments for this post & enter to win a Sephora.com gift card.
I can't choose the winner of the actual contest, but I'll pick the winners for the Sephora giftcards here based on which outfits I like the most. The three best outfits will win!
Think you've got what it takes? Visit the My Denim Transformation contest page to enter and don't forget to post the link to your entry here to win a Sephora gift card.
Good luck to all of you!
Update: I just found out the deadline for this contest is 11/4 at 10 AM, so be sure to get your entries in before then! Also, unfortunately the contest is open to US residents only.