This post may contain affiliate links, which means we may receive a commission if you purchase through our links. Please
read our full disclosure here
.
It's easy to fall in love with a designer's latest products. Affording those products is the hard part. Searching for budget-friendly options can be daunting, exhausting, and can even take the fun out of shopping. CF wants you to look and feel your best, no matter your budget, so we've done all the hard work for you. Check out the looks below and decide if you want to Save, Spend, or Splurge.
We've all heard the unwritten rules:
"Don't wear white, don't overdress, don't underdress, don't show your shoulders, don't look too sexy, don't outshine the bride, make sure you're trendy AND classic because you're going to be in a lot of pictures…"
Some of these precautions don't really apply in 2015, but there are still other guidelines to follow. Being a good wedding guest can be more difficult than some people think. So, how can College Fashion help?
By this point in the summer, you've probably attended most of the weddings on your list before school starts up again. There will always be more weddings, though, so it's never too late to brainstorm or go shopping.
The best part about this post? If styled correctly, most of these classic wedding guest looks are appropriate all year long (and can be worn for other occasions), so don't be afraid to splurge! Scroll down to see your options:
The LBD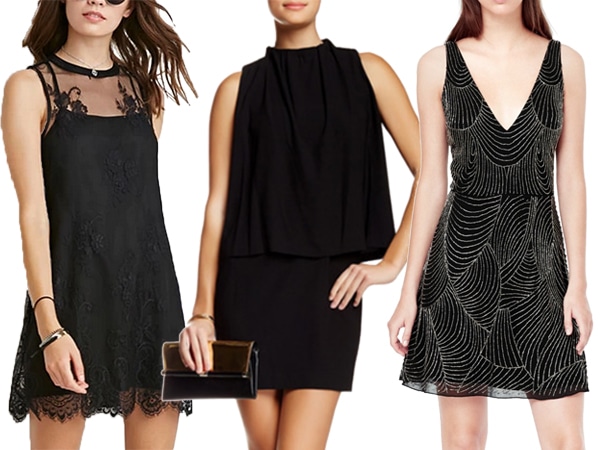 Save: Forever 21, Spend: Cynthia Steffe, Splurge: Mango
Rocking the LBD is all about paying attention to detail. Necklines and hems speak volumes when it comes to this wardrobe staple. Let the details do the talking. Most likely, you already have a LBD in your closet (or two… or five.) That's great!
Just remember to keep accessories simple. Simple jewelry, simple shoes, simple bag. How do you want to look? Bright pumps read "fun," neutral heeled sandals read "classic." A crossbody bag looks "practical," while a clutch looks more "elegant." How will you style your LBD?
The Printed Maxi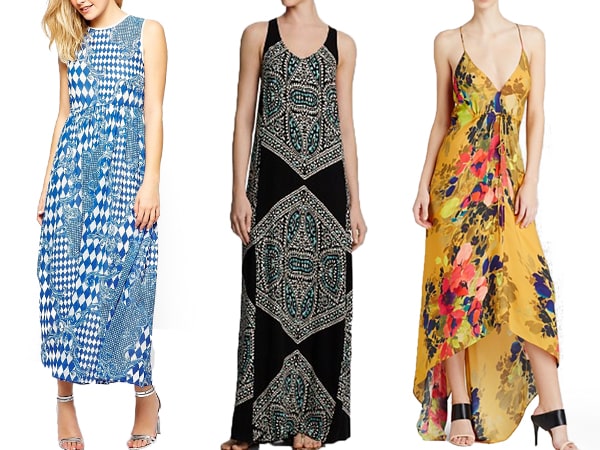 Save: ASOS, Spend: Ella Moss, Splurge: Nicole Miller
Don't feel like wearing your LBD for the 10th time this summer? That can be solved with a printed maxi dress. It's a little more grown up than a printed skater or body-con dress, and more visually interesting than a solid color.
For smaller, straight or athletic frames, try a maxi-length babydoll, like this one from ASOS. It creates volume and movement without making you look big or boxy. For apple and pear shapes, try a slip silhouette with a macro print over a dark background. This is my favorite shape because it is flattering in all the right places without being cinched or ruffled. It's simple, but has lots of options for styling; try pairing it with a denim vest or bright sandals.
The Jumpsuit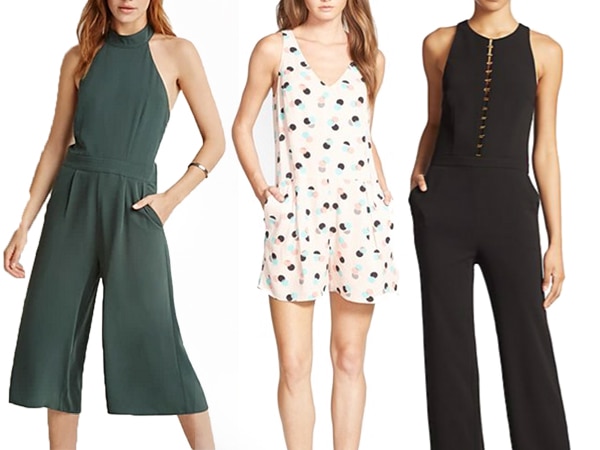 Save: Forever 21, Spend: Chelsea28, Splurge: Trina Turk
Jumpsuits and playsuits are a huge trend right now, but are likely to be replaced with the next trend very soon. If you're interested in purchasing a jumpsuit in the near future, it would be smartest to save if you go with this choice.
They may not be a "classic" piece, but that doesn't mean they aren't cute! Jumpsuits, playsuits, and other one-pieces are cut in all different ways with unlimited options of cutouts, buttons, patterns, lengths, and fabrics. They're like dresses, but you won't have to worry about the sudden gust of wind à la Marilyn Monroe.
Just remember that when shopping for a jumpsuit, you need to pay attention to the crotch and tummy areas. One-pieces tend to pull and pinch in the wrong places if you're not careful. For example: I have a long torso, so when shopping for a jumpsuit, I need to shop in the "tall" section.
With patience (and a few trips to the dressing room) all of that searching will pay off. The right-fitting jumpsuit is streamlined, chic, and unique. You can be guaranteed that no one will have your outfit at the reception!
What do you think?
Would you splurge on any of these items? How about save? Are there any designer pieces that you'd like to find at friendlier prices? College Fashion can help! Remember to post comments, questions, and requests below.