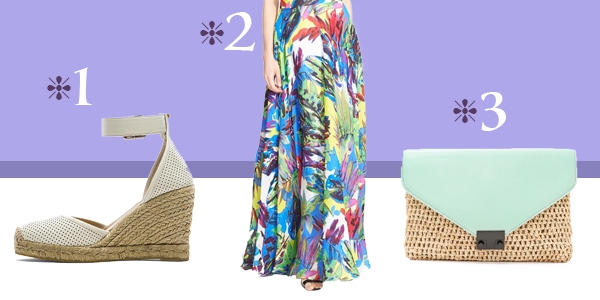 Product Information – Marc by Marc Jacobs, Milly, Loeffler Randall
It's easy to fall in love with a designer's latest products. Affording those products is the hard part. Searching for budget-friendly options can be daunting, exhausting, and can even take the fun out of shopping. CF wants you to look and feel your best, no matter your budget, so we've done all the hard work for you. Check out the looks below and decide if you want to Save, Spend, or Splurge.
I'm originally from Iowa, where "going to the beach" means driving a few miles to lie outside in the grass and dirt by a tiny lake. We all want to feel like an island princess every now and then, whether or not our geographic locations allow us to do so. With all the Resort 2016 lines being released recently, I've been more inspired than ever to hop on a yacht and sail away with a mango-pineapple smoothie in one hand and a copy of the latest Harper's Bazaar in the other.
A girl can dream, right?
So I may not have the money to hop on a yacht. Honestly, I don't think I could even afford to look at a yacht for too long. In the same semi-deflated spirit, I can't afford the latest Fendi or Clover Canyon or Oscar de la Renta resort wear.
Alas, that has never dampened my fashion spirit before. With all of the super-hot nautical, boho and '70s trends, it's easier than ever to check off some must-haves on that Island Girl shopping list!
Scroll down to see a few shore-inspired pieces that will transport you to the island of your choice– where you are the queen, have a beautiful and healthy tan, and the pool boys feed you grapes.
Espadrille Wedges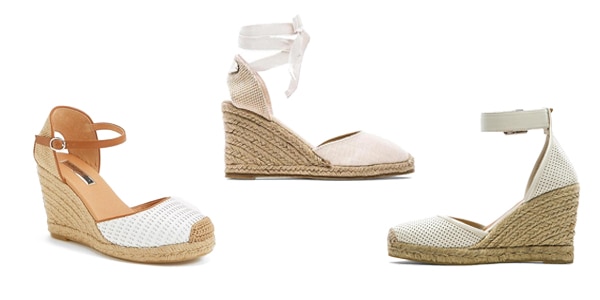 Save: Halogen, Spend: Soludos, Splurge: Marc by Marc Jacobs
Espadrilles are trending hard right now. Traditionally, they're more of a casual shoe, but if worn the right way, espadrille wedges (or platforms) can be dressed up for for more special occasions.
Us CF girls love a good bang for our buck. Want to invest, but don't want to indulge in a major designer? That Soludos wedge is nearly a Marc by Marc Jacobs doppelgänger. Hello, fabulous.
Tropical Maxi Skirts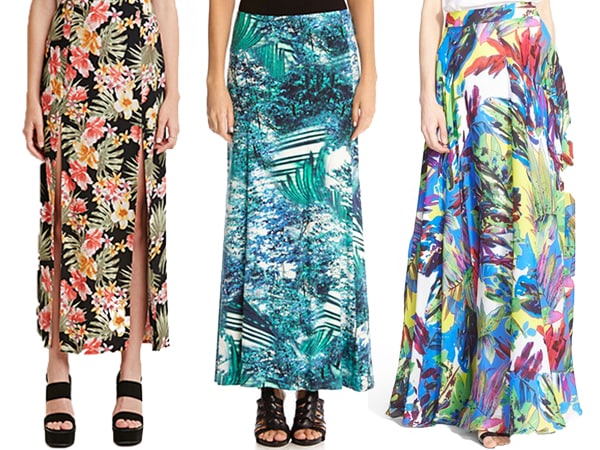 Save: Forever 21, Spend: Karen Kane, Splurge: Milly
Nothing feels better than the salty evening wind blowing a maxi skirt around your ankles. With a maxi skirt, you instantly feel glamorous.
Depending on how you style it, the maxi allows you to wear flats or wedges, gold or silver accessories, a solid top or a matching printed crop top, and you can even add a kimono if the night gets chilly– the possibilities really are endless! And in a tropical print, a maxi is the perfect beach getaway staple.
Straw Clutches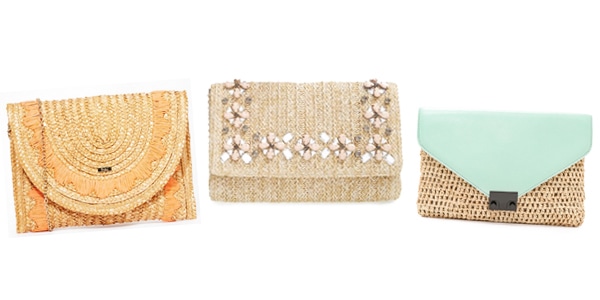 Save: ASOS, Spend: Glint, Splurge: Loeffler Randall
Clutches are traditionally considered an "evening" type of bag. But in a straw or woven fabric with a fruity-colored accent, it's the perfect accessory for your Island Girl look.
The great thing about clutches is that they come in all shapes and sizes. If you want a larger one (for lipstick, a comb, your cell, and a small bottle of sunscreen), I recommend the ASOS choice. It's roomy enough for all your necessities, and has a strap in case you want to throw it over your shoulder. Yay for versatility!
So remember…
Whether you're actually hopping on a cruise ship this summer or stuck in your hometown at your part-time job, the Island Girl look can be for anyone. Style it right, and make it yours!
What do you think?
Would you splurge on any of these items? How about save? Are there any designer pieces that you'd like to find at friendlier prices? College Fashion can help! Remember to post comments, questions, and requests below.