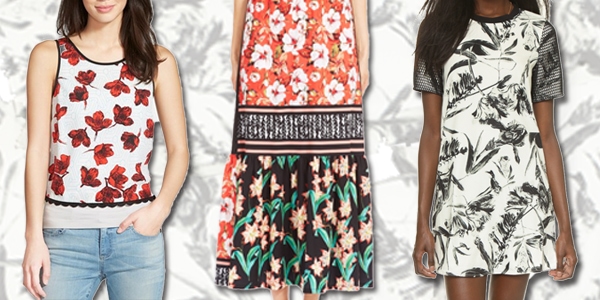 Product Information: Kensie, Stylestalker, Clover Canyon
Finding the happy medium between junior high skater dresses and Sunday School teacher florals can be really difficult. Florals are one of those timeless patterns– like stripes or polka dots– that are always going to stick around. At the same time, they're always going to be evolving.
So, what kinds of florals are chic and trendy without being overdone? It's important to pay attention to cut, color palette, and the size of the pattern. Once you get the hang of distinguishing what looks unique and age-appropriate, you'll be turning heads.
Florals are one of my favorite patterns to play with, and whenever I wear them, other people notice. "That's a cute dress! Where'd you get it?" (I'll give you a hint– it's not from Forever 21. There are plenty of great finds at fast-fashion stores, but florals shouldn't be one of them.)
Many times my florals are from vintage stores, obscure boutiques, or are investment pieces from a nice brand. I've saved, spent, and splurged on all kinds of florals over the past few years. Now you can decide if you'll save, spend, or splurge:
The Blouse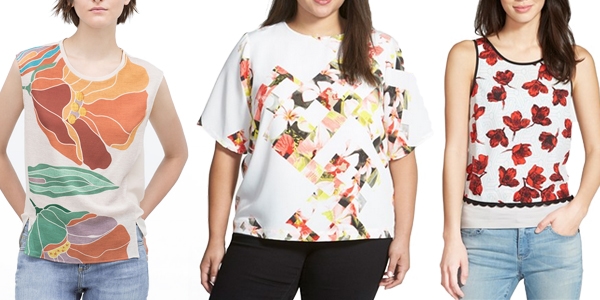 Save: Zara, Spend: Vince Camuto, Splurge: Kensie
Tips for wearing florals on top:
Micro-prints are going to make you look larger than you are. Macro prints, like this Zara piece, can camouflage more successfully.
Try something visually interesting, like a graphic take on floral. Vince Camuto does this really well with an angular pattern.
Kensie creatively places the individual flowers. With a "falling" or "scattered" effect, the flowers look delicate on the top, rather than copied and pasted. This approach to the print also makes the piece look more expensive.
The Skirt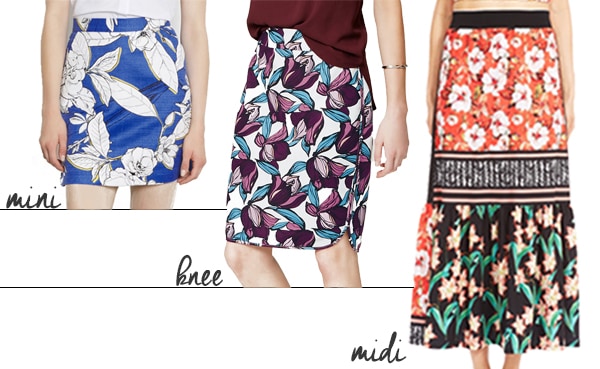 Save: Warehouse, Spend: LOFT, Splurge: Clover Canyon
Tips for wearing florals on bottom:
Don't be afraid to play with lengths and constructions.
Structured minis are fun and flirty. They work perfectly for dressed up occasions during the day. Be careful with skater minis though– those are difficult to style in an age-appropriate way.
Knee-length florals are perfect for the office. You can pair them with a solid top, mix and match with blazers, and have fun with accessories. The options are really endless with this one.
Midis are fun for more casual settings. A flowing midi skirt, like this Clover Canyon one, is great for a day outside. The wind gives it nice movement, while the sunshine brings out the colors. Want an easy outfit formula? Pair it with a crop top and saddle bag.
Don't be afraid of multiple-print pieces! Clover Canyon does this very successfully.
The Dress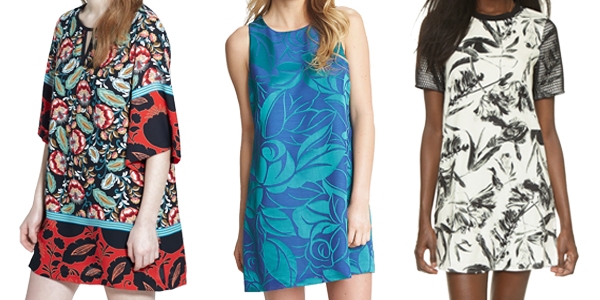 Save: Mango, Spend: 1 State, Splurge: Stylestalker
Tips for wearing florals all over:
Beware of the junior high floral! No matter how old you are, it instantly makes you look 14. How to spot "junior high floral:"

Often a micro-print, or smaller scale print.
You can easily see where the pattern stops and repeats. This cheapens the look of the piece.
The flowers are often in a traditional color (i.e. pink, red, white, etc.) against a solid-colored background (i.e. black, white, blue, etc.)
This print is often on a skater dress or swingy dress, with thin straps and a shorter hemline.

Florals can be black and white! If florals aren't really your thing, this is an easier way to wear the print without being too "in your face."
If the hemline is short, make sure the top is conservative. This will keep the dress looking age-appropriate, but not too matronly.
What do you think?
What kind of floral suits you? Would you wear any of the pieces above? What kinds of things would you like to see in future Save, Spend, Splurge posts? Let us know in the comments below!