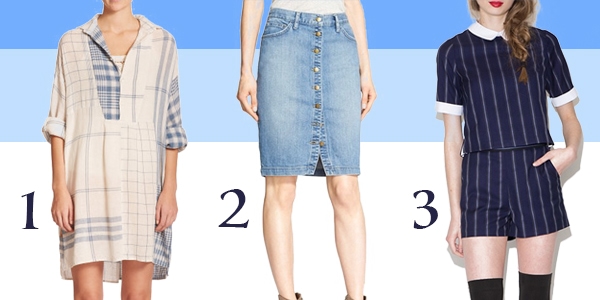 Product Information: Polo Ralph Lauren, Current/Elliott, Pixie Market
It's easy to fall in love with a designer's latest products. Affording those products is the hard part. Searching for budget-friendly options can be daunting, exhausting, and can even take the fun out of shopping. CF wants you to look and feel your best, no matter your budget, so we've done all the hard work for you. Check out the looks below and decide if you want to Save, Spend, or Splurge.
History tends to repeat itself, and the fashion industry is no exception. Lucky for us, the low-key glamour of the '90s is back in full swing this season. Unfortunately though, the '90s prices didn't come full circle.
But never fear– College Fashion has hand-picked three awesome '90s trends, then shopped for pieces in whatever your price range may be. Whether you're a grunge girl or a Rachel Green fashionista, this decade has a treasure for you. Scroll down to see if you want to save, spend, or splurge:
Plaid Frocks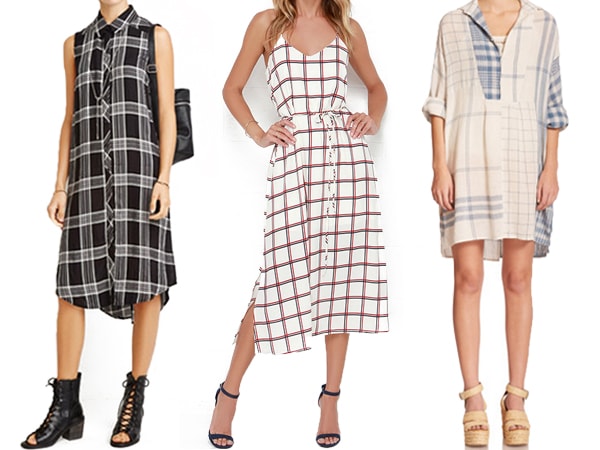 Save: Forever 21, Spend: LuLu's, Splurge: Polo Ralph Lauren
Plaid has a special place in my heart, mostly because it reminds me of two of my all-time favorite '90s sitcoms: Full House and Friends. If Michelle wasn't decked out in a plaid onesie, Stephanie would be wearing plaid around her waist. If Chandler didn't have a plaid flannel over a t-shirt, you know Rachel was donning something in the timeless pattern. (A moment of reverence for possibly the most famous Rachel Outfit of all time.)
That being said, plaid may be even more popular now than it was 20 years ago. It's on everything from scrunchies to skinny jeans to maxi dresses, but this week we paid homage to the '90s by channeling our inner relaxed preppy girl with a loose-fitting frock. Midi or mini– you can't go wrong.
Button-Front Denim Skirts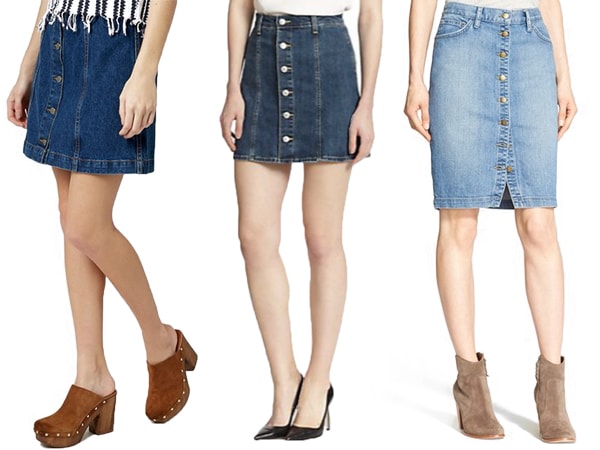 Save: Topshop, Spend: Alexa Chung for AG, Splurge: Current/Elliott
Tough and girly is probably my favorite combination. These button-front denim skirts are the perfect feminine addition to otherwise traditional, menswear-inspired looks.
Pair yours with a tucked in, boyfriend-cut button-down for casual Friday at work. Wear it with a moto jacket and Converse shoes to a nighttime bonfire. Add tights and a chunky sweater, and you're set for fall. The button-down denim skirt is a classic piece you can have in your closet for a long time.
Matching Separates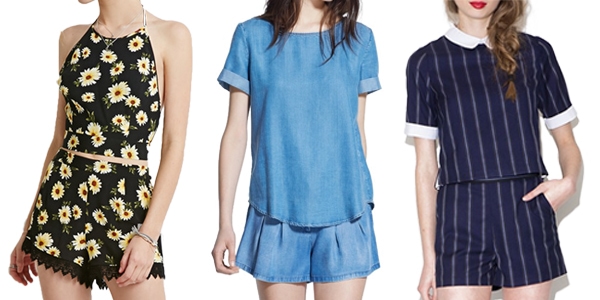 Save: Forever 21, Spend: Mango, Splurge: Pixie Market
Again, I'm having Full House flashbacks. Specifically, D.J. in the Hawaiian vacation episode. Classic. Matching separates are no longer solely for '90s memories and toddlers. Finally, they are available for women to wear in a sophisticated and fun way. You can go casual with a soft denim pairing from Mango, or a little more polished with a collared number from Pixie Market. Which one would you wear?
What do you think?
Would you splurge on any of these items? How about save? Are there any designer pieces that you'd like to find at friendlier prices? College Fashion can help! Remember to post comments, questions, and requests below.