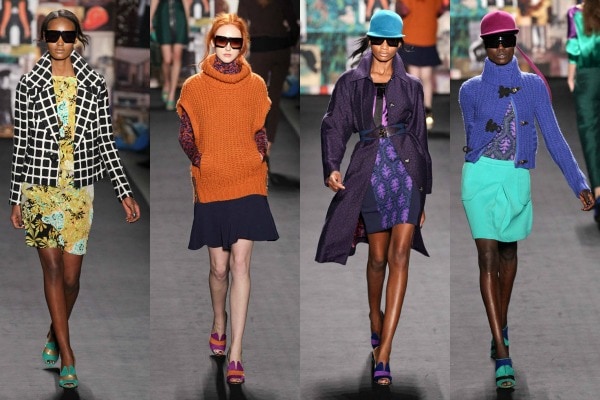 Tracy Reese Fall 2012 RTW | ELLE
The leaves are changing, the air is getting crisper and pumpkin-flavored goodies are everywhere, which can only mean one thing: fall is here!
At CF, fall and fashion go hand-in-hand, which is why we've been on the lookout for season-appropriate collections to feature on RLL.. and that's just what we found for this installment. For her Fall 2012 collection, designer Tracy Reese created looks that were perfect for colder weather by incorporating cozy knits and chic layering mixed with interesting color combinations and pattern mixing. The overall effect is at once practical, fashion-forward and perfect for autumn.
Want to get that runway-ready look for a fraction of the price? Simply scroll on down to check out three stylish looks inspired by Tracy Reese Fall 2012 RTW:
1. Summer to Fall Transition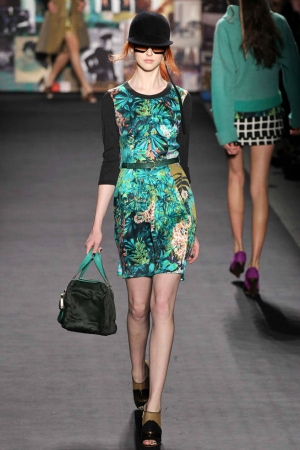 Photo: ELLE
This look from Tracy Reese proves that once fall hits, there's no need to put away the colorful prints. Pairing a tropical print dress with a long-sleeved black top not only makes the dress work for autumn, but creates a stylish and chic look.
Get the Look: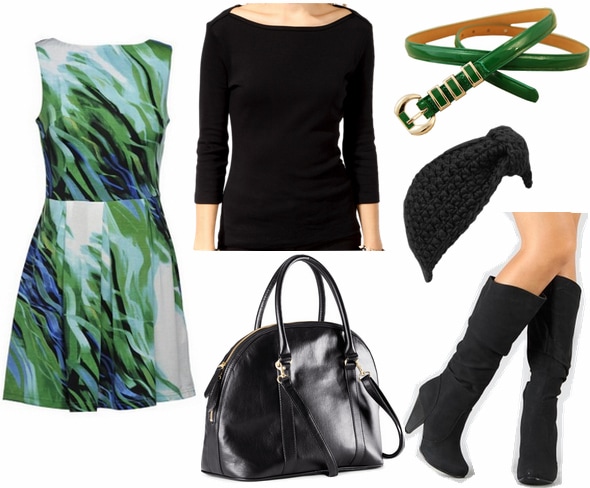 Product Info: Dress- AX Paris, Top- Forever 21, Belt- Romwe, Bag- H&M, Head Wrap- Forever 21, Shoes- urbanog.com
Breathe new life into your favorite summer sundress by layering a simple black top underneath to create a fall-appropriate look. A matching green belt helps to define the waistline, while heeled boots add a chic touch. (Remember to add tights if it's chilly!) Accessorize with a structured black handbag and trendy knitted head wrap for a stylish and polished look.
2. Autumn Hues
Photo: ELLE
If this look doesn't scream "autumn," then we don't know what does. The orange and brown color palette is reminiscent of the gorgeous fall foliage, while the knitted sweater/skirt combo creates a stylish and cozy ensemble. By adding a trendy structured satchel and matching shoes, Reese creates a chic, collegiate-inspired look for the season.
Get the Look: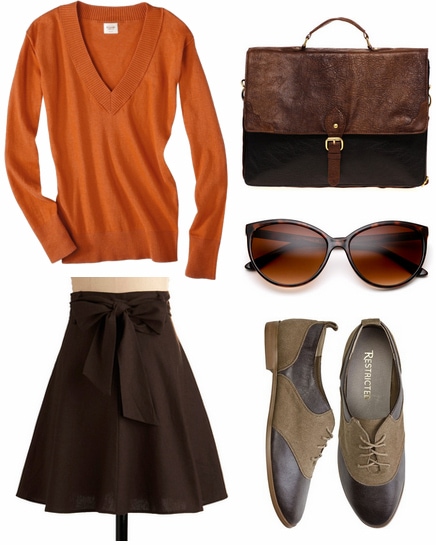 Product Info: Top- Target, Skirt- ModCloth, Bag- ASOS, Sunglasses- 80spurple.com, Shoes- Swell
Recreate the designer look for less by pairing a comfy orange sweater with a fitted brown A-line skirt. Two-tone oxfords help keep the look casual, while a sturdy satchel is a practical and stylish way to tote heavy textbooks. Accessorize with rounded cat-eye sunnies and you'll have a campus-ready outfit inspired by Tracy Reese Fall 2012.
3. Polished in Purple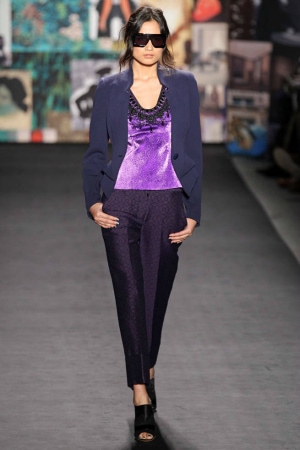 Photo: ELLE
Reese played with patterns and colors with this look, which featured deep plum printed trousers paired with a shimmering light purple top. A peplum blazer gives the look a trendy vibe, while the embellishment on the blouse adds visual interest.
Get the Look: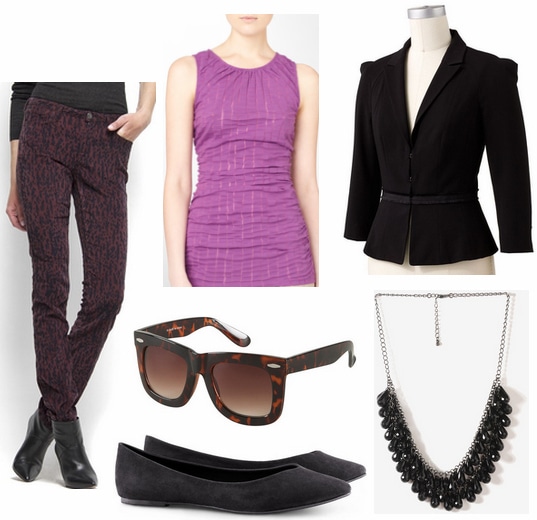 Product Info: Pants- Mango, Top- Calvin Klein, Jacket- Kohl's, Sunglasses- Topshop, Shoes- H&M, Necklace- Forever 21
For a similar look, start by pairing printed dark purple corduroy trousers with a sleeveless lilac top that has just a hint of shimmer. A sleek peplum blazer adds a trendy touch, while pointy-toe flats make this outfit perfect for daytime. A black teardrop statement necklace and oversized sunglasses add the finishing touches to this runway-inspired look.
Your thoughts?
What do you think of this collection? Are you a fan of Tracy Reese? Which look is your favorite? Would you wear any of these outfits? Which designers would you like to see featured here next? Remember to leave a comment below and let me know what you think!