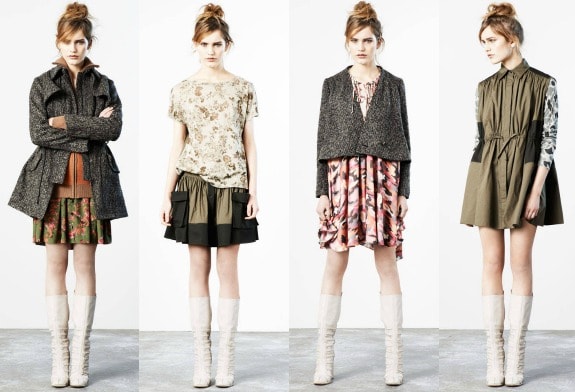 Thakoon Addition 2012 RTW | ELLE
For this RLL post, we've found a collection that offers tons of seasonal outfit inspiration through the use of smart layering, pattern mixing and an autumnal color palette — Thakoon Addition Pre-Fall 2012.
'Addition' is designer Thakoon Panichgul's lower-priced sister line, and although it is the less expensive of the two brands, the $300+ per item price tag is still out of reach for many college students. So we're here to help: we've created three lower-priced versions of looks from Thakoon Addition Pre-Fall 2012 — and all you have to do is scroll on down to check them out:
1. Repurposed Party Dress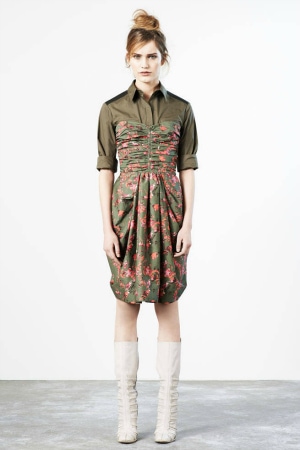 Photo: ELLE
This look from Thakoon Addition exemplifies what we mean by smart layering. Wearing a polished oxford shirt underneath a strapless floral gown not only makes the dress autumn-appropriate, but offers enough coverage to work for daytime.
Get the Look: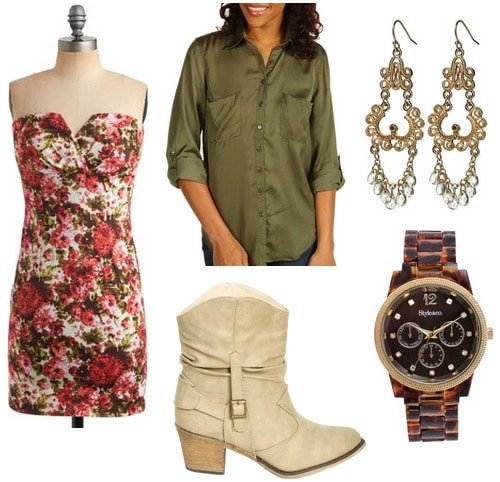 Product Info: Dress- ModCloth, Top- Zappos, Earrings- Piperlime, Shoes- Wet Seal, Watch- Macy's
For this look, layer a dark green button-up blouse under a pretty floral print strapless dress. Next, add a pair of neutral-colored boots which are similar to the pair from Thakoon Addition's pre-fall look. Accessorize with a pair of chandelier earrings and a practical tortoiseshell watch for an outfit that perfectly balances dressy and casual elements.
2. Cozy & Colorful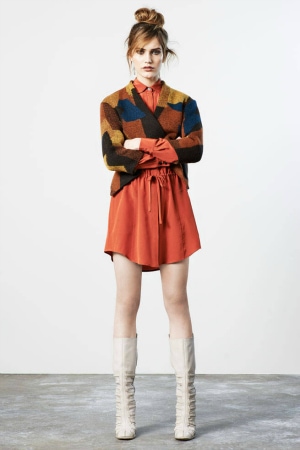 Photo: ELLE
Sometimes comfort and style go hand-in-hand, as seen in this look from Thakoon Addition. Pairing an orange drawsting-waist dress with a patchwork cardigan is not only adorable, but super-cozy to boot. Plus, doesn't the color palette just seem to scream "fall"?
Get the Look: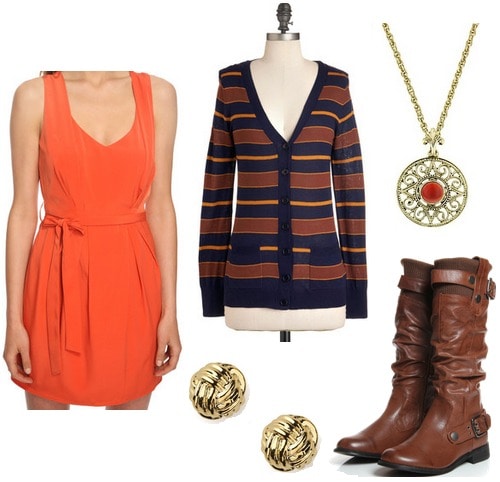 Product Info: Dress- Forever 21, Cardigan- ModCloth, Necklace- 1928 Jewelry, Earrings- Kate Spade, Boots- boohoo.com
For a similar look, pair an orange tie-waist dress with a multicolored v-neck cardigan. Next, add a pair of knee-high boots, which help to make this outfit cold weather-ready. For the finishing touch, accessorize with a pretty gold medallion necklace and a pair of matching stud earrings.
3. Mix Master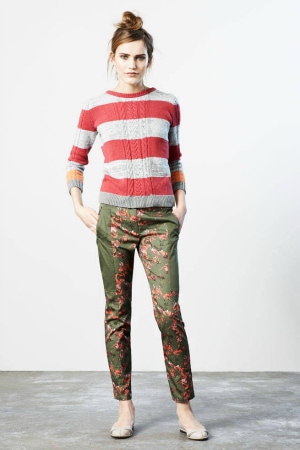 Photo: ELLE
We love the mixed prints trend here at CF and this look from Thakoon Addition incorporates two of our favorite patterns — stripes and florals. Paring a striped cable knit sweater with a pair of floral trousers creates a low-key, yet fashion-forward look.
Get the Look:
Product Info: Jeans- Nordstrom, Top- Forever 21, Cluster Ring- Dorothy Perkins, Skull Ring- House of Harlow 1960, Bag- Topshop, Shoes- ASOS
Recreate this look by pairing some trendy floral print jeans with a bold striped sweater. An olive green crossbody bag looks great against the color of the sweater while white pointed-toe flats add a fashion-forward vibe. For the finishing touch, accessorize with a few unique statement rings, like the ones above.
Your thoughts?
What do you think of this collection? Are you a fan of Thakoon Addition? Which look is your favorite? Would you wear any of these outfits? Which designers would you like to see featured here next? Remember to leave a comment below and let me know what you think!