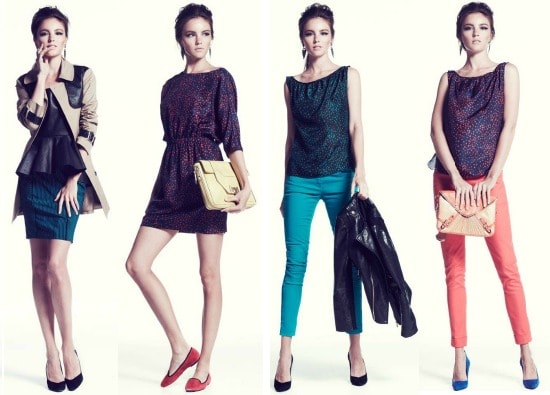 Rebecca Minkoff Pre-Fall 2012 | ELLE
Although it may not seem like it, we're about to reach that tricky transition time between summer and fall, which makes designers' pre-fall 2012 collections the perfect sources of fashion inspiration.
For her pre-fall line, Rebecca Minkoff designed a collection filled with wearable separates and unique colors to create a look that was classic, yet modern. She also added lots trendy touches, like colorful denim, modern loafers and leather accents, which will all translate perfectly between seasons.
Want to recreate Rebecca Minkoff's trendy pre-fall looks for just a fraction of the price? We've got you covered — just scroll on down to check out three budget-friendly interpretations of looks from Rebecca Minkoff Pre-Fall 2012:
1. Edgy Meets Classic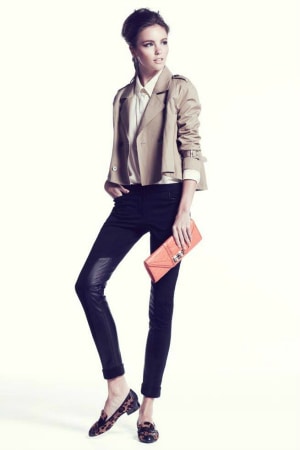 Photo: ELLE
This first look from Rebecca Minkoff takes a basic jeans-and-white-blouse combo to the next level with edgy details. The black jeans have some trendy leather accents, while the tan biker jacket's color makes it resemble a classic trench. Finally, leopard loafers and a colorful clutch keep this outfit anything but basic.
Get the Look: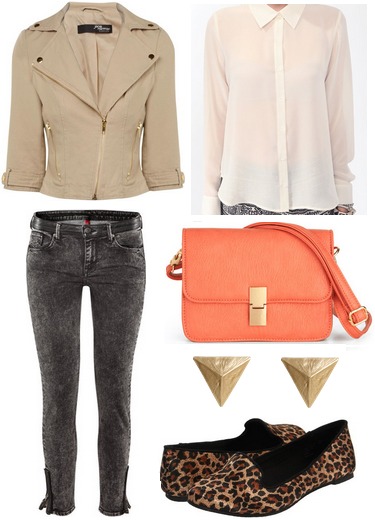 Product Info: Jacket- Jane Norman, Blouse- Forever 21, Jeans- H&M, Bag- ModCloth, Earrings- French Connection, Shoes- Zappos
For this look, take a pair of black jeans with faux leather detailing and match them with a sheer white button-up blouse. Next, add a cropped biker jacket, which has a similar color, shape and style to the Rebecca Minkoff jacket, but for just a fraction of the price. Menswear-inspired leopard loafers add a trendy touch, while a pretty orange bag adds a much-needed pop of color. Finally, accessorize with a pair of triangle-shaped pyramid stud earrings for a look that mixes both classic and edgy elements.
2. Elegant Simplicity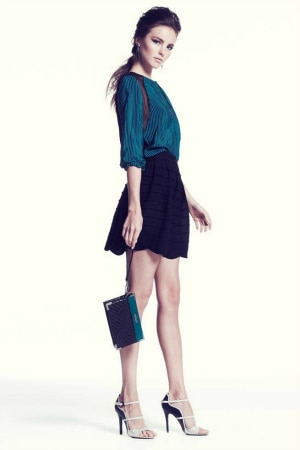 Photo: ELLE
This next look is a bit more formal than the first, but with a modern and fun approach. The scalloped black mini skirt pairs perfectly with a dark teal blouse for an elegant look. Minkoff added a pair of chic two-tone pumps and a sleek wristlet to complete this flirty and sophisticated outfit.
Get the Look: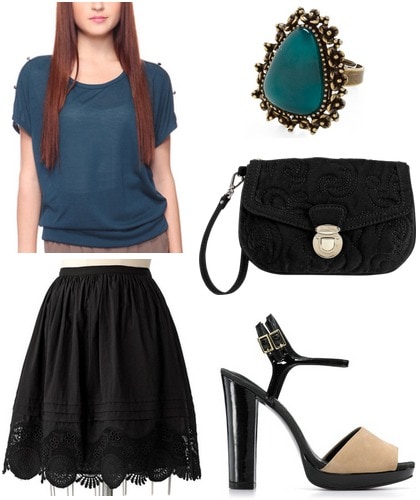 Product Info: Top- Forever 21, Skirt- Kohl's, Ring- ModCloth, Wristlet- Vera Bradley, Shoes- Bloomingdale's
Recreate this look by pairing a teal top with a black scallop-edged skirt. Add a chic black wristlet and a matching pair of pumps. For the finishing touch, put on a pretty teal and gold cocktail ring.
3. Blue & Orange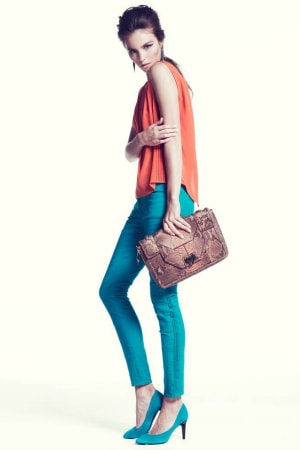 Photo: ELLE
Rebecca Minkoff played with one of our favorite color combinations — blue and orange — to create this simple and chic pre-fall look. A loose-fitting tangerine top was perfectly balanced by teal skinny jeans, while matching high heels continued the streamlined look. To complete this outfit, Minkoff accessorized with a snakeskin handbag to add texture and interest.
Get the Look: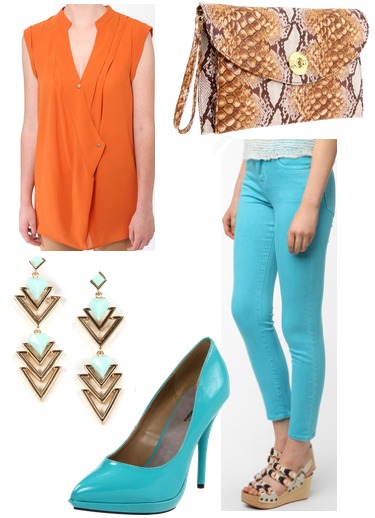 Product Info: Top- Forever 21, Bag- Steve Madden, Earrings- Windsor, Shoes- Endless, Jeans- Urban Outfitters
For a similar look, start by pairing a drapey and bold orange sleeveless blouse with a pair of bright blue skinnies. Matching blue pumps give off a polished vibe (and make legs look miles-long), while a snake print clutch adds contrast as well as some edge. Finally, accessorize with a pair of geometric statement earrings.
Your thoughts?
What do you think of this collection? Are you a fan of Rebecca Minkoff? Which look is your favorite? Would you wear any of these outfits? Which designers would you like to see featured here next? Remember to leave a comment below and let me know what you think!