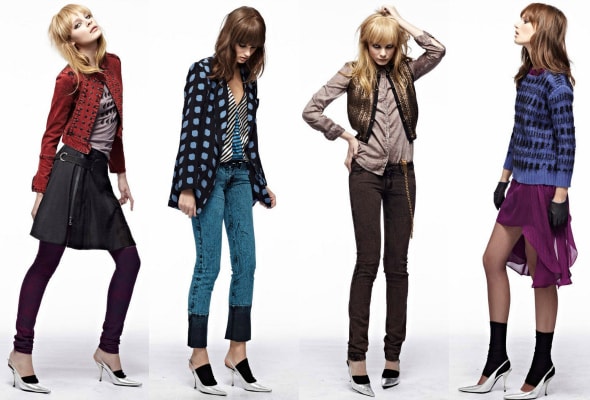 Kelly Wearstler Fall 2012 RTW | ELLE
Fashion's favorite season is back in session and for this RLL post we've found a collection that is youthful, trendy, and — of course — perfect for fall. Interior designer-turned-fashion designer Kelly Wearstler's Fall 2012 collection is filled with fun prints, trendy pieces, and edgy basics, perfect for a rocker chic look.
If you want to snag that fashion-forward, rock 'n' roll look for just a fraction of the price, you've come to the right place. We've created three budget-friendly looks inspired by Kelly Wearstler Fall 2012. Just scroll on down to check 'em out:
1. Hearts Collide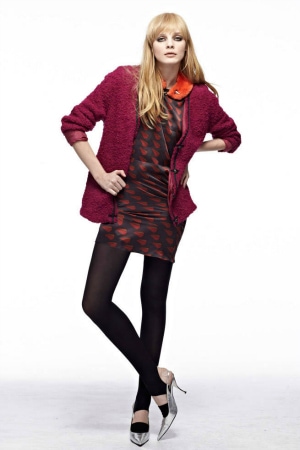 Photo: ELLE
Heart prints have been popping up in stores everywhere and we love how this look from Kelly Wearstler shows a laid-back, yet stylish way to wear this pattern for fall. A fuchsia sweater and orange collar both add fun pops of color that don't overpower the dress, while black tights keep the look chic and streamlined. The overall effect keeps the heart print looking fashion-forward and not overly cutesy.
Get the Look: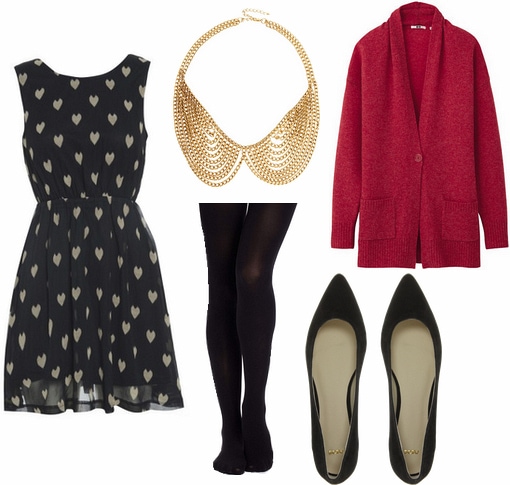 Product Info: Dress- AX Paris, Necklace- ASOS, Cardigan- Uniqlo, Tights- Anthropologie, Shoes- ASOS
To recreate this look for less, we found an adorable heart print dress that is similar to the one Kelly Wearstler designed, but at a budget-friendly price — under $40! Pair the dress with opaque black tights and a cozy red sweater for a stylish look that's also cold-weather-ready. A gold collar necklace adds a fashion-forward vibe, while pointed-toe flats are both comfortable and stylish.
2. Plum & Polka Dots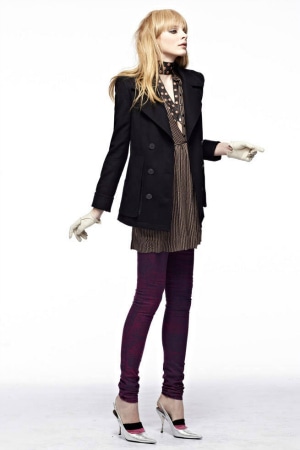 Photo: ELLE
Colored denim is hot for fall and this look from Kelly Wearstler shows us a classic-meets-edgy way to wear this trend. Pairing deep purple jeans with neutral pieces keeps the focus on the pants, while a structured coat and longer tunic create an interesting contrast.
Get the Look: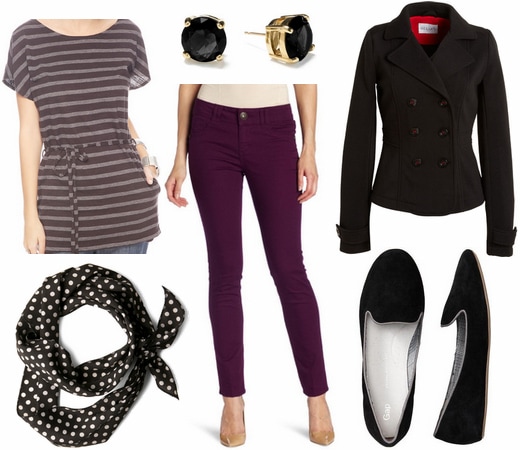 Product Info: Top- Forever 21, Earrings- Kate Spade, Coat- Delia's, Scarf- ModCloth, Jeans- amazon.com, Shoes- Gap
For a similar look, pair a striped tunic with some plum-colored skinny jeans. Simple loafers keep the look casual, while a black peacoat helps make this outfit autumn-appropriate. Next, add a black and white polka dot scarf which creates a nice contrast when paired with the striped top. For the finishing touch, accessorize with a basic pair of black stud earrings. This outfit would be a fantastic look to rock on campus this fall.
3. Tough Girl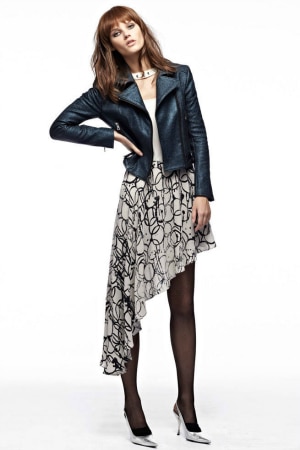 Photo: ELLE
The asymmetrical hemline trend is still going strong for fall, and this look from Kelly Weartsler is a stylish and practical way to wear this trend in cold weather. Pairing the skirt with tights and a leather jacket creates a cozy fall look that still packs a punch.
Get the Look: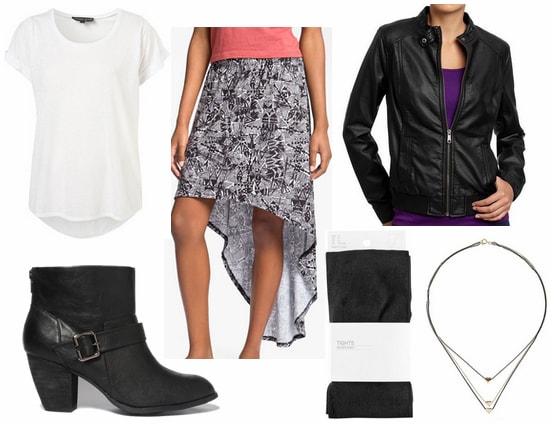 Product Info: Tee- Topshop, Skirt- Nordstrom, Jacket- Old Navy, Shoes- Forever 21, Tights- H&M, Necklace- Dorothy Perkins
For this look, start by paring a printed asymmetrical-hemmed skirt with a basic white tee. Toughen up the outfit by adding a faux leather jacket and a pair of matching ankle booties. Next, add a pair of sheer tights, which will not only create a chic look, but add an extra layer of warmth. Complete this look by accessorizing with a delicate layered necklace for a cute, yet edgy look you could wear for day or night.
Your thoughts?
What do you think of this collection? Are you a fan of Kelly Wearstler's designs? Which look is your favorite? Would you wear any of these outfits? Which designers would you like to see featured here next? Remember to leave a comment below and let me know what you think!