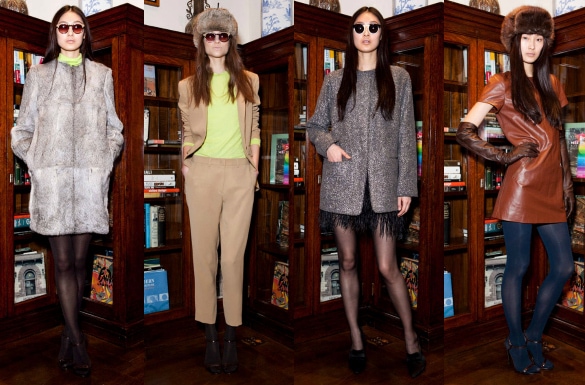 Jenni Kayne Fall 2012 RTW | ELLE
When it comes to choosing designers to feature on our Runway Looks for Less column, we tend to look for collections that are not only chic and fashion-forward, but also practical and accessible for the average college student.
That's why designer Jenni Kayne's Fall 2012 collection is this week's pick: it features lots of trends — such as faux fur, leather, neon, and menswear-inspired pieces — styled in totally wearable ways. And if you want to snag a designer-worthy look for a fraction of the price, just scroll on down to check out three budget-friendly outfits inspired by Jenni Kayne Fall 2012:
1. Neon & Faux Fur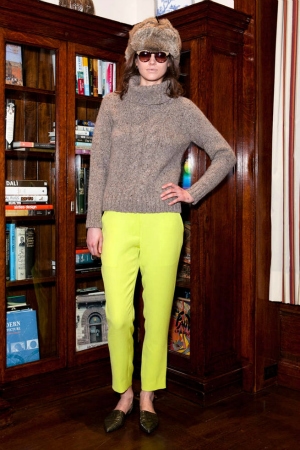 Photo: ELLE
Neon isn't going anywhere for winter, and this look from Jenni Kayne pairs highlighter yellow trousers with a taupe sweater to create a bold, yet cozy outfit. A faux fur hat is the perfect accessory to complement this look, as it's not only super-trendy, but also super-practical when the temperature starts to drop.
Get the Look: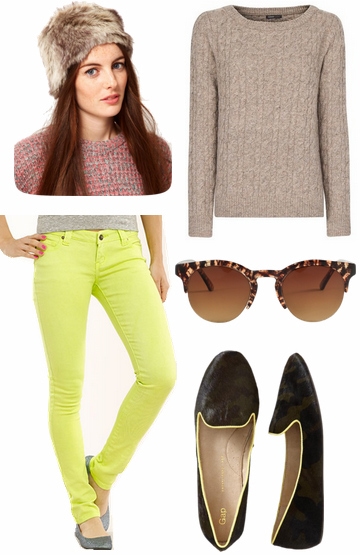 Product Info: Hat- ASOS, Sweater- Mango, Pants- Delia's, Sunglasses- American Apparel, Shoes- Gap
Recreate the look above by pairing a neutral-colored cable knit sweater with some statement-making neon yellow skinny jeans. Keep the look casual with a pair of smoking slippers – these ones have trendy neon trim for extra pop. Add some fashion-forward flair with a faux fur hat, then finish with a pair of sunnies for a trendy, yet low-key autumn outfit.
2. A Fresh Take on Menswear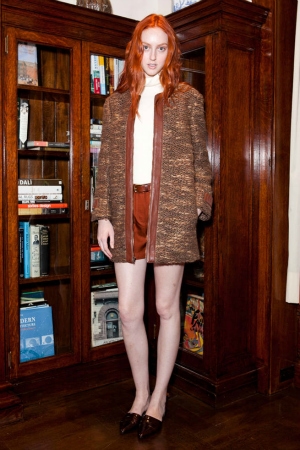 Photo: ELLE
Menswear-inspired coats and blazers have been popping up in stores everywhere lately and this look is a fantastic example of how to wear one for fall. Pairing the slightly oversized bouclé jacket with a turtleneck and rust-colored shorts creates a sleek and classic outfit with a fashionable twist.
Get the Look: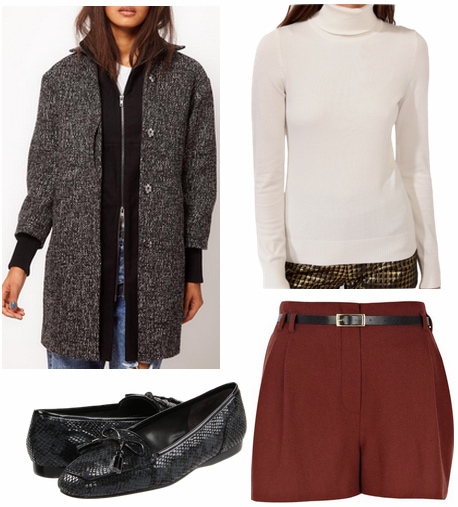 Product Info: Coat- ASOS, Top- Forever 21, Shoes- Zappos, Shorts- River Island
For a similar look, tuck a cream-colored turtleneck sweater into a pair of high-waisted shorts. Add an oversized gray-and-black coat to create a cozy and comfortable vibe. Finish this look with a pair of menswear-inspired snake print loafers. Also, if you live in a chilly climate, feel free to add tights, knee-high socks or whichever type of legwear you prefer!
3. Understated Glam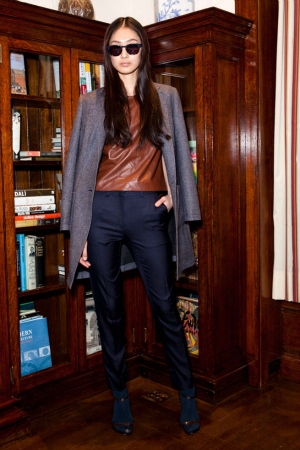 Photo: ELLE
Faux leather has gone beyond jackets, boots and handbags this season and can be found in unconventional pieces, as shown in the above look. Here, Jenni Kayne paired a leather shell top with navy trousers and an oversized gray blazer. The overall effect is trendy and polished, with a soft, effortlessly glamorous vibe.
Get the Look: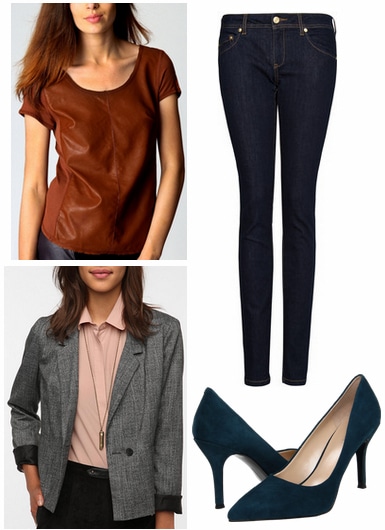 Product Info: Top- boohoo.com, Jeans- Mango, Blazer- Urban Outfitters, Shoes- Zappos
To get this look, start with a pair of your favorite dark wash jeans, then add an on-trend faux leather top. Layer on a crisp, tailored gray blazer for contrast. For the finishing touch, add a subtle pop of color with teal pointy-toe pumps.
Your thoughts?
What do you think of this collection? Are you a fan of Jenni Kayne? Which look is your favorite? Would you wear any of these outfits? Which designers would you like to see featured here next? Remember to leave a comment below and let me know what you think!