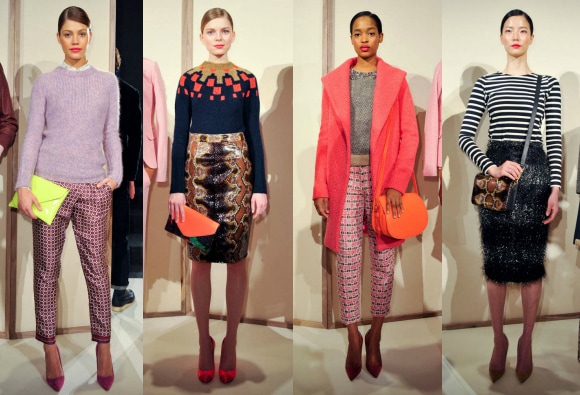 J. Crew Fall 2012 | ELLE
I'm just going to say it loud and proud: I love J.Crew. Not only are their offerings the perfect mix of classic and modern, but the styling is always spot-on. Seriously, I'm constantly lamenting, "why didn't I think of that?!" whenever their catalog arrives in the mail.
At their Fall 2012 showing at NYFW earlier this year, J.Crew's unique and inventive styling was on full display with a collection of fashion-forward autumn ensembles. And if you want to snag a similar look for a fraction of the price, you've come to the right place. Simply scroll on down to check out three budget-friendly looks inspired by J.Crew's Fall 2012 collection:
1. Two-Toned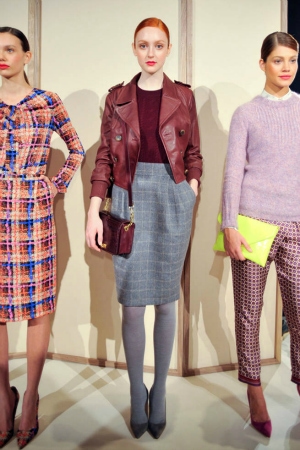 Photo: ELLE
J.Crew showed just how dramatic a two-toned outfit can be by combining steel gray with oxblood for a bold, yet cohesive look. The contrast between the top and bottom half of this ensemble makes for a one-of-a-kind outfit for autumn.
Get the Look: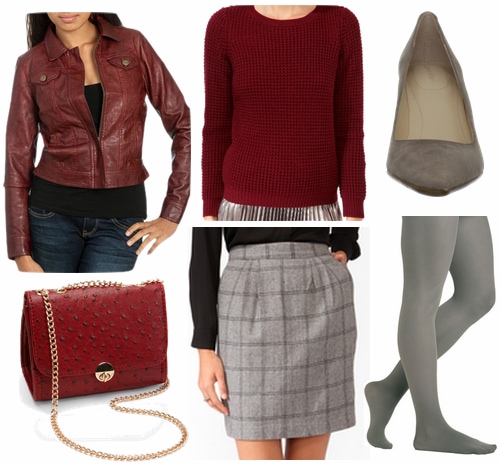 Product Info: Jacket- Arden B., Sweater- Forever 21, Shoes- Calvin Klein, Bag- Fred Flare, Skirt- Forever 21, Tights- ModCloth
Snag this look for less by pairing a light gray skirt with a burgundy knit sweater for a cozy, color-blocked outfit. Next, make this look cold weather-ready with a pair of silver tights and a faux leather moto jacket. Add some granite-colored pumps and an oxblood handbag for a two-toned look that packs a punch.
2. Ladylike Layers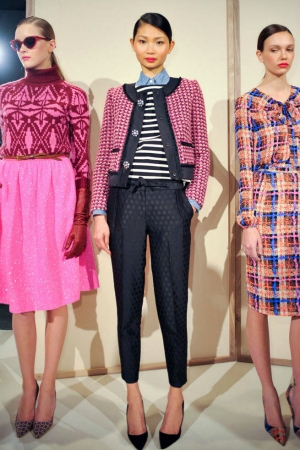 Photo: ELLE
J.Crew proved that layers don't have to be bulky with this look which paired a chambray blouse, striped shirt and tweed jacket for a stylish fall outfit. Adding on-trend printed trousers and pointy-toe pumps also gave this look a polished and feminine vibe.
Get the Look: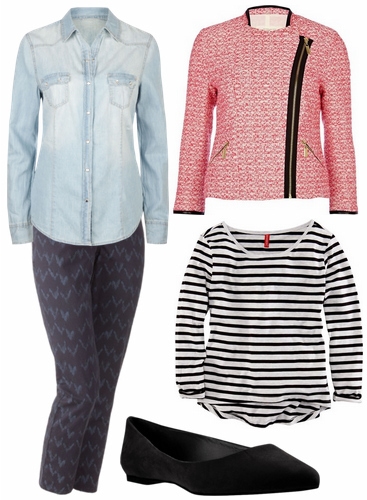 Product Info: Chambray Shirt- Tilly's, Jacket- River Island, Pants- Kohl's, Striped Top- H&M, Shoes- Bakers
For a similar look, layer a striped top over a chambray shirt, then add a tweed jacket. Next, throw on a pair of cropped trousers for a low-key, yet stylish look. For the finishing touch, pointed flats help elongate the leg, while maintaining a casual vibe.
3. Feminine for Fall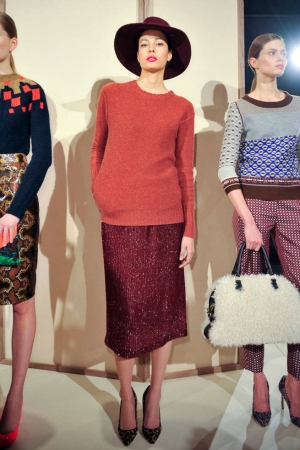 Photo: ELLE
Let's do some simple fashion math: cozy sweater + sparkly skirt + leopard print shoes + glam hat + hot pink lipstick = fashion-forward fall perfection.
Get the Look: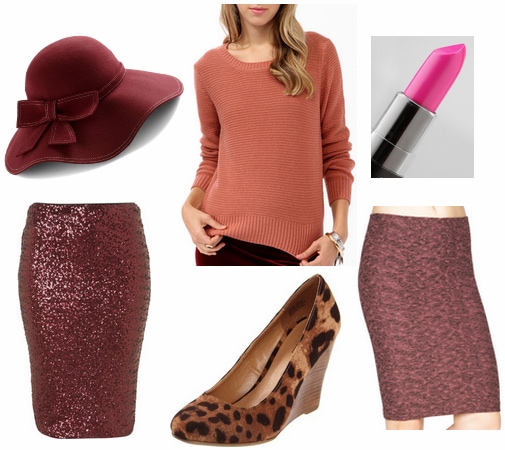 Product Info: Hat- ModCloth, Sweater- Forever 21, Lipstick- NYX's "Shocking Pink", Sequined Skirt- Nordstrom, Shoes- amazon.com, Patterned Skirt- Lord & Taylor
Our Fab Find from last week makes another appearance in this look, as it's a nearly identical and much less expensive version of the J.Crew sweater. Pair the top with a sequined skirt to recreate that casual, yet fashion-forward outfit. Since sequined pieces can get a little pricey, though, I also included a more budget-friendly printed skirt as a similar alternative. Leopard print wedges look fantastic when paired with the colors found in this outfit, while a wide-brimmed hat adds a glamorous touch. Complete this look with a bold pink lip, which really captures that J.Crew vibe.
Your thoughts?
What do you think of this collection? Are you a fan of J.Crew? Which look is your favorite? Would you wear any of these outfits? Which designers would you like to see featured here next? Remember to leave a comment below and let me know what you think!