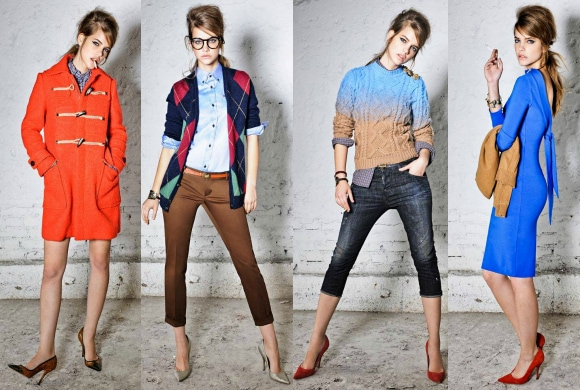 Dsquared2 Pre-Fall 2012 | ELLE
With fall looming ever closer, we've been on the lookout for collections with wearable, season-appropriate styles and that's just what we found for this RLL post.
Founded by identical twins Dean and Dan Caten, Dsquared2's latest pre-fall collection masterfully mixes preppy, menswear-inspired styles with chic, feminine pieces for a lookbook that simply screams "autumn." Their uses of colors, textures and layers also make this collection a fantastic source of fashion inspiration.
That's why we decided to recreate three budget-friendly versions of looks from Dsquared2 — all you have to do is scroll down to check them out!
1. Boys' Club
Photo: ELLE
Classic menswear-inspired looks are a huge fall trend and this outfit is a great example of how to rock this look on campus. A denim shirt and tan trousers create a classic look, while red pumps keep the look modern. Adding lightweight layers like the vest and scarf keep the outfit stylish and autumn-appropriate.
Get the Look: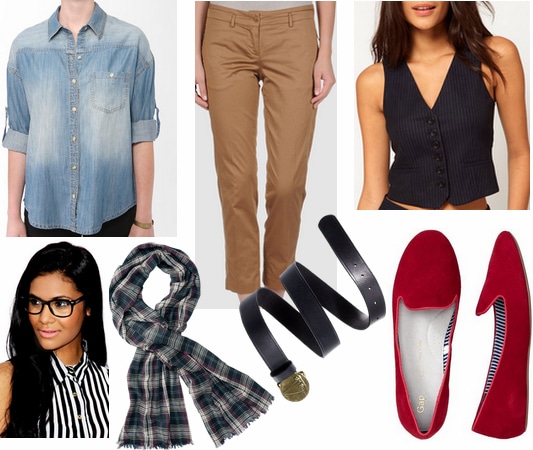 Product Info: Top- Forever 21, Pants- yoox.com, Vest- ASOS, Glasses- boohoo.com, Scarf- Woolrich, Belt- Madewell, Shoes- Gap
For this look, start by pairing a denim button-up shirt with a pair of cropped tan trousers. Next, layer on a fitted pinstripe vest and a preppy plaid scarf. A black belt helps to keep the look polished, while red smoking slippers add a pop of color. Finally, accessorize with a pair of bold non-prescription glasses (or rock your real prescription ones, if you need them), which look similar to the ones the model is wearing.
2. Chic Colorblocking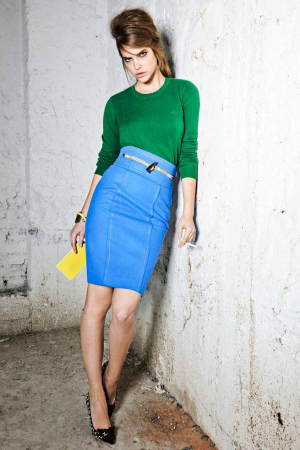 Photo: ELLE
Colorblocking has been big for a few seasons now and this look from Dsquared2 is a simple way to color block that still makes a big impact. The blue, green and yellow shades all work perfectly with one another, while the patterned heels add a chic touch. The overall impact creates an chic outfit that can work for day or night.
Get the Look: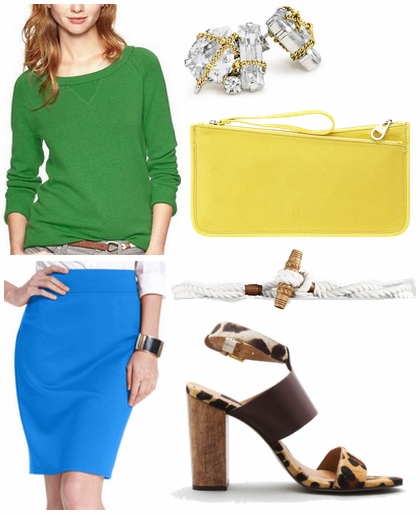 Product Info: Top- Gap, Skirt- Macy's, Earrings- Endless, Bag- Nine West, Belt- Ralph Lauren, Shoes- Lori's Shoes
For a similar look, pair a green sweater with a blue pencil skirt for a bold color-blocked ensemble. A sleek yellow clutch adds another bright shot of color, while leopard print sandals play well with the bold color scheme. Next, define your waist with a rope belt – this one is nearly identical to the one in the Dsquared2 look. For the finishing touch, accessorize with a pair of sparkly stud earrings for a hint of glamour.
3. Prep School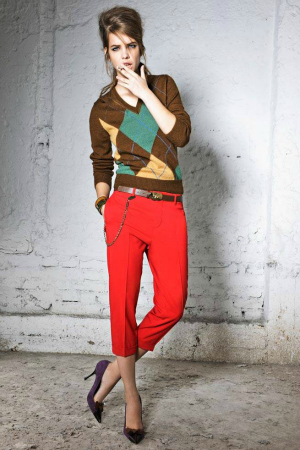 Photo: ELLE
This ensemble is another example of a menswear-inspired look to love from Dsquared2. Pairing trendy colored pants with an ever-classic argyle sweater creates a casual, yet stylish everyday look. The chain belt again hints at menswear inspiration, while plum-colored pumps add a feminine touch.
Get the Look: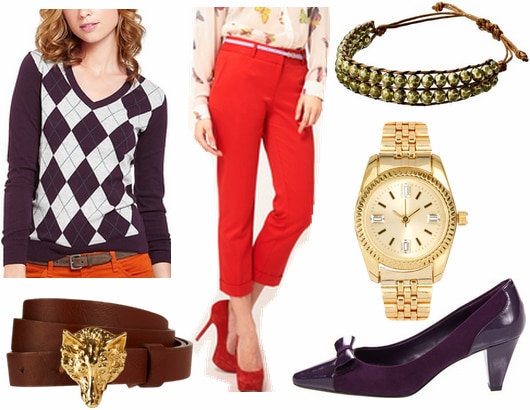 Product Info: Sweater- Tommy Hilfiger, Pants- ASOS, Bracelet- Target, Watch- ASOS, Belt- ASOS, Shoes- amazon.com
Recreate the look above by pairing a preppy argyle sweater with fashion-forward red trousers. A brown belt not only creates a polished look, but the gold fox head buckle adds a hint of whimsy. Next, add a pair of plum-colored low-heeled pumps, which look similar to the original Dsquared2 heels, but for only a fraction of the price. Accessorize with a gold watch and beaded bracelet for a modern, menswear-inspired outfit that's perfect for fall.
Your thoughts?
What do you think of this collection? Are you a fan of Dsquared2? Which look is your favorite? Would you wear any of these outfits? Which designers would you like to see featured here next? Remember to leave a comment below and let me know what you think!