This post may contain affiliate links, which means we may receive a commission if you purchase through our links. Please
read our full disclosure here
.
Welcome to Rethink This, a monthly column where I revisit once popular stores and brands that have fallen by the wayside in the hopes that CF readers will see them in a new light.
Oh, Old Navy.
Once the cornerstone of Middle American strip malls and everyone's favorite "mom-store", Old Navy has been neglected by serious fashionistas for far too long. Personally, when I think of Old Navy, I can only conjure up images of ill-fitting patriotic t-shirts, milquetoast Bermuda shorts, and saggy jeans.
However, at the behest of my own mother, I stopped in the other day and found out that I was, in fact, seriously mistaken.
Apparently, I am one of the last passengers to hop on the Old Navy train because, by all reports, the brand is slaying. After bringing on Stefan Larsson, formerly of H&M (Gap Inc.'s biggest competitor), Old Navy has seen a dizzying growth in sales. Last year, the brand brought in almost $6 billion, which was essentially the entire revenue of the Gap and Banana Republic, ON's sister stores, put together.
And I can certainly see why. In stores, Old Navy has lost the kitschy, humorous feel that defined them for the majority of the aughts, and has instead embraced a more grown-up, feminine vibe.
Old Navy Outfits
With the exception of one item, the following outfits are comprised entirely of Old Navy merchandise. Check out these four looks to spot some surprisingly fresh offerings from Old Navy for Fall 2015.
First Day of Class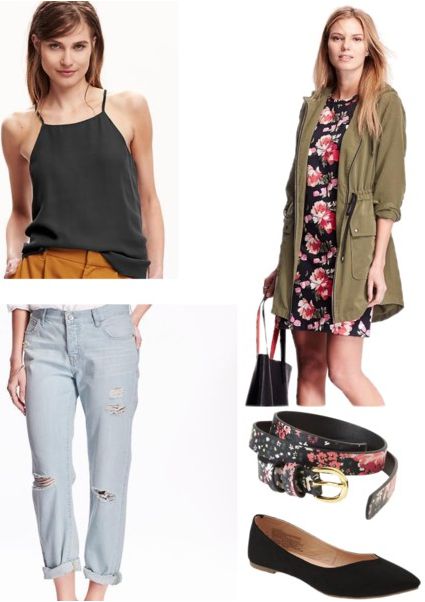 Tank, Denim, Parka, Belt, Flats
It's the first day of a new semester and, of course, you want to make the right impression. Not too styled, but definitely not sloppy is the key. A carbon-colored chiffon tank paired with lightly distressed boyfriend jeans is the basis for a stellar first-day-of-classes outfit.
Accessorize with a skinny floral belt (it's finally time to try a flirty half tuck, like above) and pointed-toes flats. Pack a long olive green parka for those chilly lecture halls and added layering points.
Coffee Date Realness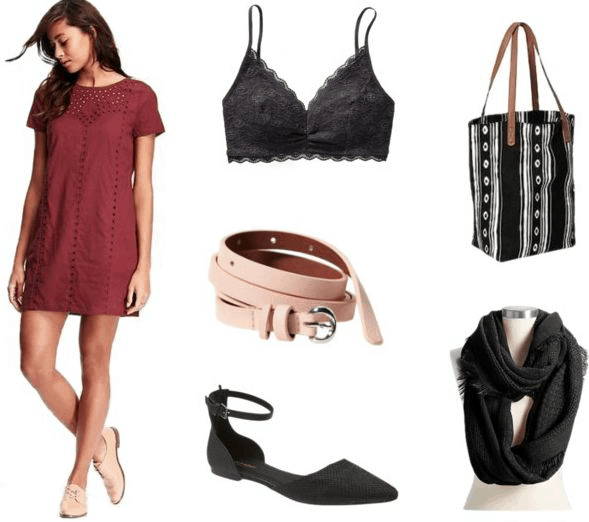 Dress, Bralette, Belt, Flats, Tote, Scarf
So, you've been eyeing up the cutie in your Bio Lab for a couple of weeks and they finally asked you out for coffee. After rightfully freaking out for a few days, you decide to throw on this adorable Marsala eyelet shift dress. Also, because you're feeling yourself, you decide to throw on a lacy bralette and ankle strap d'orsay flats for added cuteness.
To create an hourglass figure in an otherwise straight dress, loosely wrap a light pink skinny belt around your waist. Finish off the look by throwing on a dainty infinity scarf and grabbing a graphic canvas tote that'll take you from coffee shop to class.
Late Night Study Session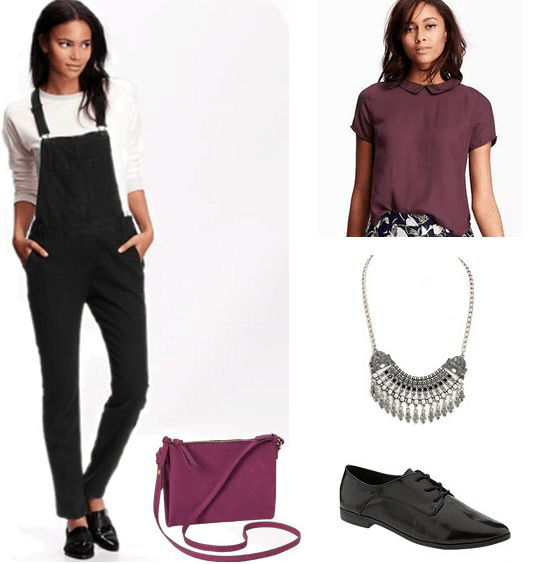 Overalls, Top, Necklace, Oxfords, Bag
Overalls! Patent leather oxfords! Statement necklaces! Who would have thought that all of these trends could blend together so comfortably? Black overalls are the perfect choice for a group study session because they are effortlessly stylish and ridiculously comfortable. Pair them with a super-sweet Peter Pan collar blouse to tame down the innate grunginess of the overalls.
Finish off the look with bold accessories that'll energize you and your study partners all night long through pure fierceness. Settle the statement necklace close to the collar, pop on a fuchsia crossbody bag, and stunt on your peers in stunning patent leather oxfords.
Up in the Gym (Just Working on my Fitness)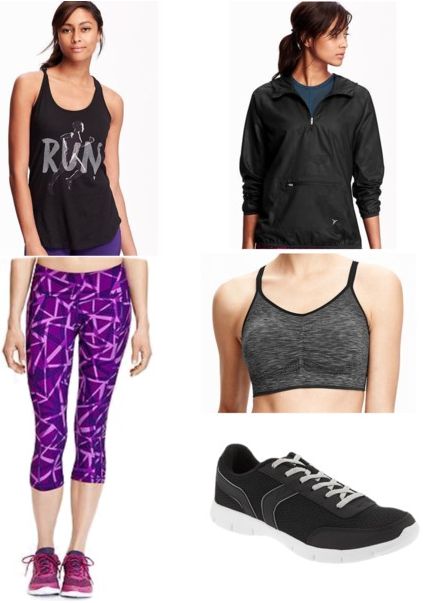 Tank, Pullover, Bra, Sneakers, Leggings
It would be remiss of me to write an entire post on Old Navy without mentioning their extensive athletic wear department. Old Navy has a striking array of athletic wear certain to impress workout novices and experts alike. From supportive sports bras to running tights, Old Navy might be your new go-to for stellar workout gear. Plus, they have a vast plus-size section.
Start out with affordable basic running sneakers that every girl should have in her wardrobe. Add a lightweight sports bra that claims to be chafe- and seam-free, as well as a funky pair of vivid purple capri leggings. For warmer days, stick with a basic "Go Dry Cool" tank to keep you well-ventilated. On chillier days, throw on a thinner mesh-insert anorak that'll keep you warm but will always remain breathable.
Thoughts?
When was the last time you shopped at Old Navy? Did this post change your view on the brand? What are some other brands/stores you believe other CF readers should "rethink"? Let us know in the comments below!