The following is a guest post by Devon, a sophomore at a catholic high school in New Jersey. She also has her own blog called Adventures of the Catholic School Girl.
If you wanna blog for College Fashion, use the contact form to get in touch for all the details.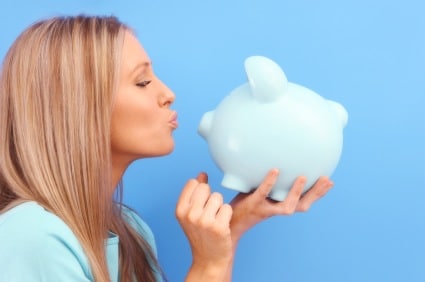 Let's be honest, the economy isn't fantastic right now. These days, we can't afford to spend large sums of money on new clothes and the season's trendiest handbag whenever we feel like it, as much as we may want to.
But even though the economy is forcing us fashion-forward women to keep our wallets shut, it doesn't mean we can't look great! So if you find yourself a victim of financial woes, here are a few tips on how to exude fabulous style and elegance on a tight budget .
1. Shop smart.
Make Forever 21, Topshop, H&M, and Target your best friends! These trendy shops carry a wide variety of stylish tops, shoes, handbags, and accessories that complement your personal style at affordable prices. Kate Moss herself periodically designs collections for Topshop, so you already know that the merchandise will be amazing! And Forever 21 has the biggest inventory out of all of these shops, so you're bound to find something to love.
2. Remember: quality over quantity.
This has always been the motto for girls on a tight budget, and it's still true today. If you find yourself splurging on something, make sure it is a timeless investment piece (leather handbag, little black dress, etc). Instead of wasting money on a couple of "in-season" tops at a department store, with good care you can have the timeless piece for years to come.
3. Mix it up.
Wear the pieces you already have in new ways. For example, take a sundress or long tunic and wear it over a long sleeve shirt or turtleneck during the winter. When it gets warm, layer it over a short sleeve shirt or just by itself. Try this with any other pieces of clothing you think would look good with layering (shorts over leggings, etc.), and you'll get two chic looks for the price of one. Also, by mixing your clothes up, you can wear them for many seasons without having to buy all new stuff.
4. Throw a swap party.
Swap parties are one of the biggest trends on the rise. Here's how they work: Invite a dozen or so friends over, and bring a selection of clothes and accessories you've either outgrown or don't want anymore. While sipping beverages and eating appetizers, go around in a circle – one person holds up an item and explains why she is giving it away. Anybody who wants that item raises their hand and then they get it. If more than one person wants the same item, draw names from a hat. By the end, each person has given away old items, but most importantly has gained many new outfits!
5. Petite? Consider yourself lucky.
If you are small, petite sized women, please don't roll your eyes as you pass the children's department! You can pick up some simple, perfectly good clothing (exercise gear, pajamas, t-shirts, underwear, and socks) from the kids and junior's sections without having to pay the extra dollars.
6. Become a confident internet shopper.
Often our favorite stores have hidden discounts and clearances that can be found online only . Any time you go to a store's website, look for hidden clues including "new markdowns," "additional discounts," and "last chance." Macy's for example is notorious for having these hidden online sales. If you haven't tried already, look on eBay for even greater deals on merchandise; just make sure your seller is reliable. In addition, be aware of how much you're paying for shipping; it can turn your great find into a very expensive item.
7. Thrifting is a must.
Although not all of us have time to sift through the racks at a thrift or charity shop, it's truly worth the extra hour. You can find so many beautiful and inexpensive discoveries at these stores – vintage jackets, skirts, headbands, shoes; the possibilities are endless! And you never know – you might end up finding a brand new item with the tags still attached. Even better, if you want to make some extra cash selling your old clothing, some thrift stores will buy clothes from you (at a low price) with open arms.
8. Buy out of season.
Stores always have the biggest sales after Christmas, the transition between winter and spring (late February or March), and the transition between summer and fall (late August – early September) . That winter coat or pair of gladiator sandals you wanted could have an even bigger discount if you just wait a couple of weeks before you buy!
Your Thoughts?
As much as Hollywood tells us so, you do not only have to dress in designer duds to look fashionable. Everyone can still maintain their own unique style in this recession, and you may find it easier then expected!
What are your budget fashion tips for looking fabulous in spite of the recession? Leave them in the comments!