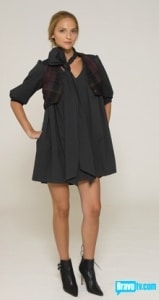 Victorya Hong's winning dress.
Here's an interesting piece of news for all you Project Runway fans! (What fashion fan doesn't like PR though, honestly?)
If you watched Wednesday's episode featuring Sarah Jessica Parker, you already know that the winning outfit will be sold as part of SJP's Bitten clothing line, available at discount retailer Steve and Barry's.
What you may not know is that Victorya Hong's winning dress will be available to purchase for $19.98 as early as today! The vest that goes with it will also be available at a price of $14.98.
Personally, I haven't been very impressed with what I've seen of SJP's Bitten line so far. This dress, however, is so adorable! And the price is just amazing, so I'm thinking about going to pick it up.
Here's an idea: If SJP wants people to start buying her stuff, maybe she should start making all the winning PR outfits part of her Bitten clothing line… or at the very least get Patricia Field to help design for her.
What do you think? Will you be buying the Project Runway dress at Steve and Barry's, or are you going to save your 20 bucks for something better? Let me know in the comments!