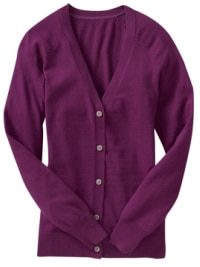 A few weeks ago, I was approached byOld Navy to review one of their new sweaters for fall.
Apparently, they want to know what bloggers and fashionistas think of their new line of sweaters, and I was one of the bloggers they chose to test them out.
Since I'm not a big Old Navy shopper under normal circumstances, I wasn't sure what to expect. I'm so obsessed with H&M and Target that I haven't even set foot in an O.N. store for at least a year.
I have to be honest: I really didn't think that I would like a sweater from Old Navy. Maybe I'm a fashion snob..
But when I opened up the package, the soft eggplant-purple boyfriend cardigan was actually fabulous – and looked almost exactly like one I snagged at my precious H&M last year!
The material is nice and thick, with just a little bit of stretch. The color is on point (purple is hot for fall), and I also really like the buttons – the faux mother of pearl is an adorable extra touch.
Another thing you should know about Old Navy's sweaters is that they are obviously vanity sized. I usually wear a size small, but this particular size small was really huge on me. If you're going to buy one of their sweaters, I recommend going a full size down from what you usually wear.
Overall, I give this sweater a 4/5. It's not cashmere or anything, but it's great for the price. Highly CF recommended.
If you want to review one of Old Navy's sweaters for yourself, check outoldnavy.com.