This post may contain affiliate links, which means we may receive a commission if you purchase through our links. Please
read our full disclosure here
.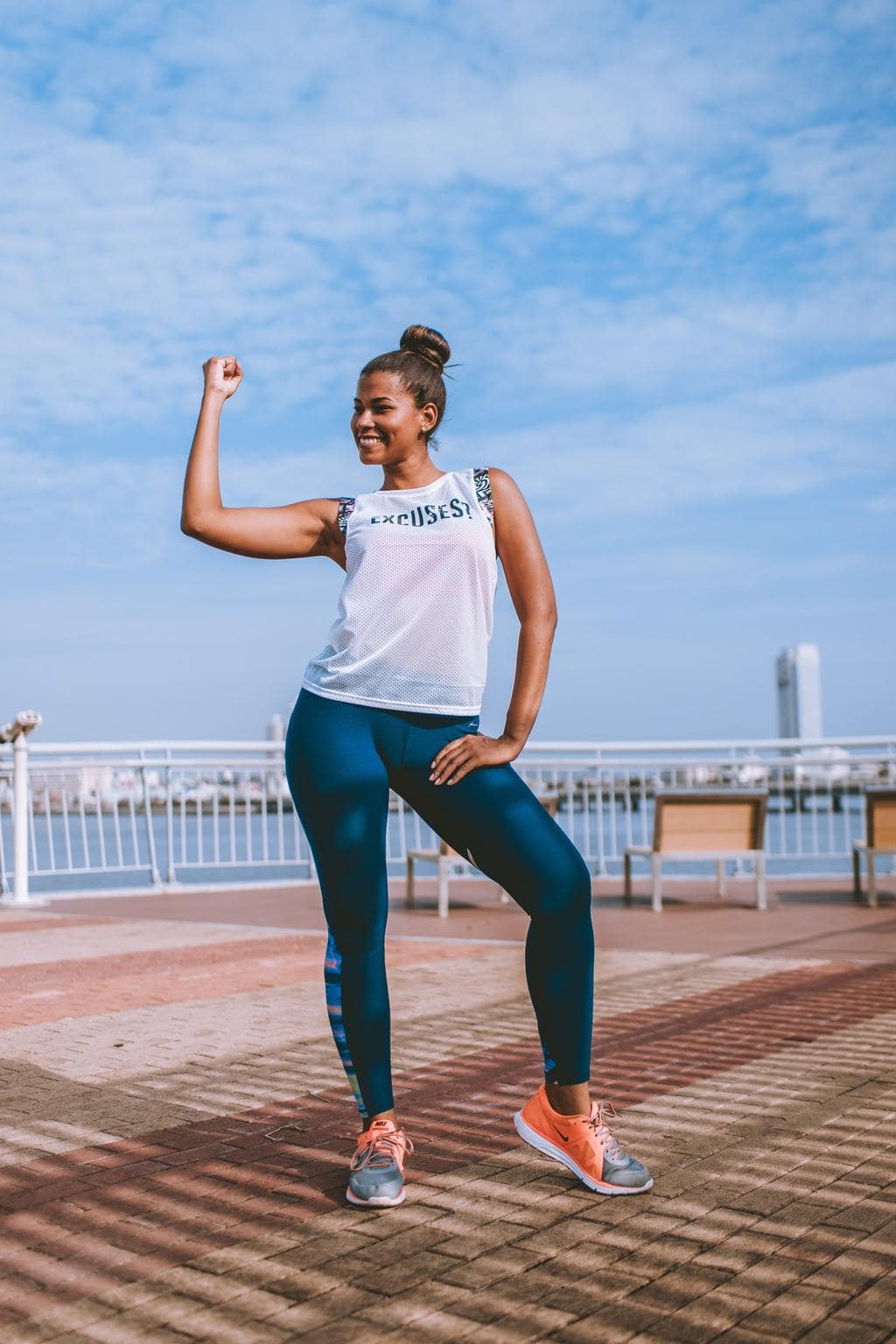 Welcome back to CF's Gym Bag Essentials series! So far, we've covered our top picks for the best gym bags, gym underwear, headphones, and blender bottles.
This week, we are looking at a consumable essential for your workout: protein.
As I've said in our gym bag overview post, many women, both active and inactive, are not consuming enough protein. So first, let's take a look at why we need protein, what to look for in protein products, and some of the best sources.
Why Your Body Needs Protein
One of the biggest misconceptions about women, fitness, and protein is muscle gains. Women simply do not put on muscle mass the same way men do. We do not have the hormones to support that level of muscle growth, and that's OK.
Protein helps us build and maintain lean muscle mass, which you want in order to be healthy and fit. Additionally, muscle burns more calories than body fat. Therefore, you can burn calories more efficiently with muscle than fat, which also means a high metabolism.
Proteins are the main building blocks of your body, used to make muscles, tendons, organs and skin, as well as enzymes, hormones, neurotransmitters and various tiny molecules that serve many important functions.

Kris Gunnars, BSc
Another advantage of protein is that it supports healthy skin, nails, and hair. Protein helps you feel fuller for longer, as well, so make sure each of your meals has a healthy portion of protein! Lastly, protein keeps your bones strong.
When to Consume Protein
Ideally, you should be getting at least 20 grams of protein per meal. (This is a rough estimate and your exact needs will vary, but it's a nice round number to shoot for.) You can also drink protein shakes as snacks or with your meal to get some more protein in each day.
If you are on a weight-loss journey, consuming protein-packed snacks in between your meals can help you feel full and lead you to consume fewer calories throughout the day.
For growing muscle after a session of lifting weights, you want to consume at least 20 grams of protein within 2 hours of finishing your workout.
Consuming protein before bed is also another way to ensure your body is building and/or retaining muscle and recovering throughout the night.
Top Protein Picks
There's more than one way to consume protein outside of your regular meals. One of the most popular options is protein powder.
You can find protein powder almost anywhere, but it's important to consider things like the nutrition label and flavor.
Another easy option is protein bars, usually found in sweet flavors to satisfy your cravings for dessert!
Bringing protein powder, a ready-made protein shake, or protein bar with you to the gym will ensure that you can consume protein post-workout. This increases the return you'll get on each workout!
Promasil is one of my favorite protein powders because each scoop of protein includes: 24 grams of protein, 4 grams of carbs, 1 gram of fat, 1 gram of sugar, and only 120 calories.
It also comes in lots of yummy flavors like chocolate peanut butter, glazed donut, cookies and créme, etc.!
OWYN stands for "Only What You Need." OWYN is a plant-based, and vegan approved, protein product. They sell powder, shakes, and bars. I particularly love the cold brew coffee protein shake from OWYN.
This shake has 180 calories, 20 grams of protein, 10 grams of carbs, 7 grams of fat, and 4 grams of sugar. The caffeine in the cold brew flavor is also a great start to your day.
Their products are also completely free from all things artificial and free from the top food allergens: Dairy Free, Soy Free, Wheat Free, Peanut Free, Tree Nut Free, Egg Free, Shellfish Free, and Fish Free.
BSN Syntha-6 is another great brand for your protein supplement needs. They offer protein powder, as well, but I do like their protein bars for hitting my sweet tooth and getting the satisfaction of eating something.
This flavor, Syntha-6 has partnered with Cold Stone to create a delicious Birthday Cake Remix flavor. This bar has 230 calories, 20 grams of protein, 25 grams of carbs, 6 grams of fat, and 4 grams of sugar.
I love One Bar protein bars. They have lots of great flavors like glazed donut, cinnamon roll, almond bliss, dark chocolate sea salt, blueberry cobbler, lemon cake, and many more. They are delicious!
One Bar prides itself on making bars with only one gram of sugar per bar. This protein bar has 220 calories, 20 grams of protein, 24 grams of carbs, and 8 grams of fat.
What are your favorite protein sources?
Are you consuming enough protein every day? What are some of your favorite protein snacks? Let us know in the comments!