This post may contain affiliate links, which means we may receive a commission if you purchase through our links. Please
read our full disclosure here
.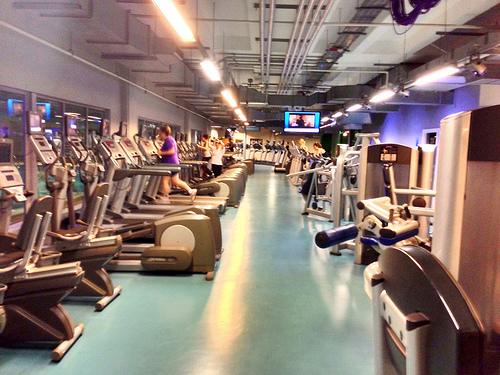 The new year is already here (where did 2013 go!?), and with it, of course, comes a slew of New Year's Resolutions.
One of the most common resolutions (for women of all sizes) is to eat healthier and get in shape, but for someone who's not used to working out regularly, it can be hard to find motivation. However, I know that sometimes having the right workout attire (a.k.a. cute clothes to wear at the gym) can be a great motivator when it comes to sticking to your schedule.
Below I've compiled some of my favorite plus-size workout gear, with pieces that are both cute and functional. Scroll down to check them out:
Tops

(L to R): 1. Lane Bryant, 2. Lane Bryant, 3. Lane Bryant, 4. Avenue, 5. Lane Bryant
Most of my favorite workout tops can be described in one word: subtle. Although I'm not a fan of bright and shocking prints (only because I work out in the morning and a bold top is a little too bright for me that early), if you prefer your workout gear to be colorful, we say go for it!
I absolutely love sleeveless tanks with built-in sports bras, since they are the most comfortable. Also, if it's chilly, don't forget to layer on a cute workout hoodie (like #4).
Bottoms

(L to R): 1. Lane Bryant, 2. Lane Bryant, 3. Avenue, 4. Avenue, 5. Lane Bryant
Because I live in Florida, I prefer fitted shorts and capris to long pants. Personally, I've never been able to comfortably work out in baggy pants, since the heat quickly becomes unbearable, and I always feel like they're about to fall off!
However, if your work out consists of something like speed walking around the block, a looser-fitting pant, like bottom #3, would definitely do the trick. For running and more active work outs, I think that fitted capris are definitely the way to go.
What do you think?
What's your New Year's Resolution? Do you think having the right workout attire influences whether or not you stick to your resolution of working out? Which top or bottom pictured above is your favorite? Let me know in the comments!