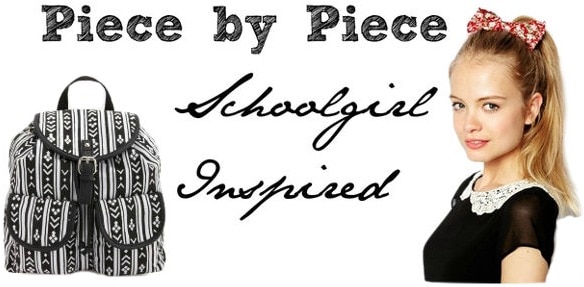 Product Info: Backpack, Hair Bow
Piece by Piece breaks down the equation of great style on a real college budget. When we love a look, we do the work by scavenging the internet for the absolute best-priced items, then recreate it for you! No trend is too extravagant, no look is too lavish, and no fashion moment is out of reach for the stylish College Fashion reader.
I got a shock the other day when I walked into my Pullman Shopko and almost ran into a back-to-school supplies stand. I'm not done with the pool yet! I don't know where to begin to look for my planner!
To recover from the trauma, I did some online shopping. And to force myself to get into the "school days" spirit, I created ensembles inspired by the hectic schedules of college students.
Each outfit functions for a day of multitasking, and each one includes three classic schoolgirl essentials: a backpack, some squeaky new sneakers, and hair bows. Scroll down to check out all three looks:
Class And Crunch Time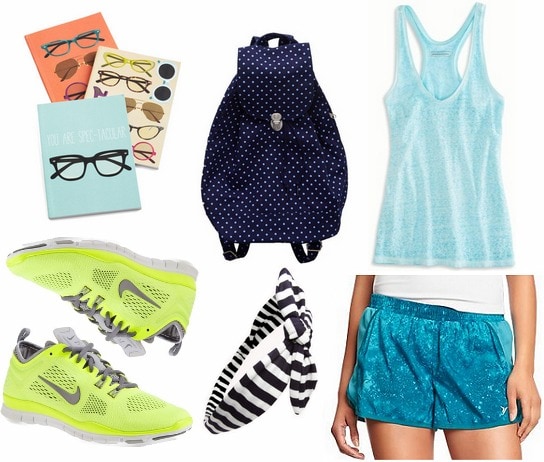 Product Info: Notebooks, Sneakers, Backpack, Headband, Top, Shorts
So, I don't actually go to the gym, but I hear that's a thing people do. Here's something you could wear to your crack-of-dawn class and your campus fitness center before you head home.
For those who, like me, prefer to stretch and nap on their yoga mats and call it good, this is still a really comfortable look. The notebooks are for class or to jot down your people watching observations at the gym. Don't look at me like that. We all do it.
The backpack, sneakers, and headband are a more sporty take on the schoolgirl theme. Though practical, each piece has a fashion-forward vibe which amps up an otherwise pretty standard on-campus outfit.
These bright sneakers hail from the Nordstrom Sale, which I strongly advise my fellow students take advantage of. I can't stress enough the importance of a quality pair of sneakers, and these puppies will pay for themselves in style, comfort, and functionality alone.
Coffee and Errands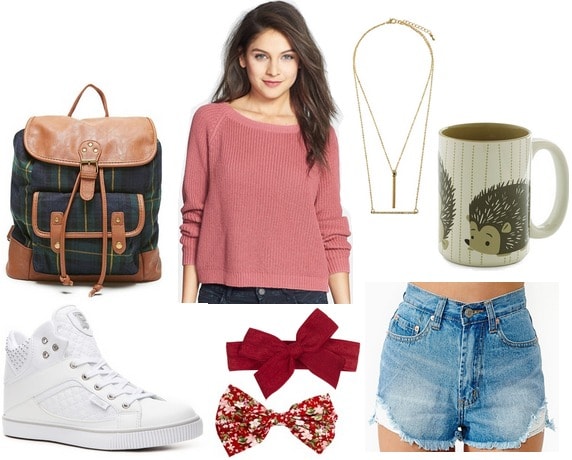 Product Info: Backpack, Sneakers, Sweater, Red Hair Bow, Floral Hair Bow, Necklace, Mug, Shorts
This outfit is reminiscent of the classic schoolgirl look I had in mind while shopping around for pieces. The plaid backpack is so cute for a casual day spent running errands, and it would be the ideal carry-all to take to class as well.
I'm a little obsessed with these high top sneakers – the quilted and stud detailing freshens the style up, and I love how they look with jean shorts and a slouchy top. On their own, the hair bows are precious, but layering them together at the end of a braid or on a ponytail makes a fun statement.
Dinner and Dancing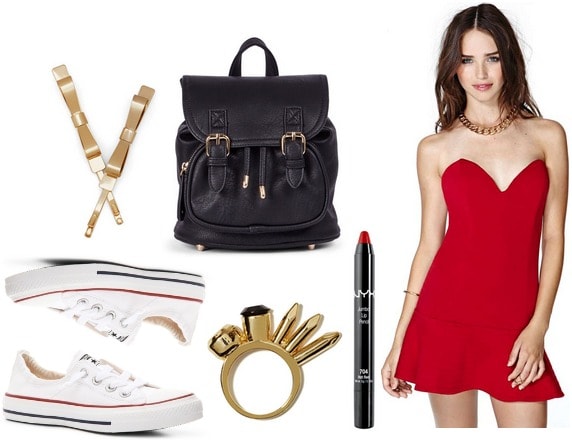 Product Info: Hair Pins, Sneakers, Backpack, Ring, Lip Crayon in "Hot Red", Dress
For the times when we need to get a little fancy, we're pairing classy-looking bow bobby pins with a fresh take on classic white Chucks, and a backpack that is so sleek it's practically a purse.
A stand-out ring and a bright lip crayon add a little edge, but don't compete with the three accessories this look is based around. Just try not to take anyone out with that ring.
Nasty Gal has some really great dresses on sale right now. Usually their dresses are just a bit too pricey for me to rationalize on my working girl budget, but most of the dresses in the sale section are under $30, just like this red hot number.
Your thoughts?
What think you of these schoolgirl-inspired looks? Do they make you want to head for the halls? Give me your thoughts on any and all of the items, brands, and ensembles above!