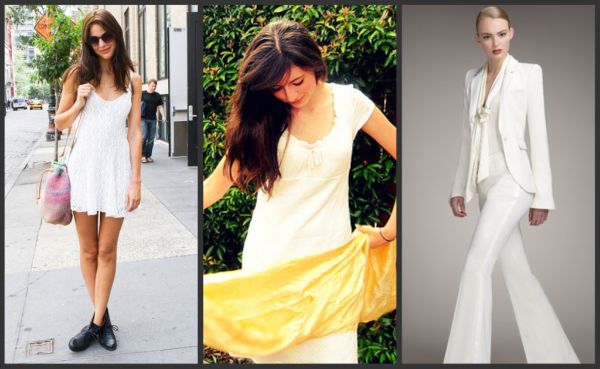 With Memorial Day long gone, it's officially time to break out the summer white! And what better way to celebrate warm weather than by rocking a classic all-white ensemble?
That said, it can be challenging to find white pieces that mesh, and even harder to pull the look off without looking like you're attending a "white party". However, with the addition of the right accessories, it's easy to make an all-white outfit look super stylish and appropriate for any occasion.
Below, I've created three outfits to inspire your all-white style. The best part? Each outfit costs less than $100 total!
Outfit 1: Flirty, Feminine Chic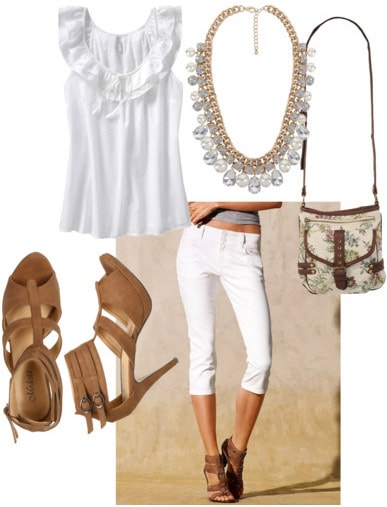 Products: Shoes – Wet Seal, Blouse – Old Navy, Necklace – Forever 21, Capris – Victoria's Secret, Purse – Forever 21
This outfit takes white capris – which aren't normally super feminine – and makes them girly with the addition of a floral cross-body bag, ruffled top, and beaded necklace.
You can wear this outfit bumming around town, out to lunch with the girls, or even a lunch date. If you're on campus for the summer, heels may not be the best option for long-haul walking. So if you'll be trekking a long way, swap out these borderline stilettos for a pair of gladiator sandals.
Outfit 2: Little White Dress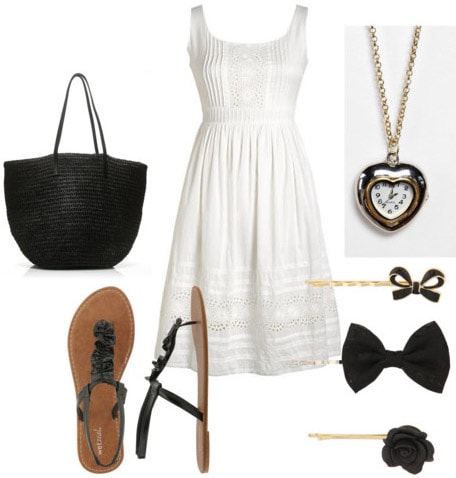 Products: Shoes – Wet Seal, Bag – J. Crew, Dress – Delia's, Necklace – Urban Outfitters, Bobby Pins – Forever 21
This look incorporates the classic LWD (little white dress) into a sophisticated yet casual look that's perfect for either a dressy daytime setting or a casual night event.
Don't think that just because it's summer you have to create contrast using brightly-colored accessories; basic black is never out. In fact, if you use it correctly, black can actually make a white outfit look more formal and sophisticated. Here, I added simple black sandals, a classic black tote, and some pretty black bow hair clips. If you're not into bows and ruffles, sub out the hair clips for some black bangles for a similar contrast.
One more thing about the tote: Not only is it adorable and perfect for summer, it has the added bonus of being from J. Crew. If you didn't know, J. Crew offers a 15% discount to college students on regular and sale items – just show them your student ID in store! With back-to-school shopping on the horizon, J. Crew is looking pretty sweet right now!
Outfit 3: Belted Button Up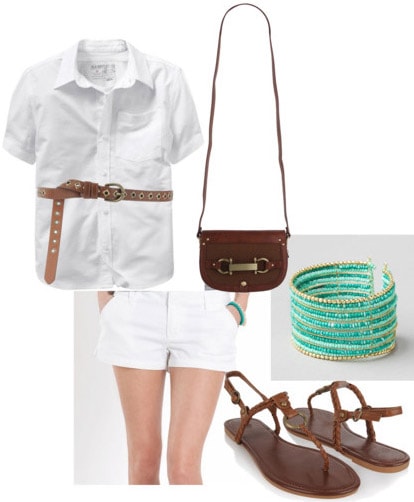 Products: Shirt – Old Navy, Belt – Forever 21, Shorts – Pac Sun, Bangle – Lori's, Purse – Forever 21, Shoes – Forever 21
Want to save some money on adorable basics? Shop the little boy's department. This button-up short sleeve oxford is from the boy's section at Old Navy, but would totally work for you if you're smaller sized.
Since a boy's shirt won't be fitted at the waist, cinch it in with a belt that matches your accessories. Keep yourself from looking too formal by leaving the top three buttons undone. You can add even add some sex appeal by wearing a colored lace cami underneath that peeks through the top. Just remember, the sizing in the boy's department will be way off, so go at least one or two sizes up and always try before you buy.
Finish this all-white look with simple leather accessories, and add some pop to your outfit with a colorful beaded bangle.
Chime in!
How do you wear your white pieces? Do you have a favorite accessory you use to add color to a neutral outfit? Is there one white item you can't live without in the summertime? Leave a comment!