This post may contain affiliate links, which means we may receive a commission if you purchase through our links. Please
read our full disclosure here
.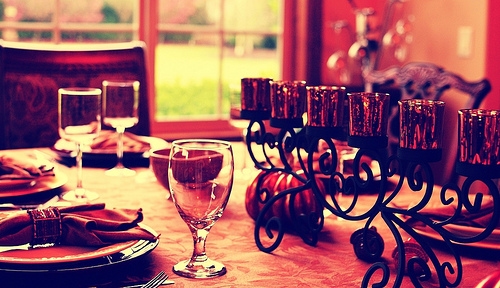 It's November, which means one thing for most home cooking-deprived college students: it's almost Thanksgiving! Can you smell the pumpkin pie yet? This all-American holiday is about giving thanks, being with family, and indulging in all the delicious food you can handle.
Of course, with any holiday or special event, the question of what to wear is on the minds of our chic collegiate readers. Whether it's your family's tradition to have a formal sit-down dinner, host a casual gathering with yummy eats and football, or venture outside to enjoy the fall foliage, there's no reason to drop a ton of cash on wardrobe for Thanksgiving.
To get you started thinking about your Thanksigiving outfit (you only have 2 weeks to shop!), here are some budget-friendly suggestions so you can look chic and feel comfortable on turkey day:
Outfit #1: Nice Dinner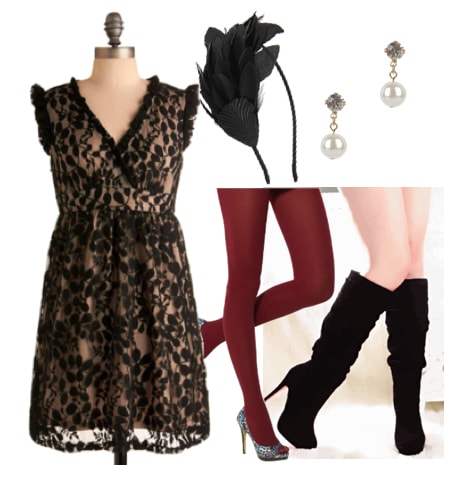 Product Info:Dress, Headband, Earrings, Tights, Boots
Pay tribute to our country's settlers by dressing your best for a nice Thanksgiving feast. This look is appropriate for your family's formal dinner, but it's not too stuffy — the lace dress is both on-trend and ladylike, and the cranberry tights add a much-needed dose of color to the black and beige ensemble. Though flats can be appropriate for most occasions, heels instantly make you look more dressed up; these pretty boots will give you lots of wear post-holiday.
Outfit #2: Food & Football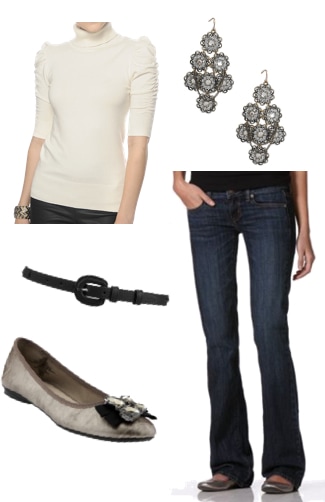 Product Info:Flats, Belt, Turtleneck, Earrings, Jeans
Many families celebrate Thanksgiving with a nice dinner, then supplement their food coma with hours of football watching. Because it's a holiday, you should still look nice and put-together if your family celebrates like this, but gatherings like these are more laid-back, so you can get away with a more relaxed ensemble. These loose-fit flares are comfy, but they look polished with a trim, tucked-in turtleneck and skinny belt worn at the waist.
Outfit #3: Out & About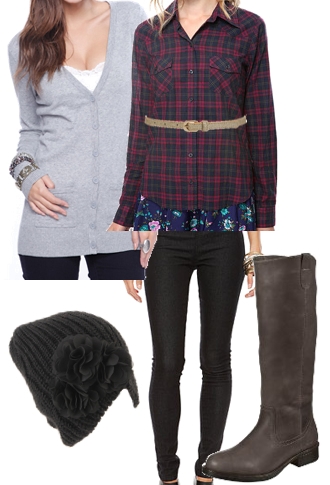 Product Info:Hat, Cardigan, Shirt, Belt, Jeggings, Boots
Every family has their own Thanksgiving tradition, and yours might like to forgo watching football on the couch in a post-dinner daze in favor of heading outside to relish the weather, catching a new movie, or hitting up a favorite restaurant. Activities like these allow for casual attire with an emphasis on comfort. Stretchy jeggings, an oversized flannel shirt, a cozy cardi, and versatile boots are an easy, go-to look.
What do you think?
Are you excited for Thanksgiving? How does your family normally celebrate? What will you be wearing? Do you like these outfits? Please leave a comment!