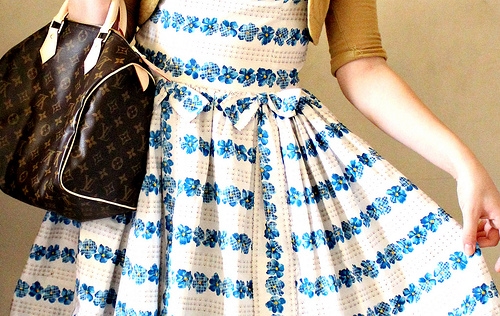 Whether you're a freshman ready to hit the books for the first time or a seasoned collegiate, chances are you've embraced the fact that now is the time to be frugal. It can be nearly impossible to balance your fashionable desires with what your checkbook can actually handle. The key to maximizing affordable style is learning the benefits of versatility.
The most interchangeable piece you can have in your closet is a great dress. It doesn't need to be expensive, you just need to love it. This ideal piece is made of a flowy fabric that you always feel and look good in that can take you from season to season. In the winter months, you can throw on a coat, boots, and tights with it. In the back-to-school season, you can also completely transform it depending on your mood.
Lucky for you, we found the perfect back-to-school dress and styled it 3 different casual yet chic ways. To stay on the inexpensive side, all of the outfits below are under $100.
Casual & Comfy: $98.24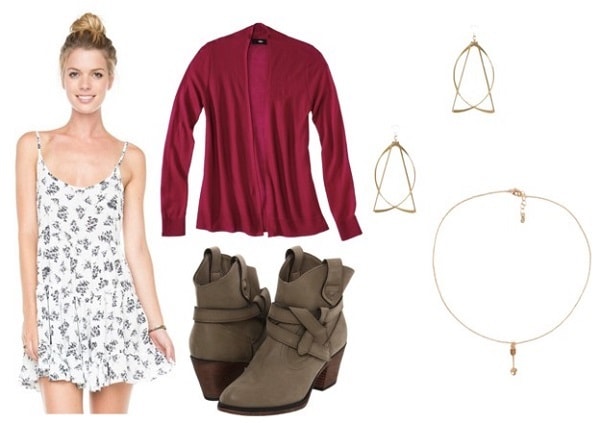 Photo Credit: Dress – Brandy Melville, Cardigan – Target, Boots – Zappos, Earrings – Forever 21, Necklace – Forever 21
Newsflash: classrooms get cold. It can be the dead of winter and schools will still have the AC cranked up. To save yourself from goosebumps and shivers, wear a long-sleeve cardigan over your shoulders. Stand out with a pop of color and fashionable ankle booties. Pair it all with cute jewelry from Forever 21 to stay on the frugal side.
Stylish & Smart: $97.35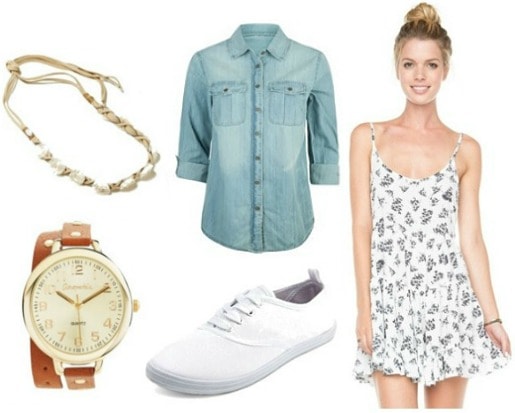 Product Information: Dress – Brandy Melville, Top – Tilly's, Shoes – Charlotte Russe, Watch – Aeroopostale, Headband – American Eagle
In our eyes, there's no such thing as too much chambray. A great button-up chambray top is one of the most versatile items you can own. Throw it on with your go-to dress and tie it in the front for a summery vibe. If you're more interested in wearing the dress as a skirt, button it up! Try pairing it with Keds for an adorably-sweet throwback look. Add a wristwatch and headband for a cute classroom-ready vibe.
Charming & Cute: $96.80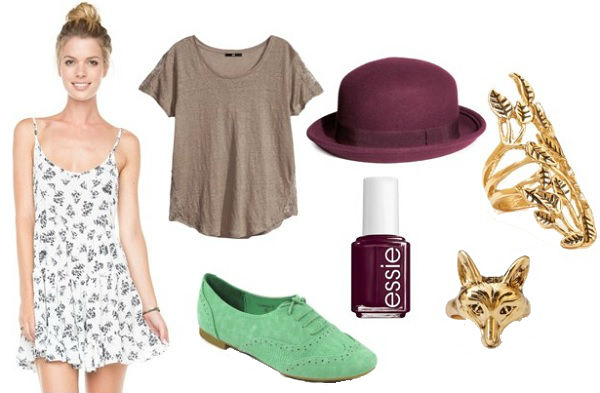 Product Information: Dress – Brandy Melville, Top – H&M, Shoes – Amazon, Hat – H&M, Knuckle Ring – Forever 21, Fox Ring – Forever 21, Nail Polish – Essie
One of the best ways to transform your go-to dress is by wearing a pullover tee or sweater. It will look like a skirt, and the top layer can always been removed if it's too hot. To ease the transition to fall, choose accessories in luxurious neutrals, like plum and taupe. A bright pair of oxfords are a great statement piece along with some funky rings.
Do you have a go-to dress for the fall semester?
How do you keep your look fresh? What tips and tricks do you use to dress up your favorite dress? Which style above is your favorite? Leave a comment below and let's discuss it!