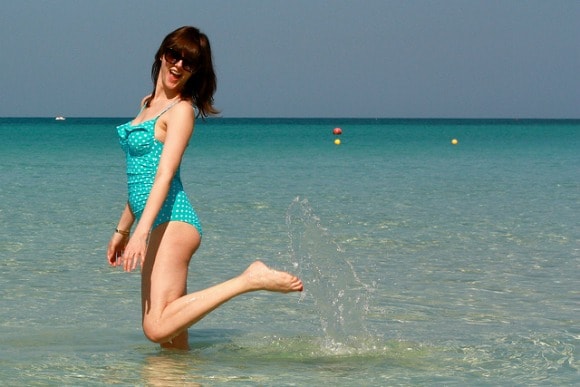 Now that graduation season is over, summer has officially begun. And what is more summery than spending some time on the beach or at the pool? If you've put off buying a swimsuit this season, now is the time to invest.
To help, we have put together four swimwear looks for less. Each outfit is under $100, but with many items from these outfits probably already in your closet, they should ring up for much less!
Outfit 1: $97.99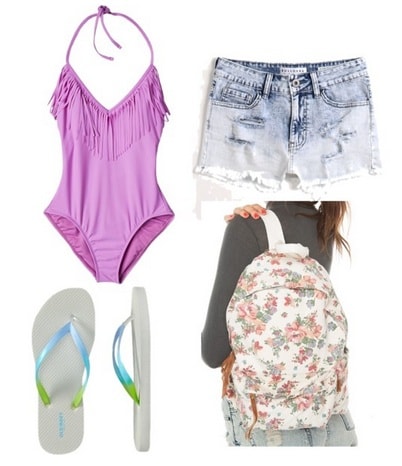 Product Information: Swimsuit – Target, Shorts – PacSun, Backpack – Brandy Melville, Sandals – Old Navy
Fringe is a huge swimwear trend this summer. This style, from Target, is a cute and stylish way to rock this trend, plus it boasts a pretty – and unique! – purple color. When wearing this look to and from the pool, throw on distressed denim shorts and keep your essentials in a floral backpack.
Outfit 2: $98.10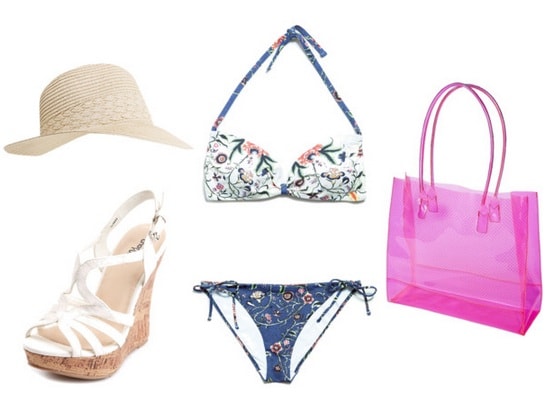 Product Information: Top – Zara, Bottom – Zara, Shoes – Charlotte Russe, Hat – Forever 21, Bag – Target
For those with more feminine tastes, this bikini from Zara is a perfect pick. The floral pattern, complete with a coordinated mix & match color scheme, is certain to get you plenty of compliments. If you're planning on laying out (while slathered in sunscreen, of course), rock some tall wedges and a sunhat.
Outfit 3: $95.72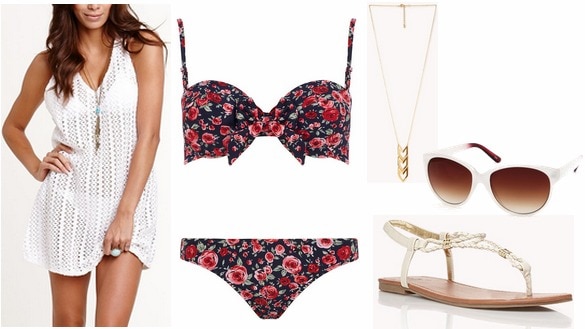 Product Information: Top – Dorothy Perkins, Bottom – Dorothy Perkins, Coverup – PacSun, Shoes – Forever 21, Necklace – Forever 21, Sunglasses – Charlotte Russe
Crochet coverups will easily become your go-tos for swimwear days this summer. After long hours on the beach, you may find yourself at a beachside cafe or biking back home, which you probably won't want to do in just a bikini! We love adding little touches of gold, like the chevron necklace above, plus flat sandals and big sunnies.
Outfit 4: $92.25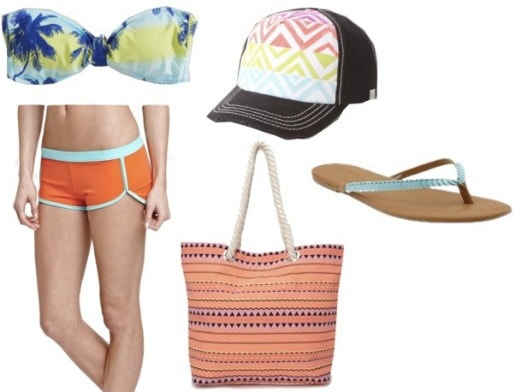 Product Information: Top – American Eagle, Shorts – PacSun, Shoes – Old Navy, Bag – Forever 21, Hat – PacSun
Sporty styles are also a popular beachwear trend this season. (When are they not, really?) Try pairing a bikini top with mini board shorts and a patterned cap, which will not only keep your hair out of the way when playing beach volleyball or going for a run along the water, but is also a super-trendy this summer.
We want to know what you think!
What will you be wearing to the beach this summer? What is your go-to swimsuit style? Which look above is your favorite? How do you find cute swim styles while staying frugal? Leave a comment below and let us know!