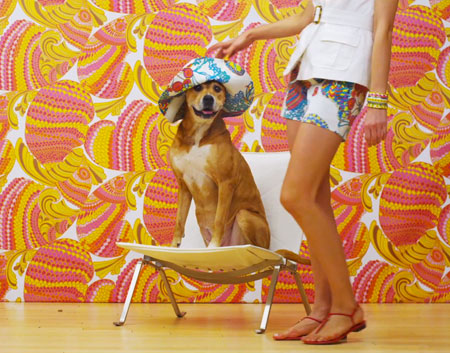 Ad for Banana Republic & Trina Turk's collaboration for the ASPCA. Credit
Ahh, summer. Whether your plans involve an internship in a bustling city, picking up hours as a lifeguard, or just relaxing with your besties on the beach, this season's trends are wearable enough to suit any summer lifestyle.
Thankfully, our favorite fast fashion stores are on top of it! It's so easy (and so cheap!) to be trendy this summer. To illustrate, I've put together four outfits – each focused on a hot summer trend – all under $100 each!
Looking Darling in Peplum – $97.93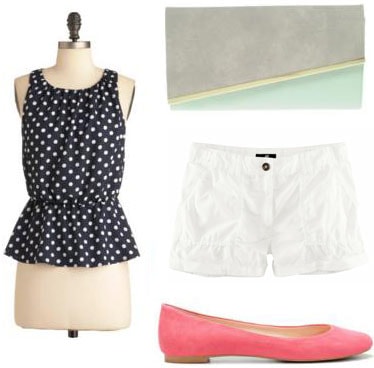 Product Information: Top – Modcloth, Shoes – Zara, Shorts – H&M, Clutch – ASOS
If your fashion taste is a bit on the sweet side, a peplum top or dress is the perfect addition into your wardrobe rotation. Chances are, you already have the perfect pairings in your closet!
Quick tips on wearing peplum:
Peplum adds volume up top, so stick with something tight on the bottom. Try a peplum top with a pencil skirt, a nice pair of shorts, or fitted jeans.
Peplums are very feminine – so embrace the girly vibe! Unless you have a really bold sense of style, we don't recommend wearing peplum with boyfriend jeans and converse sneaks.
Need more tips? Check out our other articles on the peplum trend: Would You Wear… a Peplum Dress? and How to Wear the Peplum Trend.
Casual & Chic in an Asymmetrical Hemline – $94.58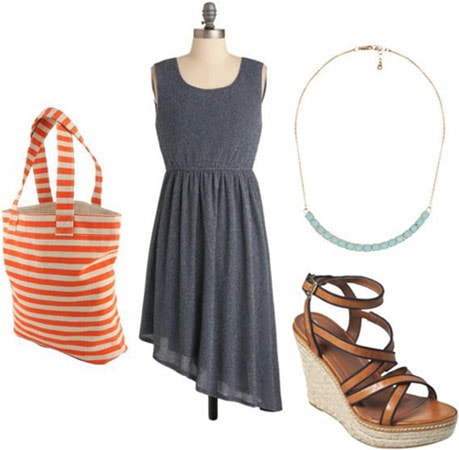 Product Information: Dress – Modcloth, Bag – Forever 21, Shoes – Target, Necklace – Forever 21
An asymmetrical hemline can take a basic dress from fine to fabulous. In the sample outfit above, a simple grey dress is transformed from a basic piece into something trendy and unique.
Quick tips on wearing an asymmetrical hemline:
Liking this trend but feeling self-concious about wearing it? Try a shirt that is longer in the back than in the front. Or opt for a dress with a small (think six inches, not two feet) difference in length from hem to hem.
A casual, flowy "mullet" hem dress would be great as a beach cover-up or glammed up day dress.
Itching to see more? Check out our past article, Would You Wear… Asymmetrical Hemlines?
Trendy in Printed Pants – $99.22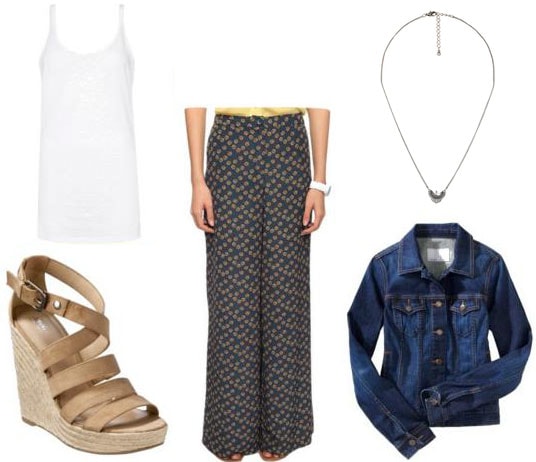 Product Information: Jacket – Old Navy, Top – MANGO, Pants – Forever 21, Shoes – Target, Necklace – Forever 21
Let me preface this by saying that I am not a proponent of wearing sweatpants or pajamas outside. They have a place in the dorm and at home, but they look sloppy elsewhere. So imagine my surprise when I spotted girls wearing printed silky pants (that really do look like pajama pants!) in chic and trendy ways… and loved the look.
Quick tips on wearing printed pants:
Flowy palazzo pants are fashion-forward for summer when worn with a blazer or cute jacket.
Wear tall shoes with a pair of printed, straight-leg pants to elongate your legs like crazy. I mean, we are talking model-esque!
Don't go overboard on the colors or patterns. Keep the other pieces in your outfit simple and solid.
Need more examples before you rock them yourself? Read Would You Wear… Palazzo Pants?
Bright in Neon – $78.70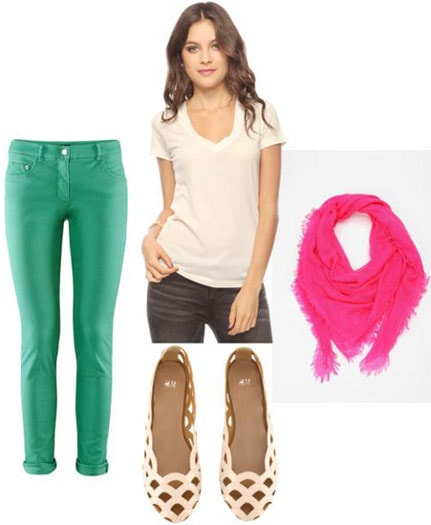 Product Information: Top – Forever 21, Pants – H&M, Scarf – Urban Outfitters, Shoes – H&M
It should come as no shock that we love neon here at College Fashion. Neon is arguably the hottest trend this season, and one we can't wear often enough. In fact, I'm wearing a flourescent (and perhaps glow-in-the-dark) yellow tee as I type this…
Quick tips on wearing neon:
Don't be scared of rocking multiple neon pieces in one outfit! Just stick to a couple and pair them with neutrals. Our favorite pairings usually include a colorful tee and contrasting lips or fingernails, neon flats and a bright belt, or bold pants and an alternating color of scarf (like in the sample outfit above), but experiment and find your own go-to favorites!
Don't worry, wearing neon won't make you look like you're attending an '80s party. But if you're uneasy, try it out through accessories like neon yellow or green fingernail polish, a scarf, a belt, earrings, or a big necklace.
Remember: Neon can always be toned down with neutrals.
Want to know more? We've got you covered with the following posts: How to Wear Neon, Spring Accessory Trend: Neon Colorblocking, Class to Night Out: Neon Top, Summer Trend Alert: Neutrals + Neon, College Fashion Trend: Neon T-Shirts.
How are you wearing summer's hottest trends?
(And keeping them under $100?) What stores do you shop at for trendy finds on a dime? Which summer trends do you like most? Which sample look above is your favorite? Leave a comment below and let's talk about it!