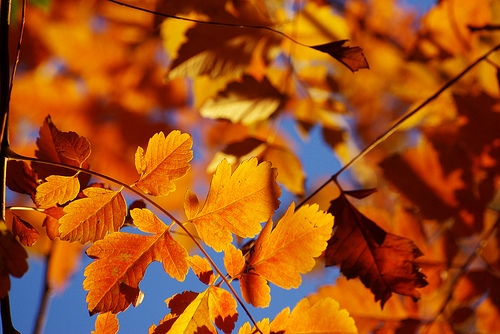 As much as we love strappy sundresses, sandals that show off our pedis, and beach-approved fabrics, there comes a time every year when we start to crave a closet metamorphosis. Temperatures have not yet dropped enough to warrant storing your summer clothes, so why not wear them for as long as you can? With a few tricks, you can rock the fall aesthetic you covet, while getting mileage out of your existing summer wardrobe.
For this week's installment of Outfits Under $100, I'll show you how to transition your trusty summer pieces into fall on the frugal side. As always, each outfit is under $100 total.
Breezy Summer Tops – $87.30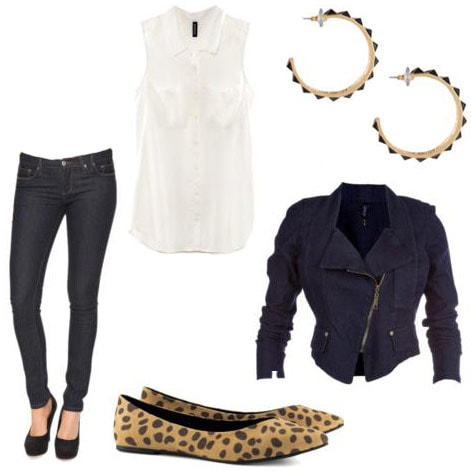 Product Information: Top – H&M, Jeans – Forever 21, Jacket – Vanity, Flats – H&M, Earrings – Forever 21
A sleeveless blouse may seem like a summer-only piece, but us frugal and fashionable students know better! Layer a jacket or sweater on top of your blouse for chilly evenings, and wear flats instead of sandals to make this look fall-appropriate. Add pretty earrings and you're set!
Sundress – $94.98
Product Information: Dress – Modcloth, Top – Dorothy Perkins, Shoes – Amazon
Our favorite way to make a sleeveless sundress fall-ready? Adding a pussy bow blouse underneath! Covering your shoulders with a contrasting blouse transforms the look of your outfit – your frock goes from cute sundress to fabulous jumper in a second.
Nude Pumps -$85.15
Product Information: Top – Mango, Skirt – Lavish Alice, Belt – Lulu's, Shoes – Forever 21
Our go-to formal summer shoe is the nude pump. Whether a nude pump for you is beige. chocolate brown, or any other shade, a skintone-mirroring shoe makes legs seem to go on forever! And there's no need to retire your nude pumps once September rolls around: Pairing nude pumps with heavier fabrics like faux leather helps them stay season-appropriate. Add a slouchy tee and bow belt for a perfect night out ensemble.
Ankle Booties – $97.55
Product Information: Dress – Dorothy Perkins, Coat – H&M, Shoes – Lulu's, Earrings – Forever 21, Bracelet – Forever 21
One of our favorite shoe styles is the ankle boot. Low-profile boots like the ones above are great because they not only work all summer with shorts and tees, but are practically made for fall. To rock your favorite summer ankle booties in the cooler months, just pair them with a dress and textured jacket – it's that easy.
How do you transition your wardrobe to fall?
…and keep it frugal? Which look above is your favorite? Which summer pieces are the most versatile in cooler temperatures? Leave a comment below and let's talk about it!