This post may contain affiliate links, which means we may receive a commission if you purchase through our links. Please
read our full disclosure here
.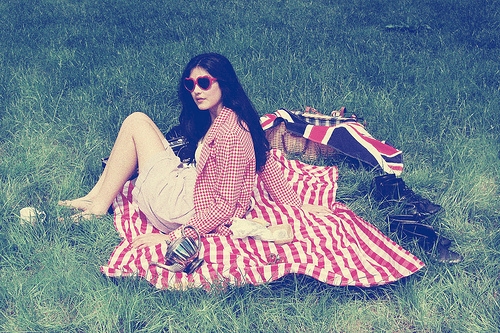 There are few things that scream 'summer' more than packing up sandwiches from your favorite deli, throwing down a blanket on the freshly cut grass, and enjoying a picnic in the park. In my humble opinion, there is no better way to have lunch during the warm summer months.
If you plan on picnicking during the last days of summer, be sure to dress for the occasion. Depending on what kind of picnic you'll be attending, whether it's a company potluck or a casual date, there are a variety of casual options perfect for dining outside.
Below are four sample outfits, each under $100. Keep in mind that we never suggest you buy all of the items (although it's perfectly fine if you do!), but we created them to inspire your wardrobe choices. Given that you likely have items in your closer that work with these outfits, each style falls far under $100.
Company Potluck – $91.29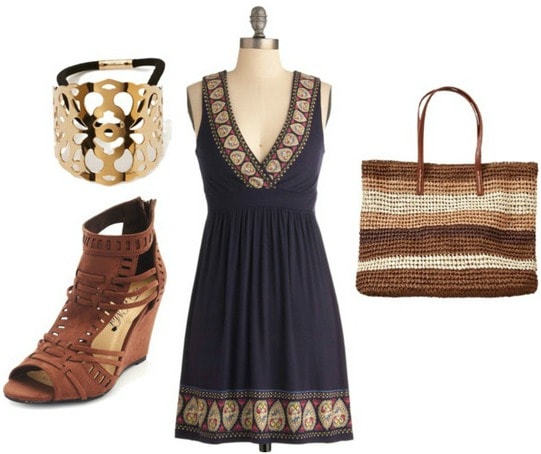 Product Information: Dress – Modcloth, Shoes – Charlotte Russe, Bag – Old Navy, Hair Tie – Forever 21
When attending a casual company luncheon, one must weigh the options. On one hand, it's a casual affair. On the other hand, it's a work function and one must always look professional. We like the idea of a nice sundress, not too short, with sandal wedges. Throw your belongings in a matching straw tote, and pull your hair back with a very professional-looking hairtie.
Lunch with Friends – $78.88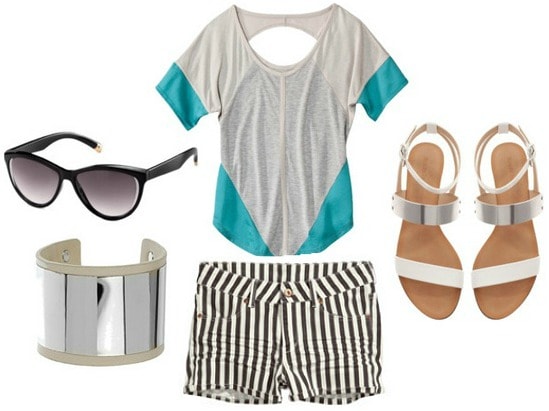 Product Information: Top – Target, Shorts – H&M, Shoes – Zara, Bracelet – Dorothy Perkins, Sunglasses – H&M
If you're headed to the park on the weekend with your friends, wear a pair of fun shorts. We love them with this colorblocked tee from Target, and chic sandals from Zara. Tie in the silver from the sandals with a cuff bracelet, and don't forget cat-eye sunglasses.
Picnic for One – $96.62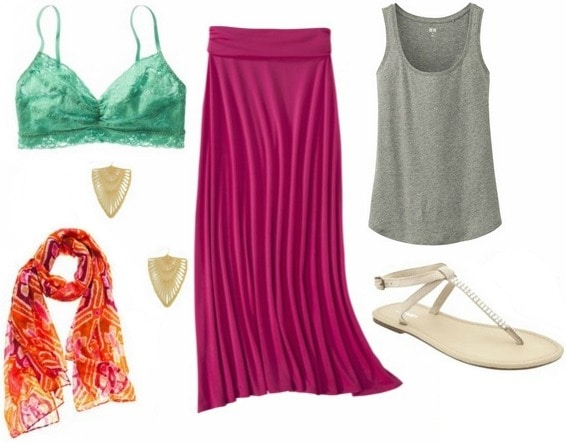 Product Information: Top – UNIQLO, Skirt – Target, Bandeau – Target, Shoes – Old Navy, Scarf – Francesca's, Earrings – Forever 21
One of my favorite ways to dine is alone in the park. Grabbing a sandwich and enjoying the afternoon on a park bench can be incredibly relaxing. There's no need to dress up, but why not look summer-y? This scarf is the perfect mix of colors and when paired with colorful pieces, like this skirt and the bandeau bra, you simply couldn't look more cool.
Picnic Date – $74.73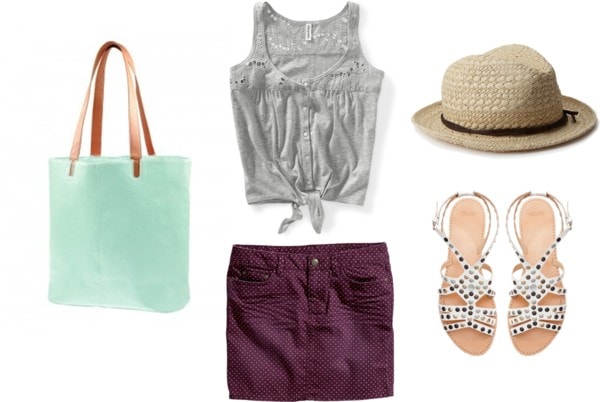 Outfits Under $100: Picnic Look for $74.73 by collegefashion featuring printed shirts
Product Information: Top – Aeropostale, Skirt – H&M, Shoes – Zara, Bag – Ardene, Hat – Forever 21
Think denim skirts are too '90s? So did we, until we spotted this adorable piece from H&M. The color and polka dots couldn't be cuter, especially when paired with this tie-front tank and strappy sandals. If you're going on a date, grab a fun hat and bag, and let the romance flow over fresh fruit and dessert.
What do you wear on picnics?
And how do you keep your outfits budget-friendly? Where are your favorite inexpensive places to shop? Which sample outfit above is your favorite? Leave a comment below and let us know!