I didn't truly understand the meaning of the phrase "poor college student" until I started college myself. Between spending money on textbooks, housing, food, and the occasional coffee or three, many of us don't have the cash to spend on new clothing regularly. That's why I'll be showing you guys some cute outfits that cost under $100 for my new weekly column on Sundays.
We're still pretty early into the new year, and with that comes a new semester of classes. Every semester, I think of a few small changes I want to make to my personal style and wanted to share them with you. Here are my style resolutions for spring semester, along with cute outfits under $100 to reflect those resolutions.
Always Look Put Together… Even on Lazy Days!
We've all had those days when we overslept or pulled an all-nighter and wanted nothing more than to go to class wearing sweats. I know I've done it. But this semester, I've vowed to find sweatpants alternatives that are just as comfortable. Here is an example.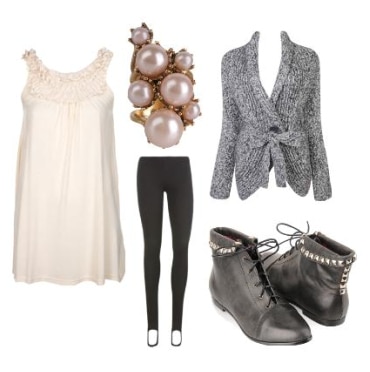 Product Information: Tunic- Topshop, Ring- Forever 21, Leggings- Wet Seal, Sweater- Forever 21, Boots- Forever 21
Leggings are just as comfortable as sweatpants (I promise!) and these stirrup denim leggings are no exception. Paired with a tunic and a wrap sweater, it's almost like you're wearing pajamas to class… but you'll look much more put-together! I added flat lace-up boots with a studded detail to add some edge to the outfit and a cluster pearl ring that matches the tunic for some fun.
Be More Adventurous
Making a bold fashion statement is something I rarely do. That's why I've decided to spice things up this semester and start wearing some outfits that extend beyond my comfort zone. The perfect time to try out bold outfits is when you're going out with friends or to a party.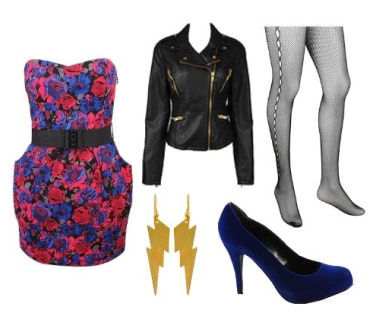 Product Information: Dress- Forever 21, Jacket- Forever 21, Tights- Forever 21, Earrings- Girlprops, Pumps- Forever 21
I love the structure and the colors on this floral dress! It makes a statement without being too wild. I paired it with tights that have a cool detail on the side and blue pumps. This faux-leather motorcycle jacket would look great with the rest of the outfit and the cute lightning bolt earrings match the gold hardware of the jacket.
Add Some Glamour to an Everyday Outfit
My go-to outfit when I'm in a rush getting ready is skinny jeans, a brightly colored top, and flats. Classic, comfortable, but not very exciting. This semester, I want to liven up my everyday outfits by adding some new and unexpected pieces of clothing and accessories.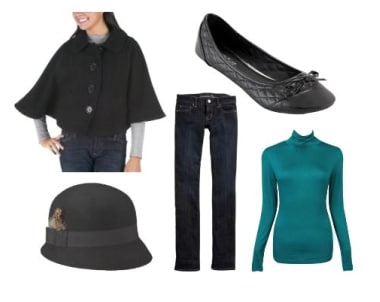 Product Information: Cape Coat- Target, Cloche Hat- Target, Ballet Flats- Peacocks, Jeans- American Eagle, Turtleneck- Forever 21
The base of this outfit is basic jeans, a turtleneck and ballet flats. By adding a cape coat and cloche hat, which are both popular this winter, you've updated the entire outfit. The coat and hat also add a touch of sophistication and glamour to the outfit that were missing before.
What do you think?
I want to make Outfits Under $100 an interactive series, so let me know what you want to see in future articles! Do you want casual or more formal outfits? Do you have a trend that you want me to put into budget-friendly outfits? Are you low on cash and need an outfit for an event? Tell me what you're looking for and I'll include it in a future column!
Also, tell me your thoughts on this article. Do you often find yourself shopping on a strict budget? Are these outfits worth the money? Do you make changes to your style every semester? If so, what are yours for this semester? Leave a comment and let me know.