This post may contain affiliate links, which means we may receive a commission if you purchase through our links. Please
read our full disclosure here
.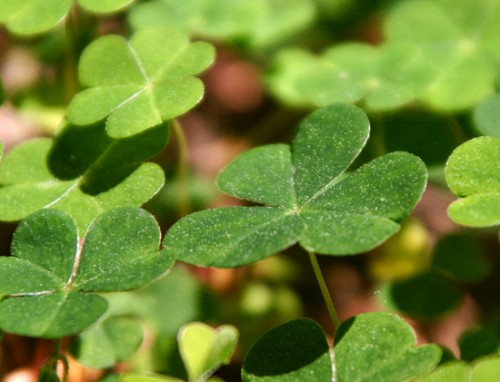 It may not be as glitzy as New Year's Eve or as fabulous as your birthday, but St. Patrick's Day is a holiday you probably celebrate with just as much gusto. This Saturday, the world will turn green in celebration of Saint Patrick, a patron saint of Ireland. While I'm not entirely sure what St. Patrick actually did, any excuse to dress in my favorite spring color is fine by me.
Even if drinking green beer and donning leftover Mardi Gras beads isn't your thing, there are plenty of ways to celebrate this holiday! For example, I decided to throw a chic chartreuse soiree celebrating St. Pat's. All the traditional food will be served and wearing green is required.
Not sure what to wear for your own celebration? Here are our outfit ideas for celebrating this March holiday in a budget-friendly way; all looks are under $100 total.
St. Paddy's Saturday Brunch – $88.70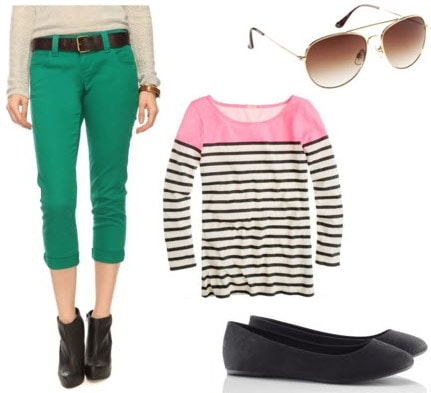 Product Information: Top – J. Crew, Pants – Forever 21, Sunglasses – H&M, Flats – H&M
I certainly wouldn't know firsthand (I swear!), but I've been told that Kegs & Eggs is a St. Patrick's Day tradition. If you're opting for an early brunch or mid-afternoon lunch this lazy Saturday, a casual outfit is a must. Since warm weather is in the forecast for most of the country, opt for dining outside. Grab your sunnies and don't forget your green pants – nothing ruins a casual brunch like getting pinched!
Headed to the Local Dive Bar or a Casual Get-Together – $98.70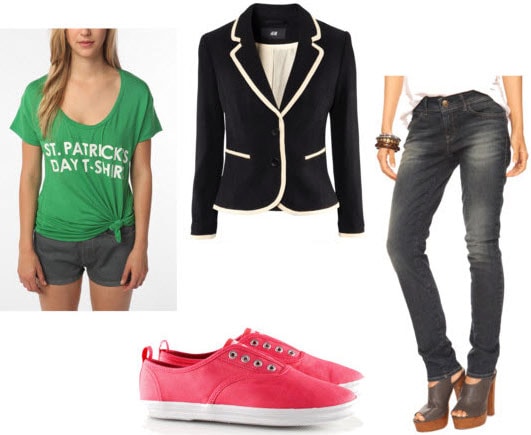 Product Information: Shirt – Urban Outfitters, Jacket – H&M, Jeans – Forever 21, Shoes – H&M
If you're on the way to your go-to bar or on the way to a friend's house, opt for this casual and cute look. A comfy green tee and a pair of basic skinny jeans look adorable and festive when paired with bright sneakers. Dress the whole look up with a great blazer, and you're good to go!
Party, Party, Party! – $95.88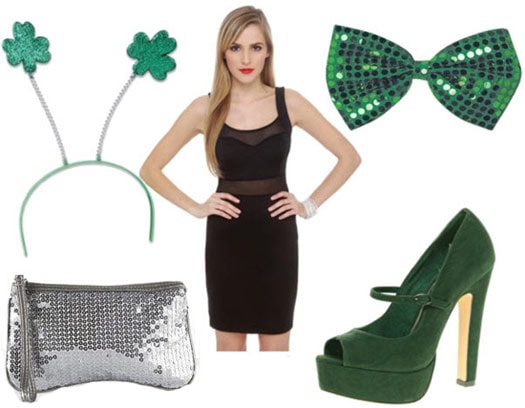 Product Information: Dress – Lulus, Shoes – ASOS, Clutch – Buckle, Headband – Amazon, Bowtie – Amazon
If going out for green beer and St. Patty's Day festivals is your thing, go all out with a sassy black dress. The key to St. Patrick's partying is to not wear anything you're very concerned about: your grandmother's favorite brooch and your vintage Dior should stay home.
Remember to bring your essentials in your wristlet purse so you don't lose them, then accessorize with green everything. I mean it. You'll stick out like a sore thumb at a party if you're not decked out in silly St. Patty's beads and hats. Our favorite trinkets are the two above: a silly bopper headband and a sequin bowtie. Both are under $2 each!
Swanky St. Pat's Day Soiree – $97.15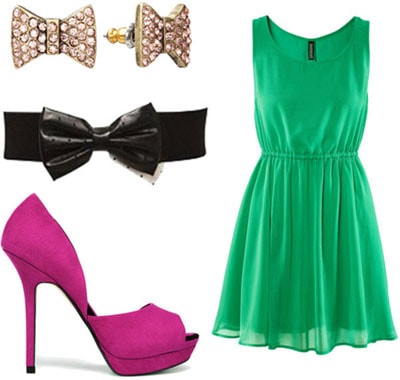 Product Information: Dress – H&M, Belt – Torrid, Shoes – Zara, Earrings – Kohls
Who says St. Patrick's Day has to be about crazy partying anyway? Throw your own cute, sophisticated shindig. If you're event-tending or throwing, be a showstopper in a cute green dress and brightly colored shoes.
This and That
Product Information: Sweater – H&M, Makeup – ELF, Belt – ASOS, Nail Polish – Zappos, Thong – Victoria's Secret, Scarf – H&M, Shoes – H&M, Bag – H&M
Here are our favorite St. Patty's Day essentials to get you through pinch-less if you don't want to create an entire outfit for the day. A coat of green nail polish, cute flats, a scarf, or some makeup are great ways to incorporate a dash of green into your look. Chances are you already have green accessories in your closet, so bring them out! Or don your green undies and feel secretly festive all day. We advocate both.
What are your favorite tips for creating a budget-friendly St. Patrick's Day look?
Leave a comment below and let us know! What will you be wearing this St. Patty's Day? What is your favorite sample outfit above? How do you incorporate green into your wardrobe?