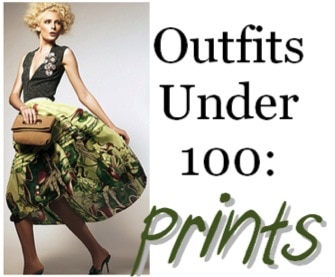 Prints are all the rage this season, as demonstrated by several of this spring's RTW collections. This season's hottest prints are an abstract/floral/geometric fusion, which encompasses a little bit of everything. And lucky for us, this means that retailers are putting out a variety of prints, so you're sure to find the perfect print for you.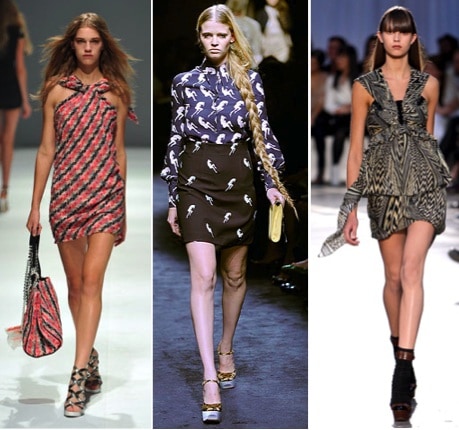 Talbot Runhof, Miu Miu, Givenchy. Photos from style.com.
Here are three outfits (all under $100 total) that will show you how to rock prints all spring and summer long!
Outfit 1: Girly With a Hint of Pizazz
This outfit is for those of you who like to incorporate a single bright, spring element into an otherwise-neutral ensemble. The coral color is definitely a hit this spring, while the black motif keeps this outfit relatively "neutral." The print, in my opinion, isn't too loud, and is a great choice if you want to try the trend without going over-the-top.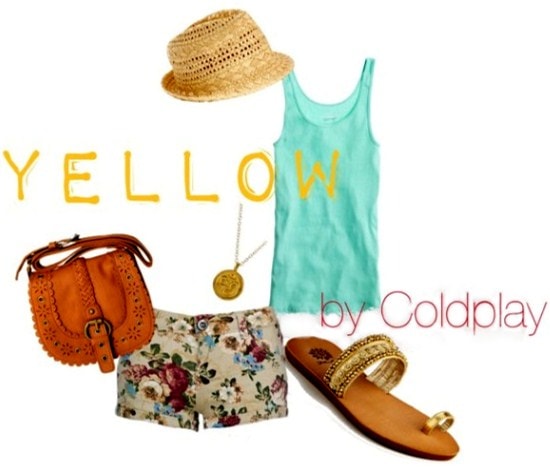 Products: Drizzle Print Top- Forever 21, Black Bubble Skirt- Forever 21, Coral Flats- Yesstyle, Gold Woven Studs- Debenhams
Outfit 2: (500) Days of Summer
This outfit is an indie movie-meets-summer day outfit. I played on a floral print and offset it with simple, earth-toned accessories. This look is great if you are the type that likes to retain a feminine look year round, but still love a little practicality in an ensemble.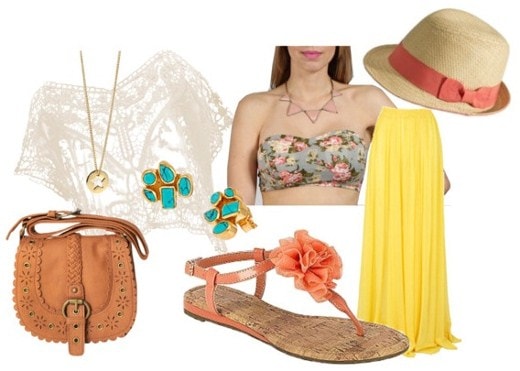 Products: Flats- Soda (Pink Ice), Bracelets- Delia's, Dress- TopShop, Bag- Forever 21
Outfit 3: Print n' Edge is The New Rock n' Roll
This outfit has a little bit more edge to it than the others – a patterned top mixes well with simple black shorts, suede sandals, an Alexander Wang-esque drawstring bag, and rocker-chic stud earrings. If you are feeling more edgy, try adding black nail polish or a studded bracelet. I love the idea of juxtaposing prints with a rocker-esque look. Let me know if you agree!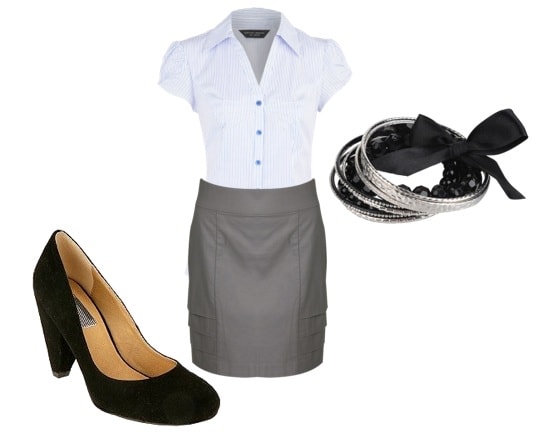 Products: Bucket Tote- Forever 21, Print Tank- American Eagle, Black Shorts- Tilly's, Stud Earrings- Debenhams, Sandal- Old Navy
A Penny for Your Thoughts…
What do you think about my outfit choices? Which one is your favorite? Do you wear prints or do you usually stick to solids? Let me know!