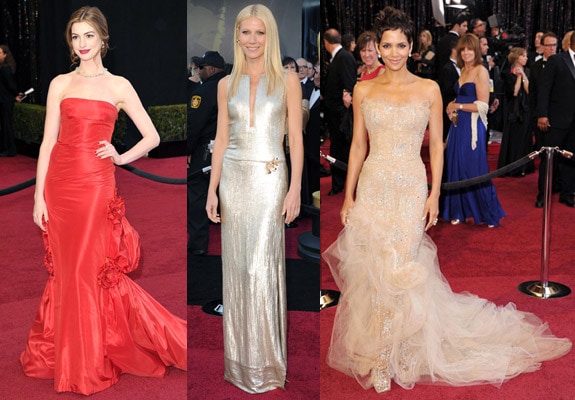 Anne Hathaway, Gwyneth Paltrow, and Halle Berry at the 2011 Oscars (All photos courtesy of ELLE)
While the Oscar ceremony was snooze-inducing this year (sorry, Anne and James!), as always, the fashion on the 2011 Academy Awards red carpet did not disappoint. Although each starlet brought her own brand of glamor and style to the show, there were a few recurring fashion trends amongst the best of the decadently dressed: column dresses; retro waves; vivacious reds; and sparkle, sparkle, sparkle; to name a few.
The average college fashionista may not have the budget or the glam squad of Hollywood's elite, but she can still take inspiration from Oscar attendees' stunning looks. Here are 3 cheap and chic looks inspired by 3 2011 Oscars red carpet trends:
Outfit #1: Ladies in Red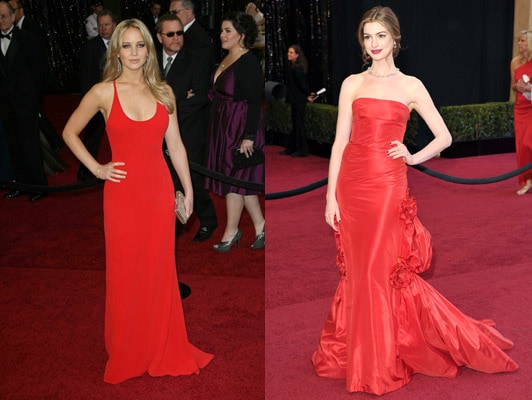 Jennifer Lawrence in Calvin Klein (Photo by PR Photos), and Anne Hathaway in Valentino (Photo courtesy of ELLE)
No worries here about clashing with the carpet! The A-list starlets sporting scarlet included the show's co-host Anne Hathaway (in vintage Valentino), and Best Actress nominee Jennifer Lawrence (in Calvin Klein). Other starlets in red included last year's Best Actress winner, Sandra Bullock (in Vera Wang), and tween queen Selena Gomez (in Dolce & Gabbana).
Here's how you can get the look for less: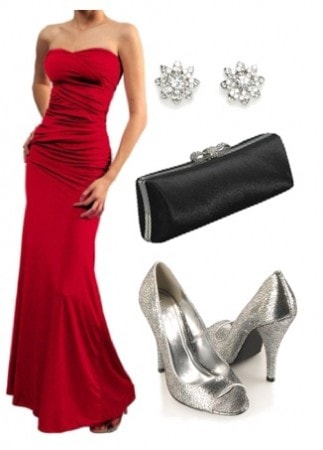 Product Info:Dress, Earrings, Clutch, Heels
Outfit #2: Silver Stars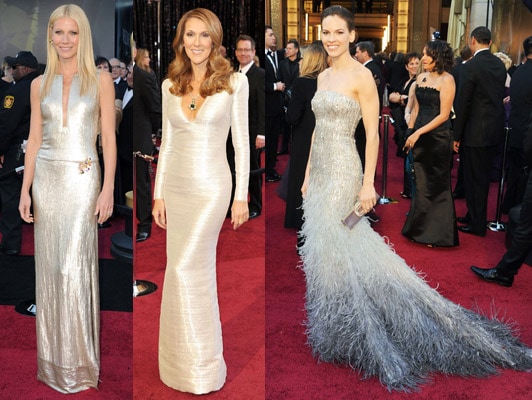 Gwyneth Paltrow in Calvin Klein, Celine Dion in Armani Privé, and Hilary Swank in Gucci
(Photos courtesy of ELLE)
Hollywood stars dream of winning a gold statue on Oscar night, but the most enviable dresses at the event were shimmery silver. Gwyneth Paltrow soared to the top of many Best-Dressed lists with her showstopping Calvin Klein sheath gown. Celine Dion, who is more known for her Oscar fashion blunders than her triumphs, wowed in a silvery ivory column gown from Armani Privé. Actress Hilary Swank turned heads in a sparkly and feathery Gucci Premiere Couture concoction.
Mimic the shining stars in this cheap and chic look: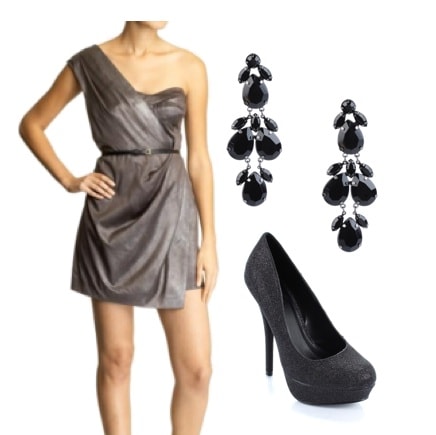 Product Info:Dress, Earrings, Pumps
Outfit #3: Champagne Wishes
Hailee Steinfeld in Marchesa (Photo by PR Photos), and Halle Berry in Marchesa (Photo courtesy of ELLE)
Finally, the biggest fashion trend of the night was donning shimmery gowns in nude, champagne-inspired hues. Newcomer and nominee Hailee Steinfeld looked both age-appropriate and reminiscent of classic starlets Audrey Hepburn and Grace Kelly in a tea-length Marchesa dress, while an ageless Halle Berry glowed in a different Marchesa number.
Other stars opting for shimmery nude frocks included Jessica Biel, who skipped the ceremony but hit the Vanity Fair after-party in a slinky, sparkly Atelier Versace number, and Mandy Moore, who performed a nominated song from Tangled in an elegant Monique Lhuillier gown.
Glow like the stars in this budget-friendly outfit: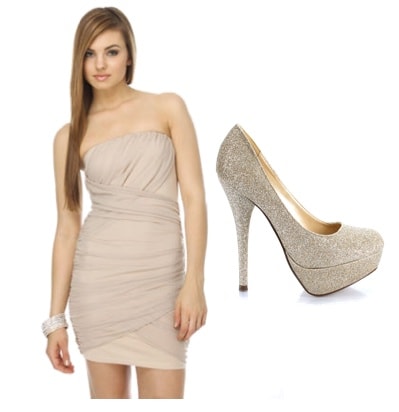 What do you think?
What were your favorite looks from the Oscars? Are you sad to see awards season end? Do you like these looks? Join the conversation, and leave a comment!