Off-the-shoulder tops used to intimidate me, and their proportions stumped me. But I've come around, since shoulder-baring tops are surprisingly versatile. They can be of-the-moment or classic, and can go from flirty to laid-back cool with the right accessories.
Below, I've put together three different ways you can wear this summer staple this weekend. And in the fall, just change up the accessories to transition them into classroom-ready outfits. The best part? Each look rings it at less than $100. Scroll down to see them all:
Look #1 – $98.99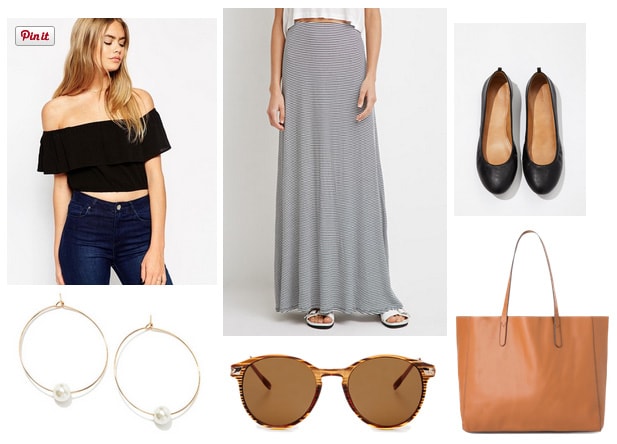 Product Info: Top, Skirt, Earrings, Sunglasses, Flats, Tote
A cropped, black off-the-shoulder top is bound to become a sophisticated summer staple. Wear one with a soft jersey maxi skirt and neutral flats for comfort, then dress up the look with delicate, understated hoops. Sunglasses and a shopper tote in warm tones help pull the look together.
Look #2 – $91.80
Product Info: Top, Shorts, Shoes, Sunglasses, Bag, Earrings
If your style is carefree and you're a pattern lover (like me!), pair a striped top with soft shorts in a bright print. I picked contrasting prints here, but a mix of similar patterns could give a fun separates effect. Incorporate some neutrals with these gorgeous suede wedges and a structured crossbody bag. Polish up with nature-loving ear studs and round sunglasses.
Look #3 – $83.80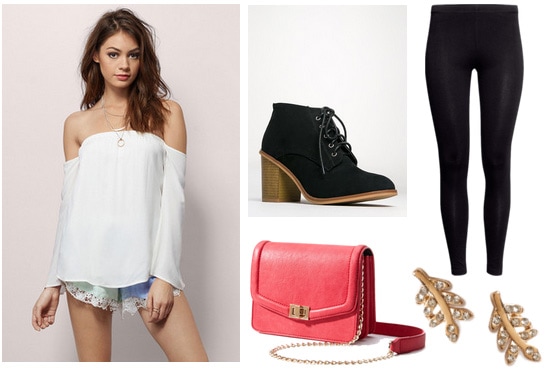 Product Info: Top, Shoes, Bag, Leggings, Earrings
This look works for a date, or a fun night out on the town. Choose a long, white off-the-shoulder top, then slip on black leggings and heeled lace-up booties. Throw on a brightly-colored crossbody bag with cute metal hardware, and tie the outfit together with tiny gold studs.
Bonus: Underneath It All
Strapless tops are notoriously tricky to style around bra straps— to show or not to show? No matter where you come down on this, there are plenty of options: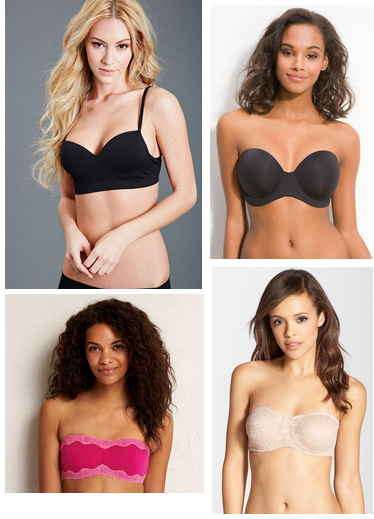 Product Info: Black Bralette, Pink Bandeau, Lace Bandeau, Strapless Bra
A cute bralette layered underneath works well for smaller busts, while Nordstrom's wide selection of strapless bras are ideal for those who need more support. You can even try a regular wireless bralette that matches the color of your top if you like the cami + off-the-shoulder top look.
Thoughts?
Do you like the look of off-the-shoulder tops? What did you think of these outfits? Which one is your favorite? What other posts would you like to see? Let us know in the comments below!