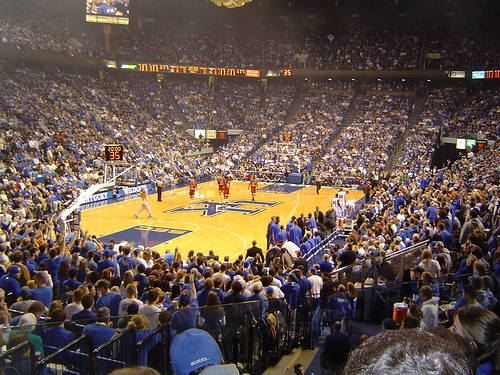 As far as I'm concerned, March and April are the best months of the year. Opening Day for professional baseball is approaching rapidly (not rapidly enough, in my opinion) and NCAA March Madness has finally arrived. Gone are the days of watching anything other than basketball on TV. For the next few weeks, most of us will be glued to ESPN and rooting for teams we don't usually root for in the hopes of having a winning bracket.
Since there are plenty of opportunities to watch games out and about in the next couple of weeks, we have created four sample outfits to keep you stylish while cheering on your team. Each outfit showcases a look that is under $100 total. Keep in mind, you likely already have items in your closet that we have selected below, so these outfits typically come in at far under $100.
Catching the Game at a Sports Bar – $90.20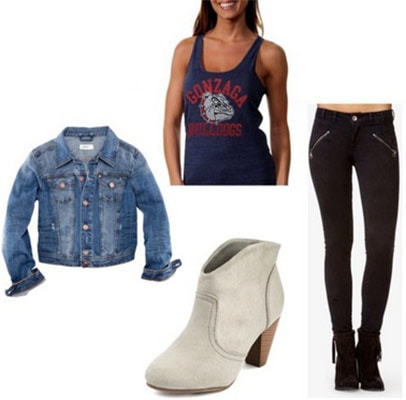 Product Information: Top – Gonzaga Gear, Jeans – Forever 21, Jacket – H&M, Shoes – Charlotte Russe
When I was younger it seemed like the only sports gear out there consisted of oversized men's t-shirts, jerseys, and gym shorts. Now there are so many cute women's styles to choose from. This Gonzaga Bulldogs tank is perfect for wearing with a denim jacket to the bar. Pair it with some hip skinny jeans and a pair of boots for a perfect casual night out look.
Watching the Game from the Gym – $82.69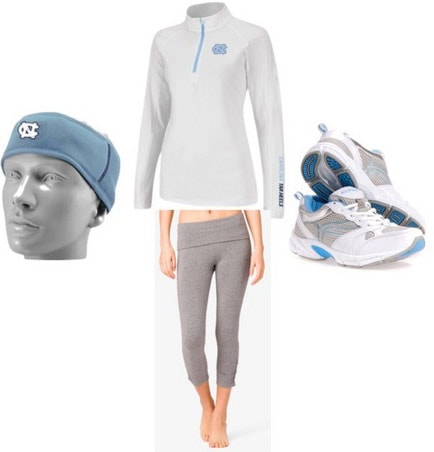 Product Information: Jacket – Football Fantatics, Pants – Forever 21, Headband – Amazon, Shoes – Amazon
My friends make fun of me, but during the KU games, I can get so emotionally strung-out, I actually prefer to watch them in my favorite stress-relieving place, the gym. I usually go for a run on a treadmill with a screen so I can watch the game and get a workout at the same time.
If you're anything like me, you can still support your team while working out by cheering them on with a team pullover. Wear your workout pants and a headband in the right color, and no one will doubt your allegiance to your team and your fitness.
Tickets to the Big Game – $77.34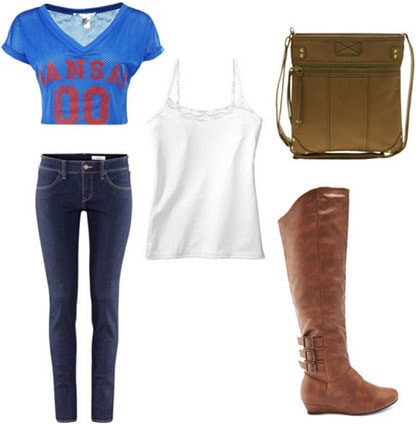 Product Information: Top – KU Store, Cami – Walmart, Jeans – H&M, Bag – Asos, Shoes – Charlotte Russe
If you have plans to go to one of the March Madness games (you lucky dog, you), definitely make your team choice known by rocking your college's logo! We love this little cropped KU jersey when paired with a white tank top underneath. Comfortable shoes are key, as there will be a lot of standing, screaming, and jumping all around. And don't forget a cross-body bag so your hands will be free to do all the clapping you want!
Watch Party at a Friend's Place – $78.93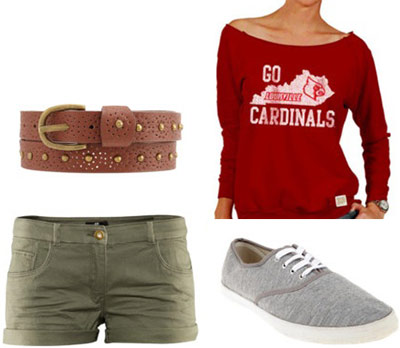 Product Information: Top – Fans Edge, Shorts – H&M, Belt – Charlotte Russe, Sneakers – Urban Outfitters
For sporting events, whether at the game or watching them from home, there's no reason to get crazy dolled-up. However, it is critically important to show support for your team! This cute scoop-neck sweater fits the bill perfectly, and looks great with some low-key cargo shorts and sneakers.
What will you wear for March Madness, and how will you keep your outfit frugal?
We want to know, so leave us a comment below with your thoughts! Which look above is your favorite? Which team will you be cheering on? What do you always wear to basketball games?