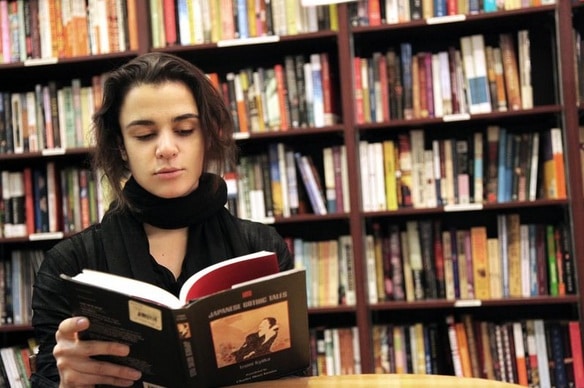 Photo Courtesy of ELLE
No matter how you slice it, Mondays are Mondays. It's always hard to get going on the first day of the work-week, including the process of choosing an outfit for your day. As the week goes on, new projects and commitments will be thrown your way, and by Friday, you can end up just grabbing whatever's clean from your closet and rushing out the door. Ugh.
Although we might be halfway through the week, we're here to help you plan ahead for the next! Below, we've created a week's worth of outfits for your different M-F activities. Better yet, these outfits are on the frugal side — each sample outfit costs less than $100 total!
Monday – Internship Outfit: $98.55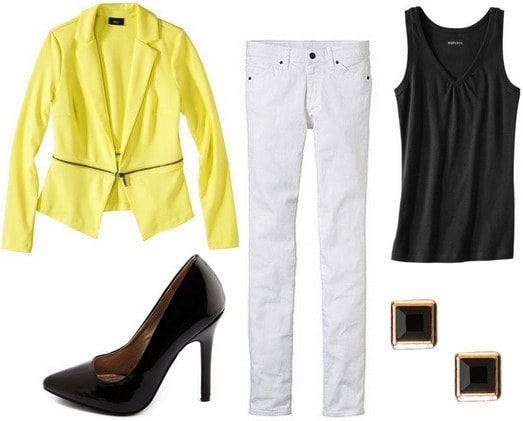 Product Information: Top – Target, Blazer – Target, Jeans – UNIQLO, Shoes – Charlotte Russe, Earrings – Forever 21
Even if you're exhausted from your weekend, there's no excuse not to dress your best for an internship or work. Besides, if you dress nicely, you will feel more awake!
Bright colors are a great way to add some seasonal flair to a traditional work outfit, which is one of the reasons we love this blazer from Target. The other reason? It's ultra-ultra-trendy. The zippers and that color are to die for. Pair your bright jacket with black and white and you'll be super chic. Just be careful not to sit on anything messy! Finish with sleek, non-platform pumps – always a good choice for work.
Tuesday – Going to Class: $92.65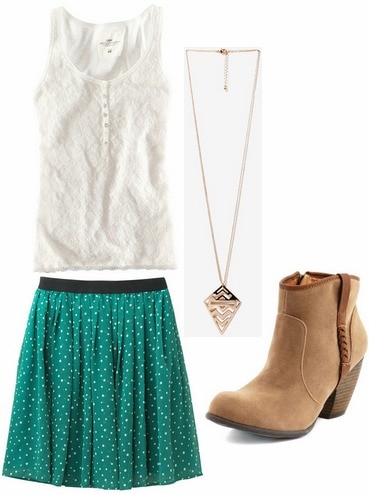 Product Information: Top – H&M, Skirt – UNIQLO, Shoes – Charlotte Russe, Necklace – Forever 21
Just because you're going to class does not make it okay to roll out of bed half-dressed. An outfit like the one above is cute, easy, and doesn't require too much effort, but will show your peers and teachers you're A-worthy.
First, let's get one thing straight right now: it's totally okay to wear boots in warm weather! Short boots will be more comfortable as they won't trap heat the way tall boots do. Next, add to your pretty, laid-back look by mixing patterns and textures. This easygoing henley tank is lace, but would be perfect for pairing with a green polka dot skirt. Go simple on the jewelry — a long gold necklace is all you need.
Wednesday – Headed to a Show: $ 94.95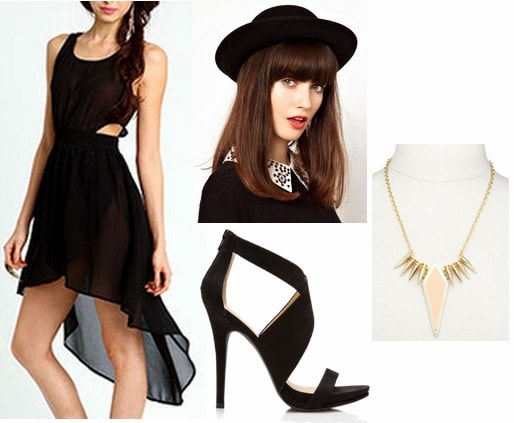 Product Information: Dress – Love Culture, Shoes – Forever 21, Hat – ASOS, Necklace – Charlotte Russe
Whether you're going out to see your friend's band or you've got an art gallery opening to attend, there's no need to dress down for the occasion just because it's a weeknight! Here's a perfect outfit for a night out.
A high-low dress with small cutouts is a great investment for this summer. When worn with heels, flats, or boots, it would be easily recyclable all season long. Now it's time for accessories! A bowler hat, strappy sandals, and a statement necklace are a fab mix of trendy pieces — perfect for a fun night out!
Thursday – Study Group: $98.15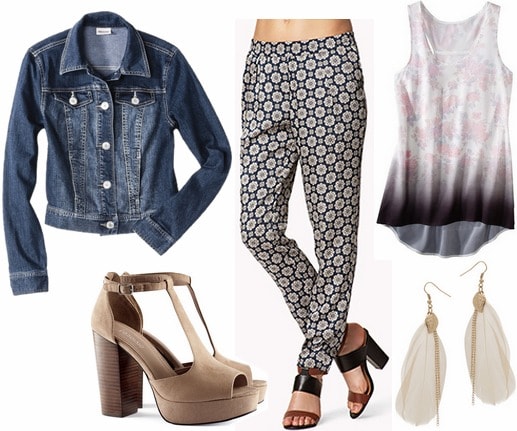 Product Information: Top – Target, Jacket – Target, Pants – Forever 21, Shoes – H&M, Earrings – Wet Seal
Working on a group project or attending study group may not demand a pantsuit, but there's no reason to look drab. An easy outfit that flawlessly takes you to classes and lunch with the girls to errand running and study group is a necessity for a busy Thursday.
Patterned trousers are the perfect statement piece for spring. Tone them down with simple pieces like neutral shoes and a denim jacket. Keep accessories minimal, as the ornately patterned pants speak for themselves. For your feet, chunky heels are comfortable and simple for running around, which is why we love this t-strap version from H&M. (Substitute flats or sandals if you're not a heels girl!)
Friday – Going Out: $97.54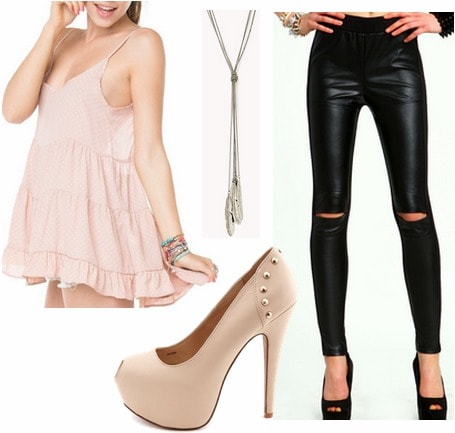 Product Information: Top – Brandy Melville, Leggings – Love Culture, Shoes – Charlotte Russe, Necklace – Forever 21
You deserve a congratulatory celebration for making it through a full week of classes, work, homework, and all the other demands of a college student. Dress up, go out with your friends, and pick a Friday night outfit that matches how fabulous you are.
Real leather leggings are expensive, but we love the cruelty-free lookalike versions that are also easy on the wallet. Pair your rockin' pants with an ultra-feminine top and studded platforms. The juxtaposition of baby pinks and neutrals will ensure you're not completely overwhelmed in a rock & roll look.
What are you wearing next week?
And how do you keep your outfits frugal and fashionable? What look above is your favorite? What are your must-have pieces for this spring? Leave a comment below and let us know!