Fall and winter are all about throwing on your chunkiest layers in a desperate effort to stay warm. As the temperature starts to fluctuate with spring's arrival, I become anxious to stop with the baggy sweaters and break out the dresses that have been languishing in the back of my closet. Even though it's still cold outside, it's easier than you think to style your dresses and skirts for the end of winter!
In this week's Outfits Under $100, I have not three, but four budget-friendly outfits to help you wear skirts and dresses in cool weather!
Cropped Sweater + Skirt – $99.69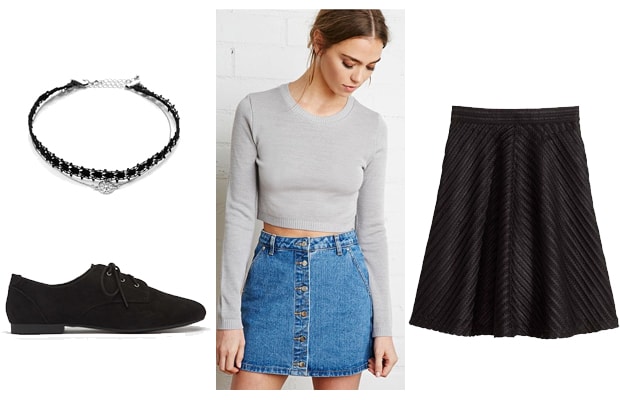 Products: Choker, Oxfords, Cropped Sweater, Skirt
One possible combo is pairing a cropped sweater with an interesting circle skirt. The cropped sweater should end just about where the skirt starts, so you won't have exposed skin but you also don't have to fuss with tucking in a longer sweater. Win-win! Pair it all with a bold necklace (chokers are in style right now) and some comfortable shoes. If it's too cold, you can also add on some tights.
Chunky Sweater + Dress – $99.68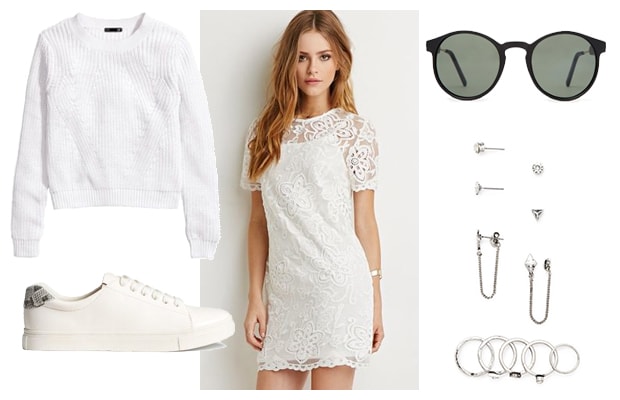 Products: Sweater, Sneakers, Dress, Sunglasses, Jewelry Set
Another option is to layer a chunky or oversized sweater on top of a slim dress. This gives you a completely different silhouette from the last outfit. For this outfit, I picked a dress that would be visually interesting peeking out from under the sweater. (Look for something with texture or pattern that pops but still makes sense under a sweater!)
Keeping with the monochromatic look, white sneakers are a great addition. And don't forget to accessorize with sunglasses or jewelry! If you're looking to add some extra warmth, you could also layer on an open coat or cardigan on top of everything.
Suede Dress + Long Sleeves – $99.88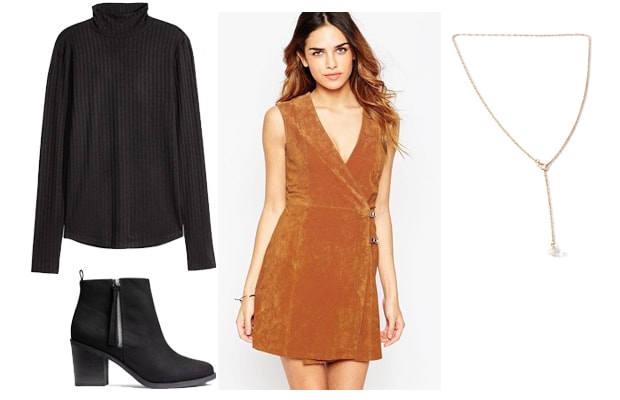 Products: Turtleneck Top, Booties, Suede Dress, Necklace
Suede is a hot trend right now, so if you're looking for something bold and of-the-moment, this suede dress is for you! While the last outfit added a sweater on top of the dress, this outfit works better with a long-sleeve top underneath the dress. I chose a turtleneck top so it will peek out from the v-shaped neckline on the dress. Throw on some simple booties to keep your feet warm while allowing the dress to be the star of the show!
The Sweater Dress – $95.84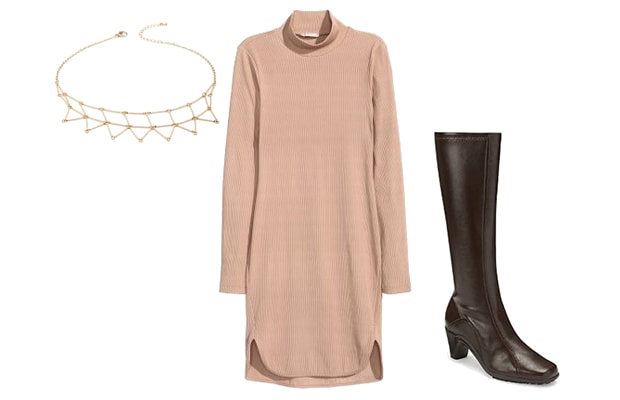 Products: Necklace, Sweaterdress, Boots
Finally, the most obvious way to wear a dress in cooler weather would be to choose a sweater dress. For this look, there's no need to layer warmer clothes with skirts and dresses because this is the hybrid of both. Sweaterdresses look great with taller boots, so accessorize with a simple pair of black knee-high ones. A pretty necklace adds extra interest. If you want to add more pop, consider styling your hair and wearing bolder makeup to make your outfit seem effortless.
What do you think?
Are you a fan of skirts and dresses? What's the weather like where you are? Would you wear any of these outfits? Let me know what you think in the comments below! I love reading your feedback.