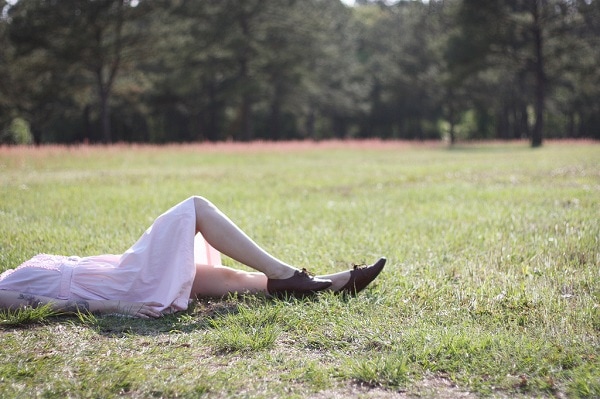 Between book-buying and purchasing dorm essentials, you may need to swing by your favorite fashion shops to curate your fall wardrobe. Ready or not, the change in seasons is here. Dresses are always a must-have; the ease of throwing on a frock for class makes them our favorite fall staple.
Feeling a little lost? Just refer to this shopping guide from your friends here at College Fashion! As always, all of the outfits below are under $100, so you can spend your hard-earned cash on groceries, notebooks, and happy hours.
1: Chambray Shirt Dress – $95.80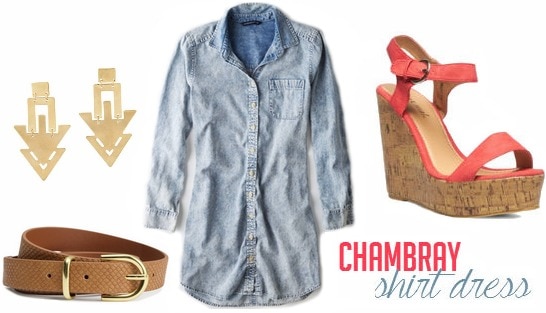 Product Information: Dress – American Eagle, Shoes – Wet Seal, Belt – H&M, Earrings – Aldo
You may have once thought chambray would be a short-lived fad, but we are here to tell you that it isn't going anywhere. Invest in a semi-distressed chambray shirt dress for fall. This may be the most versatile purchase you make all season! You can rock it with boots, flats, tights, belts, and any accessory under the sun.
For the summer-to-fall transition, we love the idea of a wearing a bright pair of comfortable wedges that pop against the dress. Also, add a neutral-colored belt around the waist for extra shape. Accessorize with faux-tarnished, geometric gold earrings, then sweep your hair into a ponytail to finish this class-appropriate look.
2. Wear-Everywhere Colorful Dress – $83.65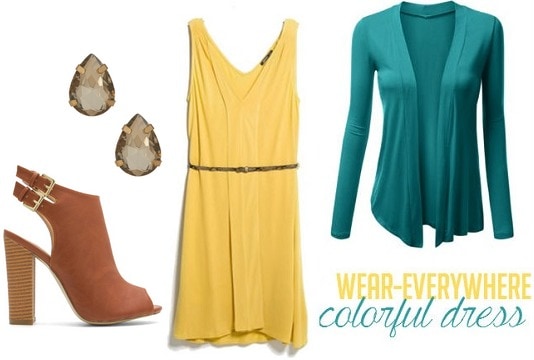 Product Information: Dress – Mango, Cardigan – Amazon, Shoes – Go Jane, Earrings – Nordstrom Rack
Maybe you sink into a sea of neutrals when the weather gets chilly, but there's no need to go there quite yet. A dress in a bold color that you can wear everywhere is an ideal for those days when you run between class, internships, errands, and dinner with friends. We are coveting this bright yellow beauty with pleats down the front.
There's no reason not to pair it with a complementary color, and this teal cardigan is exactly what the dress needs for chilly mornings. Grab a pair of comfortable stacked heels, which have a classy and cool vibe. Finally, who needs layers and layers of jewelry when you've got these glamorous, smoky teardrop studs?
3. Versatile Midi-Length Dress – $97.54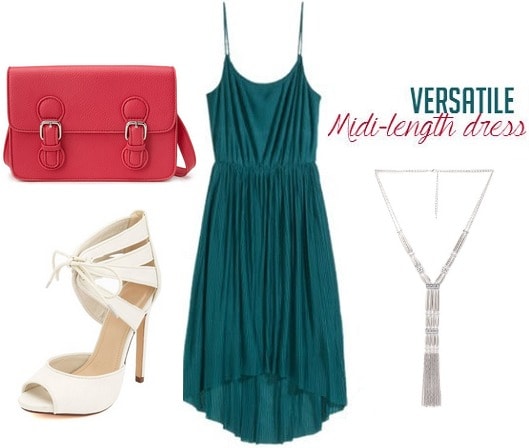 Product Information: Dress – H&M, Shoes – Charlotte Russe, Bag – Forever 21, Necklace – Forever 21
There is nothing to fear about the midi-length dress! This H&M frock is a fabulous and flattering color on anyone. With a sweater and flats, this dress would be great for class. However, when paired with glam accents, this dress can be taken out on the town!
For this nighttime ensemble, opt for a shoulder bag in a bold color to hold all of your necessities. Accessorize with a chain fringe necklace that makes a serious statement and adds a little edge to this classy outfit. Complete the look with cute white pumps with bow details.
4: Bold Patterned Shift Dress – $89.34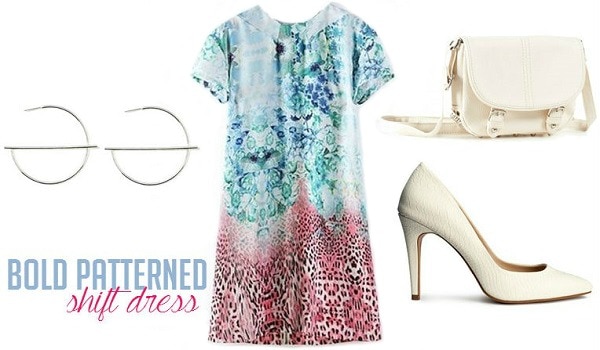 Product Information: Dress – Boohoo, Shoes – H&M, Bag – Aeropostale, Earrings – Nasty Gal
Some dresses speak for themselves, and this bold patterned shift dress is one of them. With a variety of patterns in an ombre effect, the colors complement each other while simultaneously standing out.
Since the dress is so bold, keep the other elements of the outfit minimal, like the white pumps with a subtle snakeskin texture. These earrings are a unique take on the traditional silver hoop, while a white crossbody satchel is a sleek and stylish choice.
5: Long Sleeve Slouchy Dress – $94.78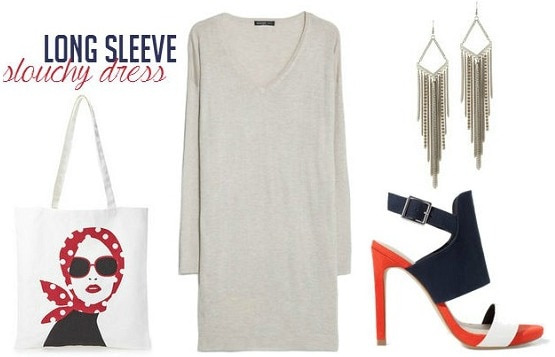 Product Information: Dress – Mango, Shoes – Zara, Bag – Forever 21, Earrings – Aldo
Above all, comfort is key. If a dress is not comfortable, you are not going to wear it. We love the idea of a slouchy, long sleeved sweater dress. The exact opposite of the patterned dress above, this look is a blank canvas for you to have fun with.
When wearing a neutral dress, bright and funky accessories are key, so center this outfit around these bangin' tri-colored shoes. Add a tote bag – this graphic one incorporates the colors found in the shoes. Feeling dramatic? Some slinky, chain earrings are the perfect finishing touch.
What dresses are your must-haves this fall?
Which styles will you be wearing this season? Which outfit is most "you?" Which one do you like best? Leave a comment below and let us know your thoughts!