This post may contain affiliate links, which means we may receive a commission if you purchase through our links. Please
read our full disclosure here
.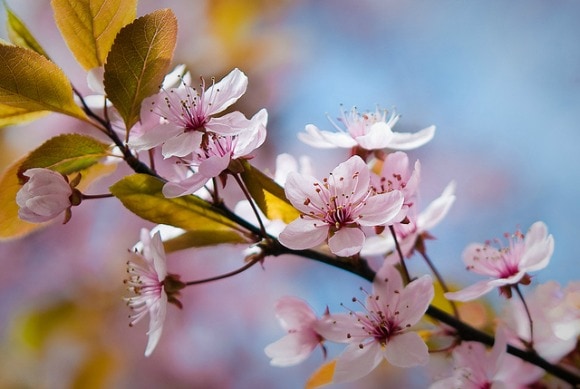 Even though temperatures across the continental United States have been less than spring-like, the weather report is bound to perk up soon. As soon as it does, we're bringing out the dresses and shorts! In hopes that posting about warm temperatures will help them arrive sooner, here are four outfits to get you in the mood for spring. Keep in mind, you likely already have similar items in your closet, so most of these outfits will ring in for a lot less than $100.
Outfit 1: $93.44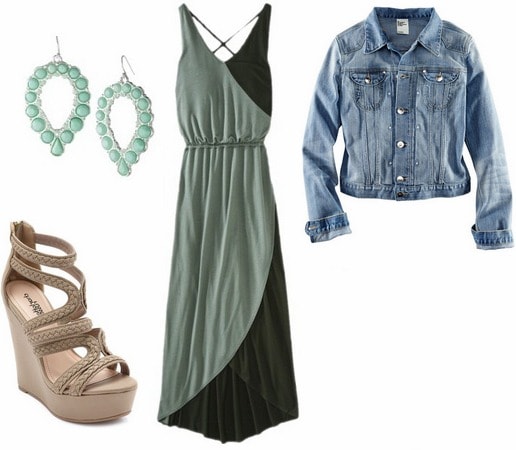 Product Information: Dress – Target, Shoes – Charlotte Russe, Jacket – H&M, Earrings – Target
While you may be able to stretch your maxi dresses late into fall, they are near impossible to wear in the dead of winter (without multiple layers of tights and long-johns). Bring them back out on sunny days this spring and rock them with sky-high wedges. If it's still a little chilly, grab a denim jacket. Finish with pretty jeweled earrings.
Outfit 2: $86.74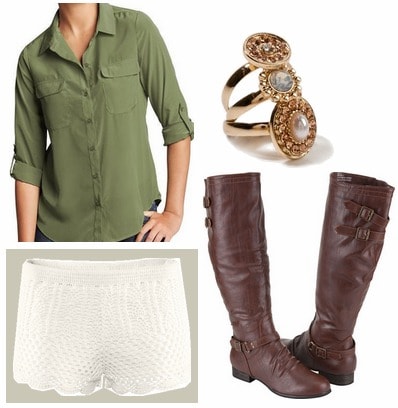 Product Information: Shirt – Old Navy, Shorts – H&M, Ring- Forever 21, Shoes – Tilly's
Crocheted shorts are going to be everywhere this spring. (We're already spotting them in stores all over the place!) We love pairing them utilitarian essentials, like this ladylike silky workman's shirt and cool knee-high boots.
Outfit 3: $90.29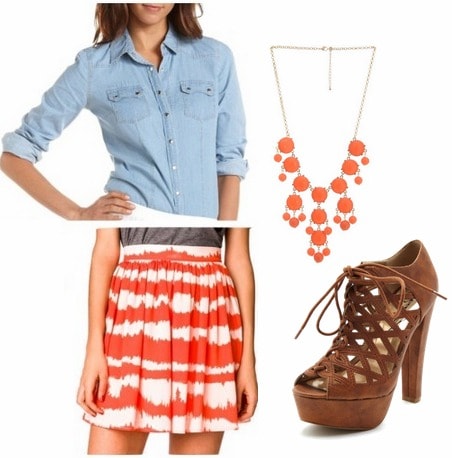 Product Information: Top – Charlotte Russe, Skirt – Forever 21, Shoes – Charlotte Russe, Necklace – Wet Seal
It's amazing how easy it is to slip into a color rut in the winter. If you've been sticking to neutrals like black, grey, brown, and dark green or purple, it's officially time to start busting out the colorful tie-dyed pieces. A chambray top is always a good spring choice, and looks especially chic with funky shoes and jewelry.
Outfit 4: $82.73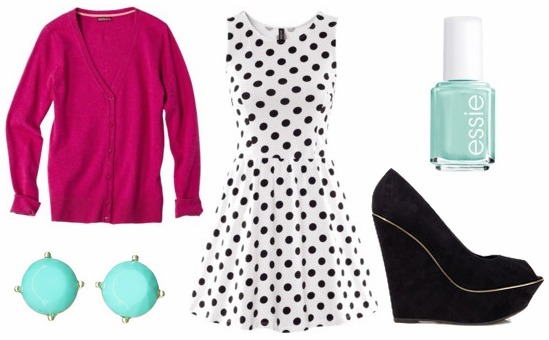 Product Information: Dress – H&M, Sweater – Target, Earrings – Target, Shoes – Forever 21, Nail Polish – Essie
This dress is perfect for spring, especially when paired with bright pops of color – we love the retro look of mint green and pink paired with polka dots! Don't forget the fun peep-toe wedges you haven't seen since last summer.
Outfit 5: $87.74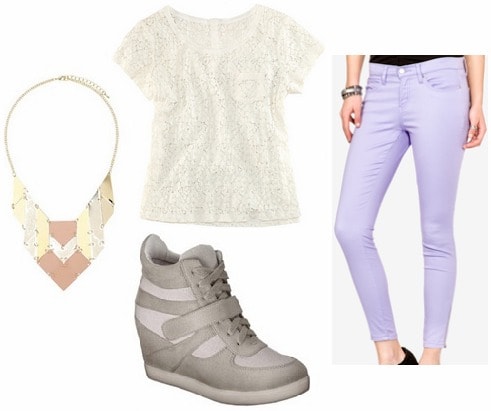 Product Information: Top – H&M, Pants – Forever 21, Shoes – Target, Necklace – Dorothy Perkins
Light-colored jeans were incredibly popular last summer and they will remain super-trendy this season. If you put your pair away with a sad face last fall, worry no longer! Wear them in a fresh way with ultra-hip wedge sneakers like the fabulous and frugal ones shown above from Target.
What will you be wearing this spring?
Which trends are you ultra-excited to wear as soon as the weather is suitable? Which look above is your favorite? How do you stay trendy and chic under $100? Leave us a comment below and let's discuss!